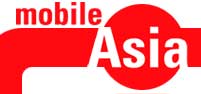 Suhjung Hur informed me a few days ago that the Art Center Nabi in Korea was organizing a Mobile Asia Competition and an exhibition that investigate the new forms of Asian identities and cultures in the creative works of artists and designers who dare to experiment, play, and wrestle with the mobile technologies (submission form). Reading Suhjung Hur's email, I immediately thought that it was a great opportunity to write her back with questions about the event and the art scene in Korea.
As a curator at the Art Center Nabi, a non-profit media art center in Seoul, Suhjung Hur has been curating and organizing exhibitions, workshops and live events since 2002.
Her curatorial projects include Liquid Space, Art & Science Station, Unzipping Codes and the forthcoming Urban Sensorium, which explores the multi-sensory experience in urban environment enhanced and intervened via new media technologies. She is also organizing an experimental sound-visual performance series, 'alt_sound' and a monthly gathering of media art practitioners, The Upgrade! Seoul. In 2005, she co-organized the international workshop 'Urban Play and Locative Media' and Unesco Digital Arts Award on the theme of 'City and Creative Media' held at Art Center Nabi. She was also a co-founder and editor for the short-lived art quarterly Stray Dog in Los Angeles, and has written for leading art and architecture magazines in Korea including Wolgan Misool, Art in Culture, Bob, Design Net, as well as for catalogue publications. Suhjung holds a Bachelors Degree in Communication/Journalism from Yonsei University and a Masters Degree in Art History from University of Southern California. Currently she is a doctoral candidate for Communication and Arts in Yonsei University.

Shoot me if you can, by Taeyoon Choi
The competition focusses on mobile technology in Asian region. Asian countries seem to be quite different from each other in their uses of mobile phone technologies. Do you agree or do you think that beyond these natural differences they have in common some distinctively Asian cultural aspect?
'Asia' could mean many things and different geographical regions. When it comes to "East Asia" which include Korea, Japan, China and Taiwan, there exist peculiar phenomenon regarding mobile culture and technologies: for example, excessive embellishment of mobile device among young generation, skyrocketing market in mobile gaming, biggest numbers of mobile labors, etc. But of course, it would be risky and misleading to give overarching description on Asian mobile culture. It is also one of our goals through the Mobile Asia initiative to find out if there exist any 'Asianness' or cultural-specific characteristics around mobile culture and technologies.
Are there many exchanges between the media artists and institutions of the various Asian countries?
There are a few media art institutes in Asian region such as Sarai in India, ICC and IAMAS in Japan, and Art Center Nabi in Korea. There have been exchanges through exhibitions and smaller events such as Upgrade!, but not often in the official frame of institutional exchange program. Last year, Art Center Nabi started co-organizing a workshop program with Ching-Hwa university in Beijing where media artists from Korea and students in Beijing develop projects over a semester period. This is an ongoing project between Nabi and Ching-Hwa universtiy, which we hope will develop into more visible and sustainable program between the two institutions. Mobile Asia aims to facilitate more dynamic, long-term collaborations among the countries in Asia through research and media art projects and we just started talking with different individuals and institution in and outside the so called 'Asia.'
The call for the competition mentions that "Artists and media makers always appropriate and challenge the given technology through creative ideas and critical practices to broaden the space of possibilities." i couldn't agree more on this. But could you be more specific and give us some examples?
While I was dwelling on the meaning of media art and its new functionalities, my colleague, Soh-Yeong Roh, gave this account, which seems to bear good insights: "New media seems no longer an object to be appropriated or challenged. It is very much integrated into our daily lives, almost to the point of constituting the very core of our identities. For me it is somewhat bewildering to think of what it means to be human apart from the dominant media of each age. If there is something to be challenged is not the media per se, but how people make use of them given the socio-political ideologies. So, like always, it is the human being and the society of it- the enemy within – that needs to be studied critically."
Could you give us the name of some Korean talents we should keep an eye on?
I hope you visit and check some names at Upgrade! Seoul.

Jang-Won Lee who has a background in sculpture and computer engineering has been developing robotic installations using obsolete computer hardwares and softwares.

Ji-Hoon Byun whose interactive works probes into the process of perception, embodies meditative and self-reflective philosophy in buddhism.
Tae-Yoon Choi's performative media art projects incorporates both humorous and interventionist approaches into our everyday urban lives.
Jin-Yo Mok is also worth checking for his exquisite sound installations.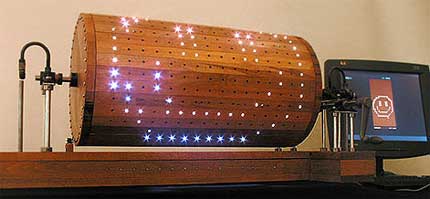 Music box by Jin-Yo Mok
The selected works will be exhibited in various on and offline venues. Can you name a few of them?
Art Center Nabi will organize both online and offline exhibitions where the awarded works will be shown. The works will also be screened at theater during Resfest, digital film festival in Seoul in November. People in Korea who have DMB mobile phones will be able to view the works on their handhelds through TU media's DMB channel with whom we made a partnership through Mobile Asia competition. We are currently talking with Cyworld web service on the possibility of downloading and
uploading the selected works through phone to web or web to phone.
Is the call addressed to Asian artists only?
The competition is open to anybody whose interests lie in or related to cultures and technologies in Asia.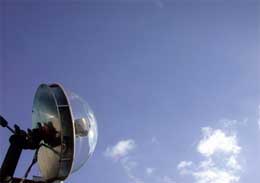 Sun Tracer by Jang-Won Lee
Apart from the exhibition and the competition, what are the other activities undertaken by Art Center Nabi?
Since 2000, Art Center Nabi has been organizing exhibition, workshop, seminar, live performance, symposia and various community development projects through both online and offline platforms. Recently we started re-blog project nare
(www.nabi.or.kr/nare) that covers diverse issues and information around media art in and outside Korea. One of our focal areas is 'mobile computing and urbanity' through which we held workshop in 2005 focusing on the theme of locative media and urban play based in the city of Seoul. Mobile Asia initiative is also align with these interests. Youth culture is another primary concern and we have been leading 'Project-I' through which media artists and children in different locales meet and produce projects incorporating various mundane media technologies.
Thanks Suhjung!