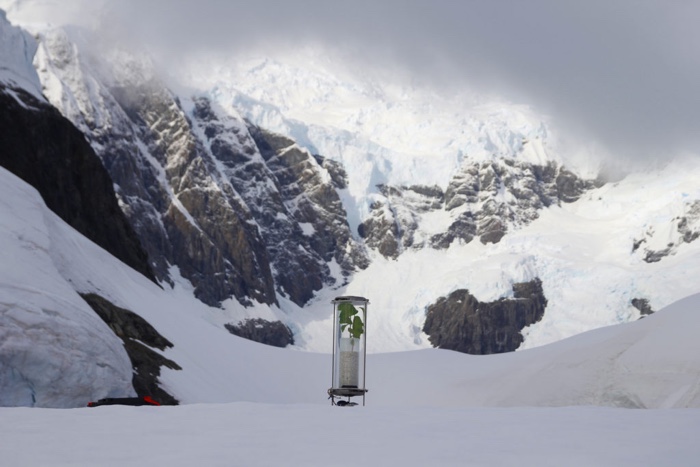 Paul Rosero Contreras, Arriba!, 2017 (détail). Photo by PRC and Narodzkiy
Last year, during the Antarctic Biennale, Paul Rosero Contreras installed a kind of tropical time capsule right in the Antarctic Archipelago. His Arriba! installation consists of a cocoa plant shipped from the Ecuador Amazonian rainforest, enclosed inside a temperature-controlled container and displayed on top of an Antarctic glacier. The glass container protected the plant as much as it protected the snow-covered landscape where regulations forbid the introduction of any alien flora and fauna.
Paul Rosero Contreras, Arriba!, 2017. Video: Antarctic Biennale art projects
The work alludes to the distant history of the polar region. Millions of years ago, the now ice-covered landmass was a tropical paradise, with lush palm trees, balmy temperatures and furry animals. Pollen and micro-fossils found in drill cores obtained from under the seafloor off the coast of Antarctica have indeed revealed that the area went through an intense warming phase around 52 million years ago.
More disturbingly, the installation also looks at a not so distant future, when climate will have changed so drastically that the atmospheric conditions and landscapes we used to take for granted will be modified beyond recognition. Will protecting plants under glass jars still be seen as an artistic eccentricity? How far will we go to protect nature? Is seeds in Svalbard vault only the beginning of something more sinister? How many contradictions will we tolerate in order to ensure that (capitalistic) life goes on as usual?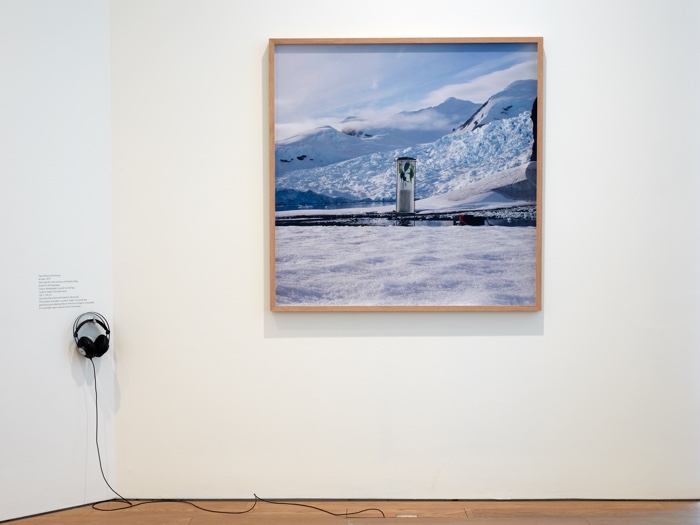 Paul Rosero Contreras, Arriba!, 2017. View of the exhibition No Man's Land. Natural Spaces, Testing Fields, Mudam Luxembourg, 2018. Photo: Rémi Villaggi / Mudam Luxembourg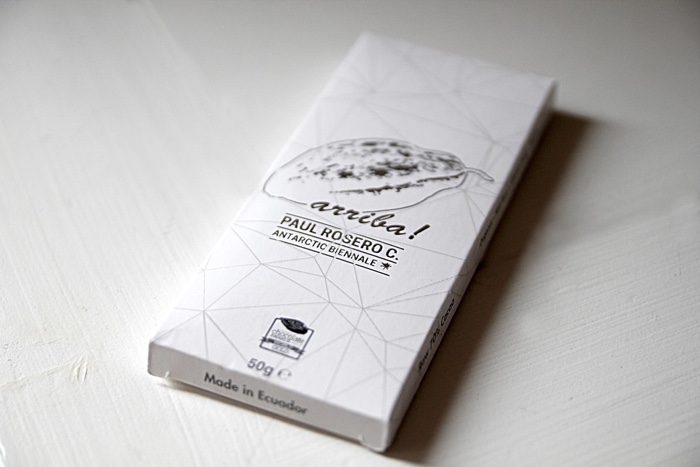 Paúl Rosero Contreras, Arriba! 2017 (detail). Organic Premium Chocolate produced by Pacari for the explorers of the South Pole.
I discovered Arriba! at the the exhibition No Man's Land. Natural Spaces, Testing Fields, at Mudam in Luxembourg. I'll come back later this week with a proper report on the show. It's small but it's so good, i'm glad i made the trip to Luxembourg just to see it.
No Man's Land was curated by Marie-Noëlle Farcy, Marion Laval-Jeantet and Benoît Mangin. The show remains open until 09/09/2018 at MUDAM in Luxembourg.