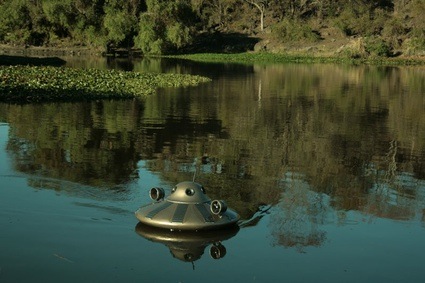 Every year, the FILE festival invites artists and other people who have a hands-on approach to new media art to share their views, works and ideas with the audience during a 4 afternoon long symposium. One of the most fascinating talks for me this year was the one that Victoria Messi, author of the fantastic blog El Pez Eléctrico, gave about media art projects from Latin America that 'look beyond anti-utopia.'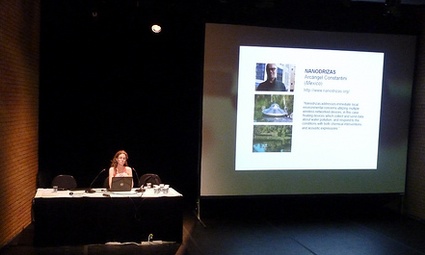 Vicky Messi at the FILE symposium
Titled Anti Anti Utopia: Arte Eletrônica na América Latina / Anti Anti Utopia: Electronic Art in Latin America, the presentation introduced us to four projects by media artists who believe that art still has the power to transform society. I was planning to write a long post that contained her whole presentation but i thought it would be more fruitful to highlight the projects one by one. First of all because each of them is so clever, quirky and fascinating that it should have its own space. Secondly because i've just started The Leopard and as much as i'd like this Jo Nesbø gem to last as long as possible i can't stay away from the book more than it is strictly necessary for my mental well-being.
The first project Vicky Messa mentioned is Nanodrizas, a project that Mexican artist Arcángel Constantini has been working on since 2006.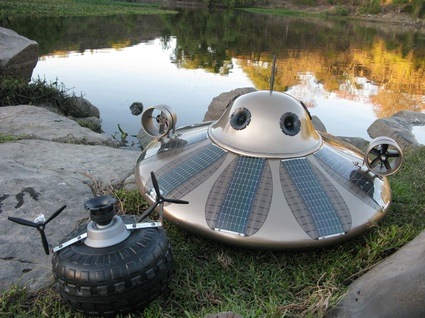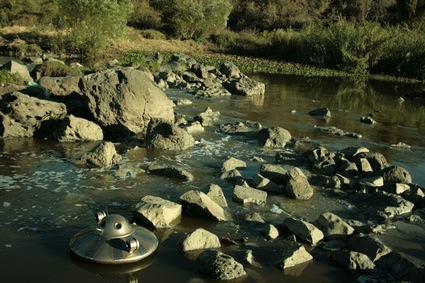 Shaped like small flying saucers, the Nanodrizas are floating autonomous robots forming a network of wireless sensors, which attempt to interact with biological elements. The robotic prototypes measure, in real time, the environmental conditions (temperature, pH scale, level of humidity, turbidity, etc.) of polluted water surfaces. The data collected is then transmitted via wireless communications for interpretation and analysis. Once to the level and nature of pollution has been identified, the nanodrizas directly intervene by emitting synthesized sound and releasing bacterial and enzymatic remedies in the eco-system that, ultimately, should regulate the quality of the water.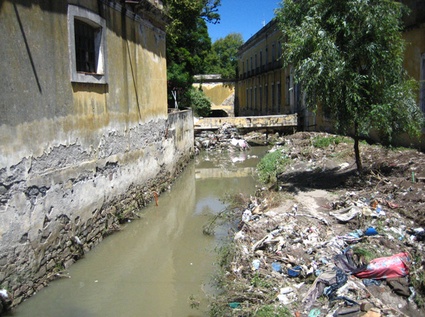 Prototypes of the nanodrizas have been deployed in heavily polluted locations. In particular, in the river going through the city of Puebla in Mexico. Puebla hosts "La Constancia", an ex textile factory which used to be one of the most modern factories in Latin America. La Constancia relied heavily on water to function: water was used to power its turbines and water was where waste was then dispersed. As a consequence, the river is now suffering from high levels of pollution. The mission of the robots is therefore to intervene directly and revert the effect of the pollution in the water.
The Nanodrizas benefit from relatively sophisticated technologies but were made using discarded materials such as children's toys.
First prototype, 2006
The work thus moves beyond other environmental tactical media interventions by making an attempt to be actively therapeutic. The work will also functions to alert and sensitise people to the situations via, in the first location, the sound emissions of the Nanodrizas and second via displays in exhibition centers and online.
The project thus exemplifies an admirably holisitic kind of art practice which is simultaneously technologically well informed and technologically inventive, while being engaged with complex social histories and activist with respect to fundamental problems of our time.
Check out this interview that El Pez Eléctrico had with Constantini about the Nanodrizas fleet. I'd recommend watching it even if you don't understand spanish because you will not only see the nanodrizas in action but you will also be able to listen to the artist's melodious Mexican accent.
Related: Nomadic Plants by Gilberto Esparza.
FILE, the Electronic Language International Festival remains open through August 21, 2011, at the FIESP Cultural Center – Ruth Cardoso, in Sao Paulo, Brazil. Entrance is free.