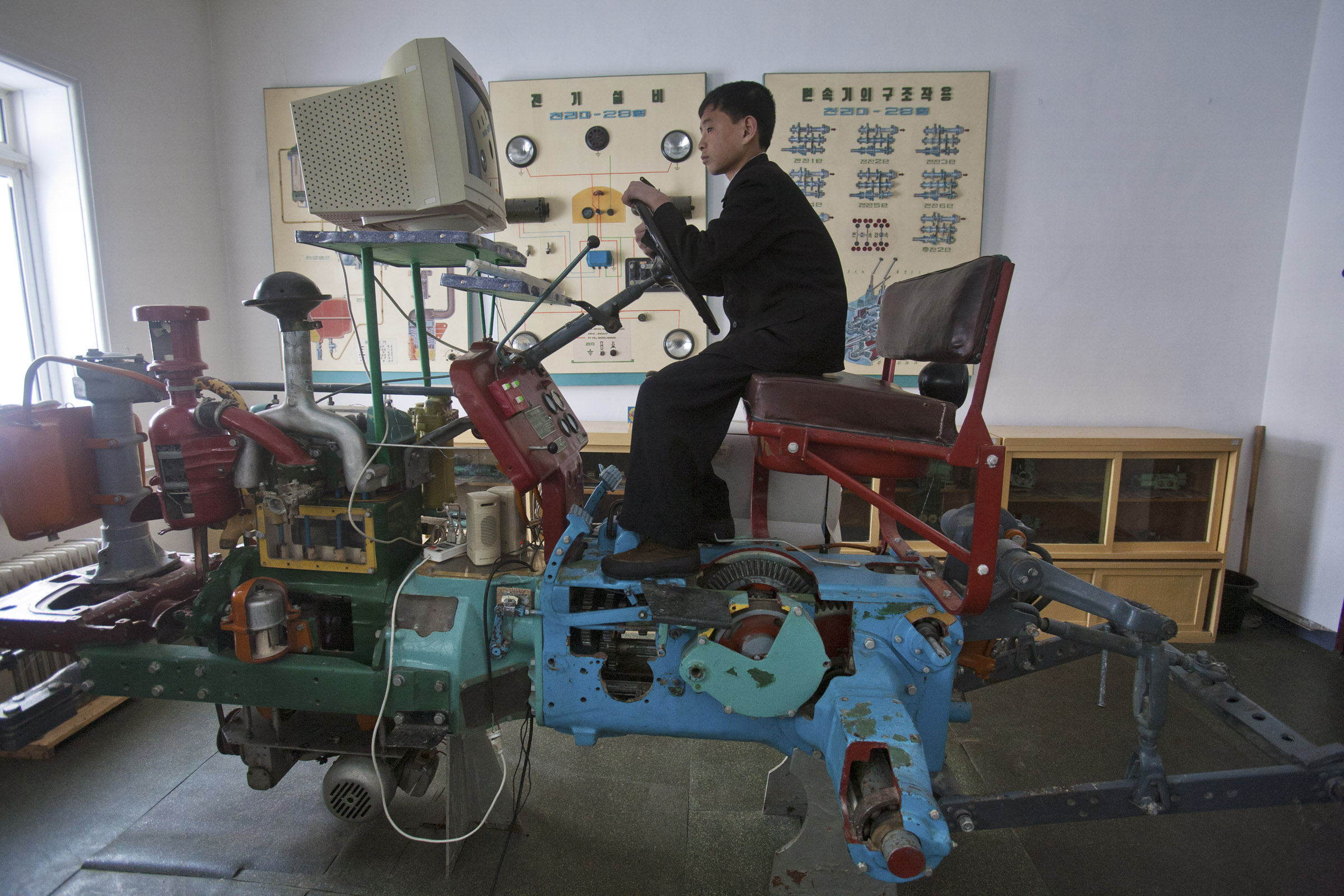 David Guttenfelder, North Korea: Life in the Cult of Kim
Each year, i try and find a moment to browse through the dozens and dozens of winning images from the World Press Photo competition. Since 1955, the contest has been honouring photographers reporting on the most remarkable (some of them alarmingly under-discussed) events in the last year. In this edition, many of the winning photos document the refugee crisis in Europe, wars (mostly in Syria), violence against women and there's also a strong thread showing the Anthropocene at its most relentless.
All the winners are over here but here's my selections. With swift copy/pasting action of the texts that accompanied the images. Let's start with a sporty and fun series…
The Gris-gris Wrestlers of Senegal: Senegalese wrestling is the most popular sport in Senegal, attracting major sponsors and wide media coverage. Wrestlers can become national stars and extremely wealthy, with top prizes reaching hundreds of thousands of euros. The sport is part of a larger West African form of traditional wrestling, but differs in that the Senegalese version allows blows with the hands. It has its historical roots in preparations among warrior classes for battle, and is still seen as an indication of masculine strength and ability. Tournaments involve drumming and dance, and wrestlers practice a range of rituals—such as the presentation of amulets, and rubbing with lotions—to increase their chances and ward off bad luck.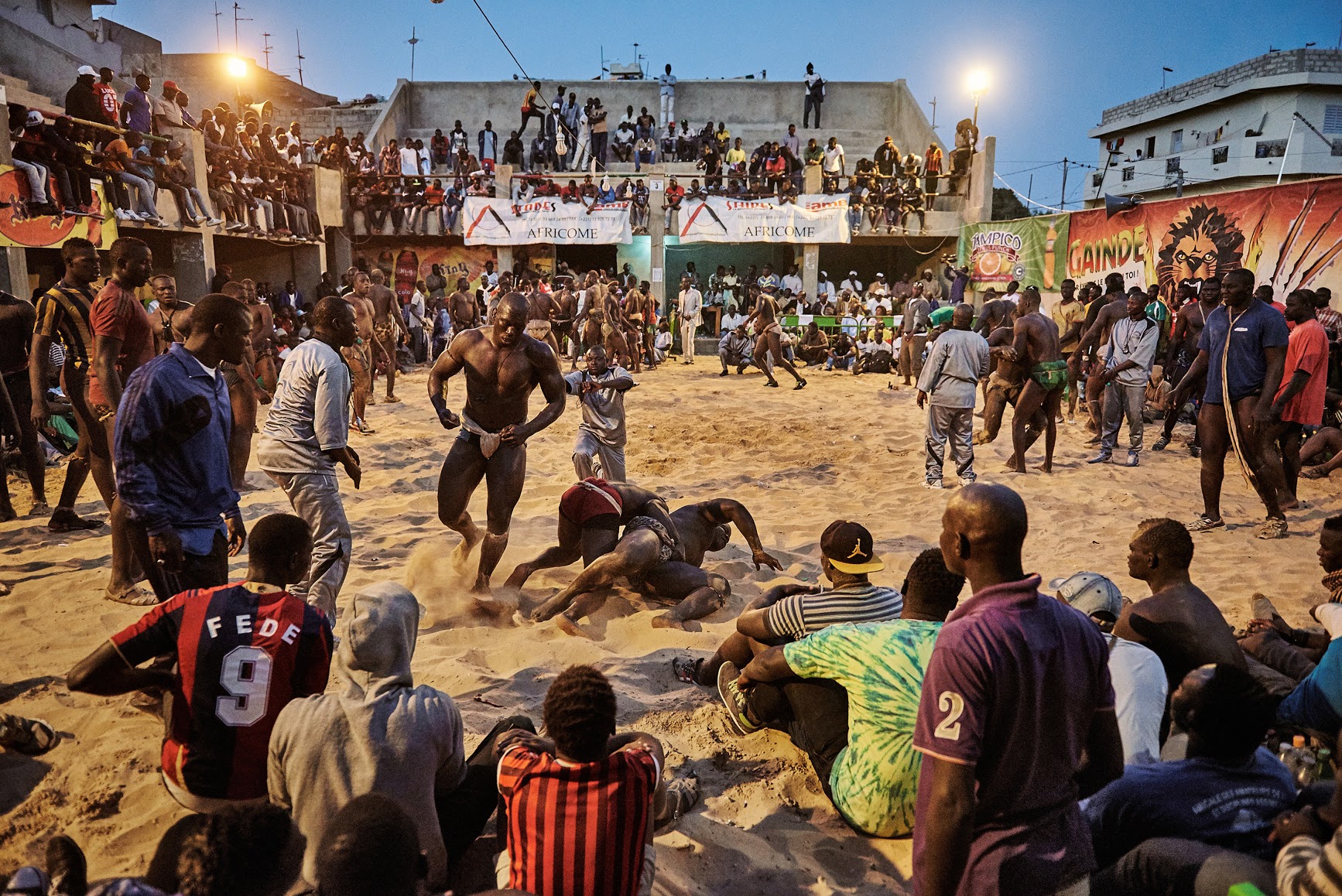 Christian Bobst, The Gris-gris Wrestlers of Senegal, March 28, 2015 
(Sports, 2nd prize stories)
A tournament in the Adrien Senghor Arena in Dakar nears its end.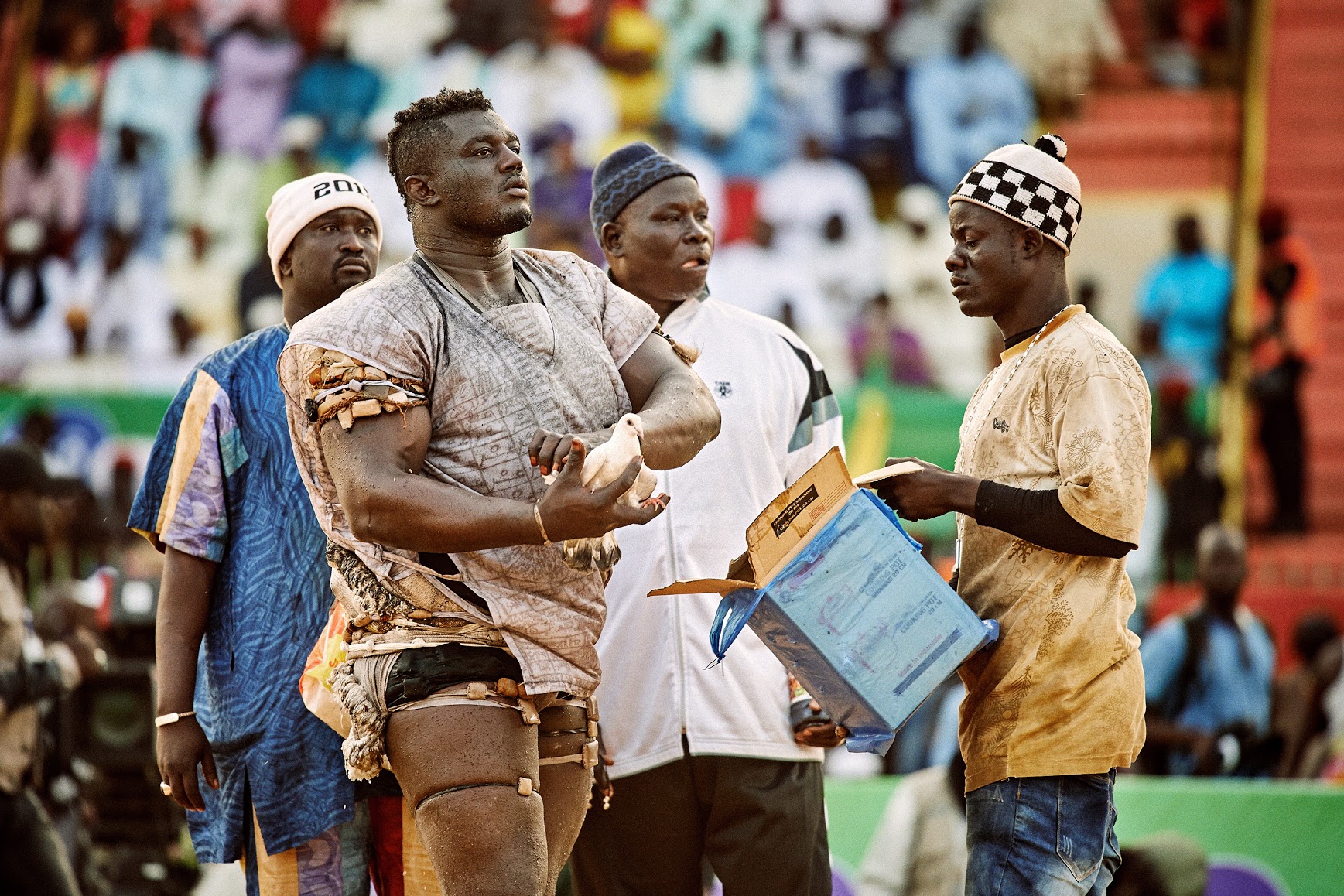 Christian Bobst, The Gris-gris Wrestlers of Senegal, April 5, 2015. 
(Sports, 2nd prize stories)
Superstar wrestler Omar Sakho (known as Balla Gaye 2) releases a dove for good luck, before a match with Eumeu Sène, at the Demba Diop Stadium.
Talibes, Modern-day Slaves: Series portraying the plight of Talibes, boys who live at Islamic schools known as Daaras in Senegal. Under the pretext of receiving a Quranic education, they are forced to beg in the streets while their religious guardians, or Marabout, collect their daily earnings. They often live in squalor and are abused and beaten.

Mário Cruz, 
Talibes, Modern-day Slaves, Thies, Senegal, 18 May 2015. 
(Contemporary Issues, 1st prize stories)
A young talibe bound by chains in an isolation area of a daara in the city of Touba, May 27, 2015. In this daara the youngest talibes are shackled by their ankles to stop them from trying to run away. These children can stay like that for days, weeks, even months until they gain the marabout's trust. Their guardian explains " When I release them, I give them the freedom to beg like the rest of the Talibes".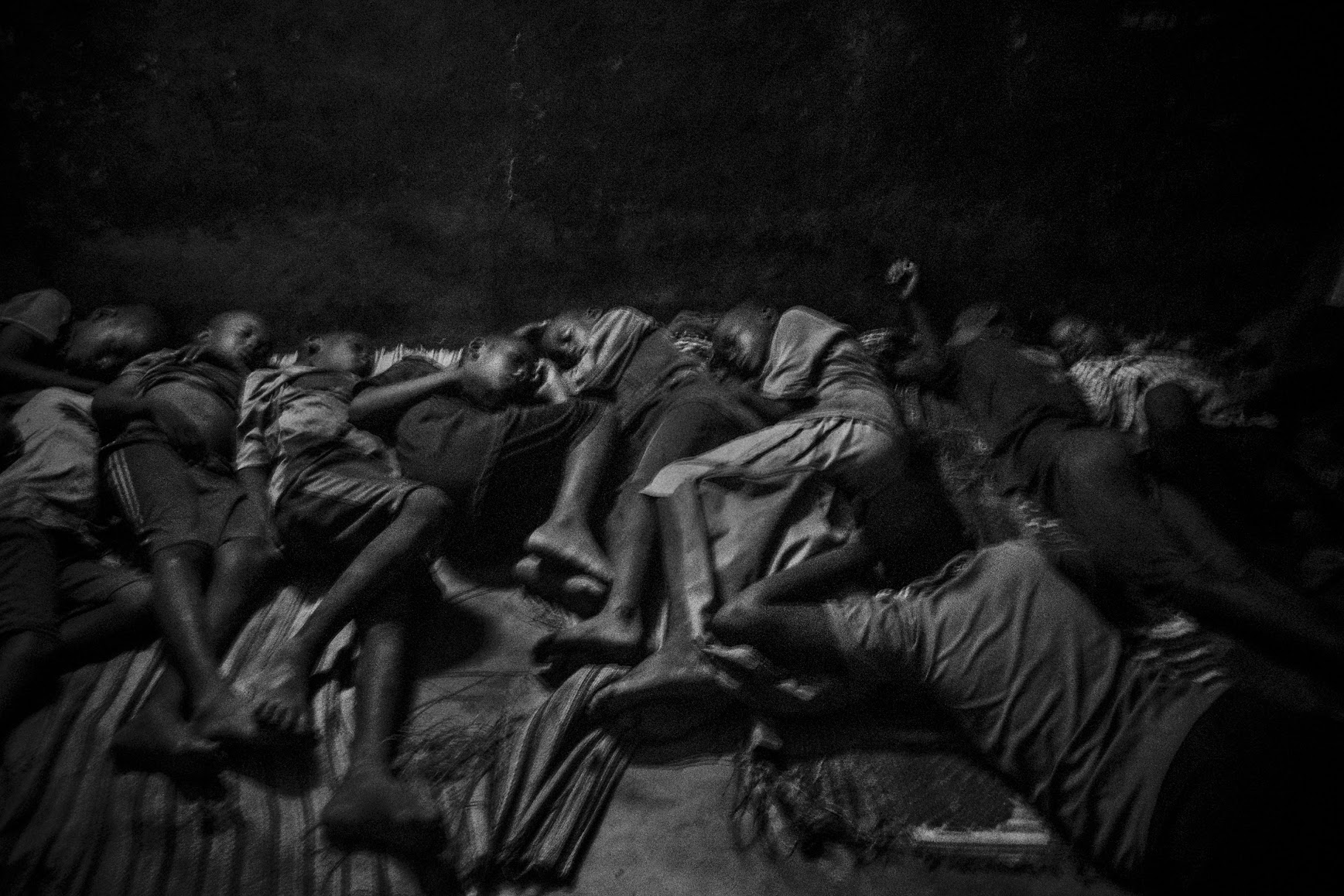 Mário Cruz, 
Talibes, Modern-day Slaves
, Saint Louis, Senegal, 21 May 2015 (Contemporary Issues, 1st prize stories)
Talibes sleep together inside a daara in Saint Louis, north of Senegal, May 21, 2015. The daara with over 30 children has no clean water and barely no electricity. Children sleep on the concrete floor without any protection.
China's Coal Addiction: A history of heavy dependence on burning coal for energy has made China the source of nearly a third of the world's total carbon dioxide (CO2) emissions, the toxic pollutants widely cited by scientists and environmentalists as the primary cause of global warming.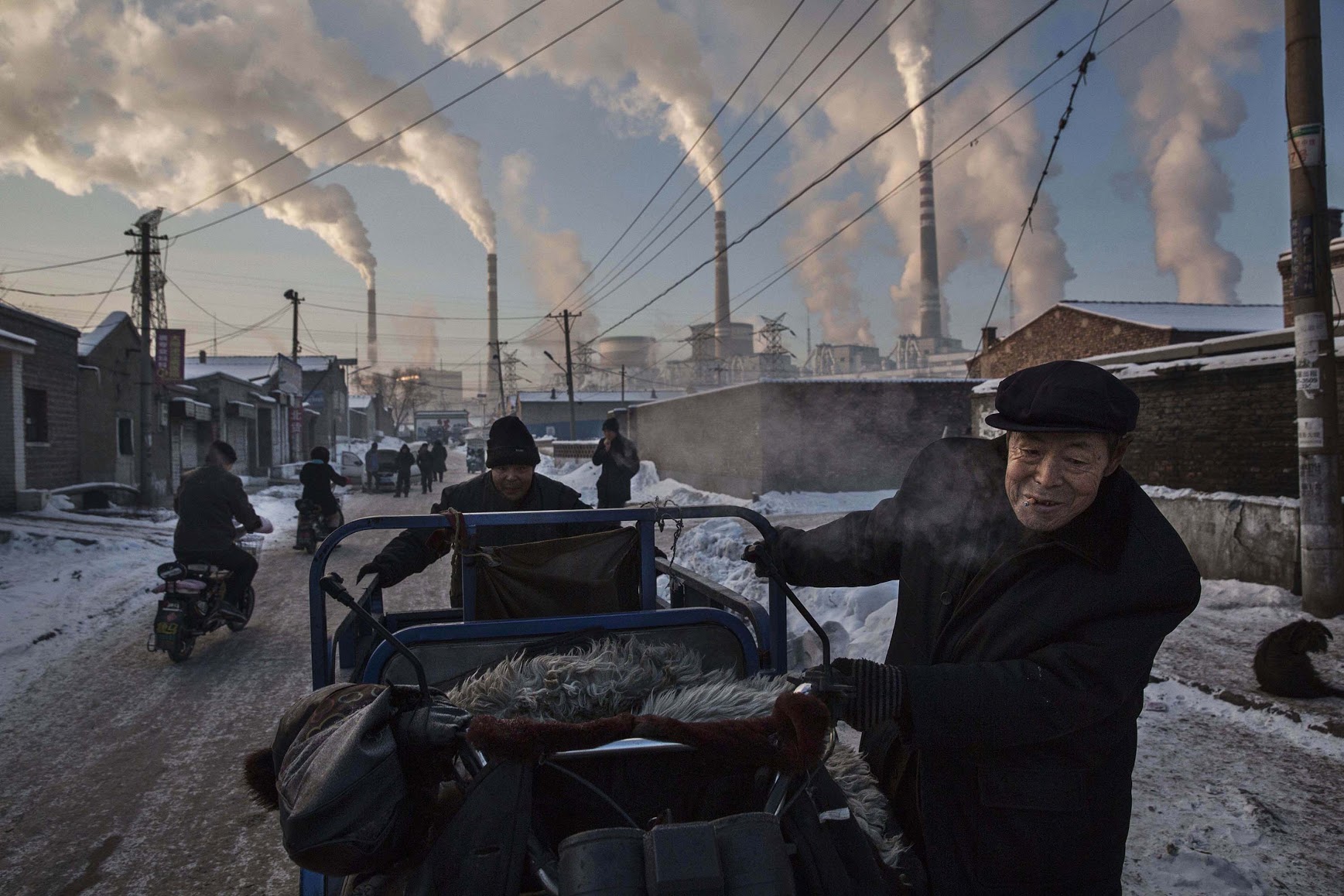 Kevin Frayer, China's Coal Addiction, Shanxi, on 26 November 2015 
(Daily Life, 1st prize singles)
Chinese men pull a tricycle in a neighborhood next to a coal-fired power plant in Shanxi, China.
Slovenia Digging the Future: As the price of gold fell, people began to dig ever deeper to find enough to make a daily wage. Arzuma works some 20 meters underground. Mining under these conditions is backbreaking labor during which miners are constantly breathing in dust. The subsequent process of extracting the gold exposes them to mercury and cyanide.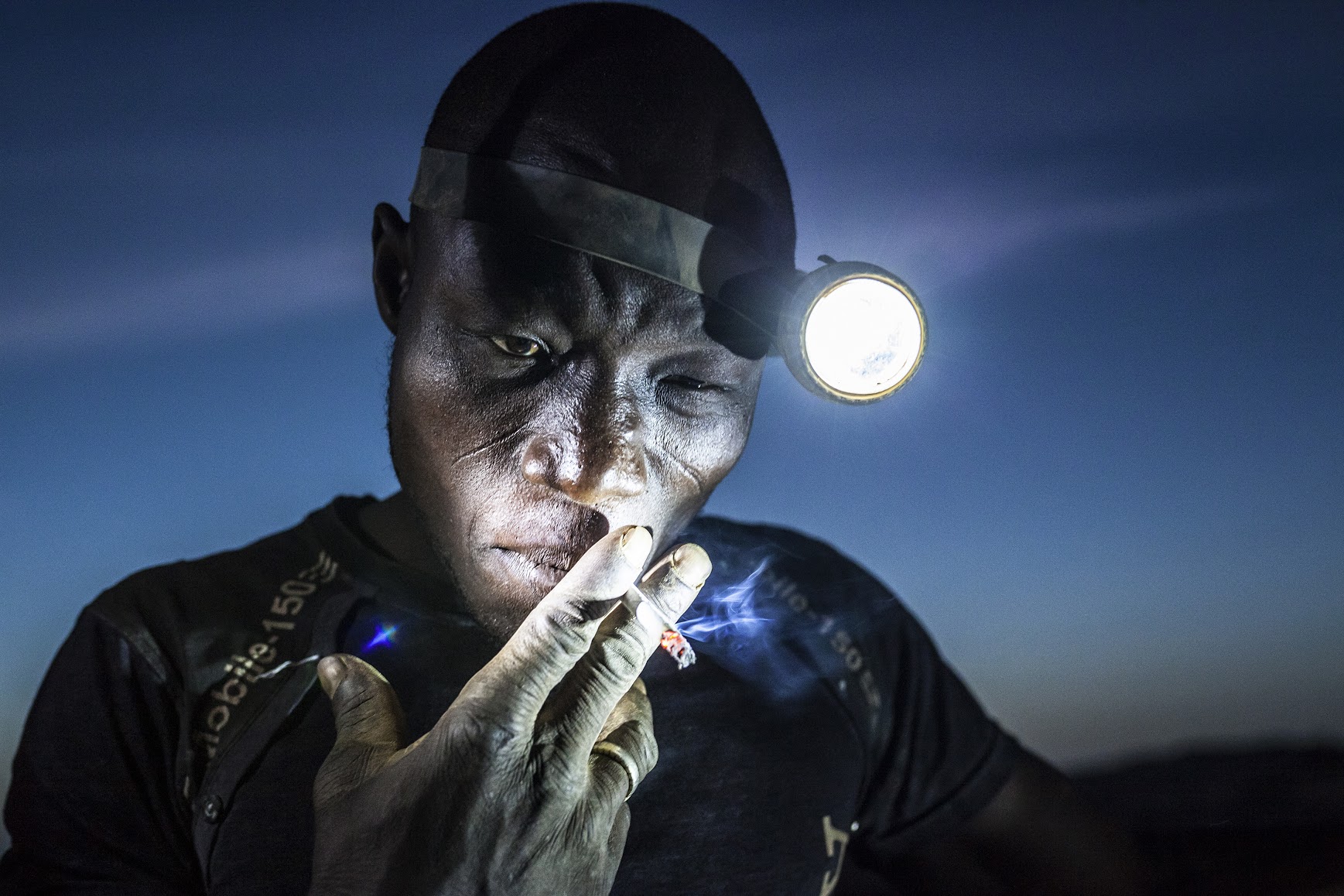 Matjaz Krivic, Slovenia Digging the Future, November 20, 2015 
(People, 2nd prize singles)
Arzuma Tinado (28) leads an eight-member crew of miners at Djuga, an artisanal gold mine in north-eastern Burkina Faso. Around 15,000 people work in the area, in pits hacked into the ground, some barely wider than a manhole.
He is just about to go into his pit again to do his night shift after he finishes his cigarete. Working in the night is better, he says, because the air is a bit cooler.
An Antarctic Advantage: Chilean, Chinese and Russian research teams in Antartica seek to explore commercial opportunities that will arise once the treaties protecting the continent for scientific purposes expire.
The continent is supposed to be protected as a scientific preserve for decades to come, but many are looking toward the day those protective treaties expire — and exploring the strategic and commercial opportunities that exist right now.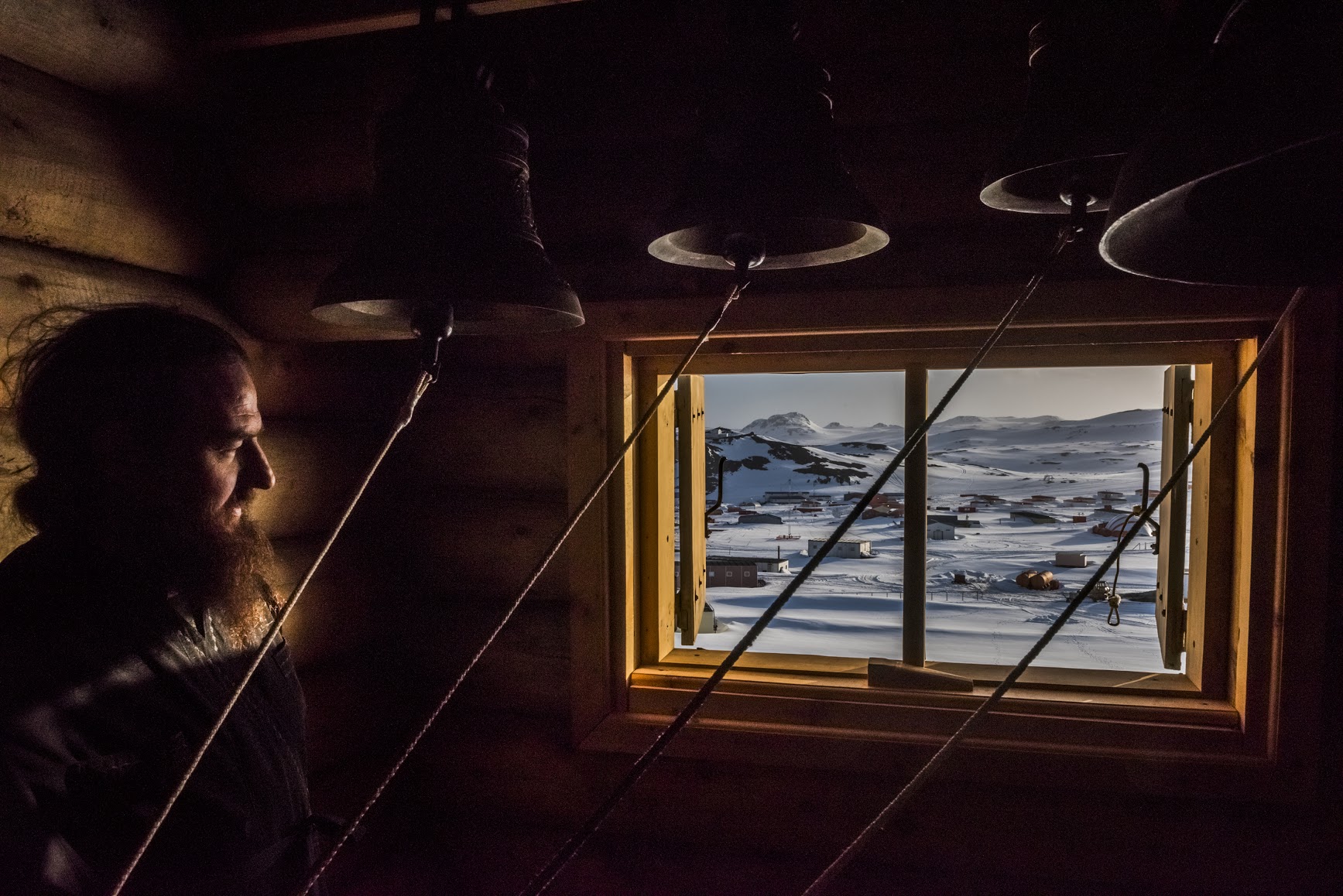 Daniel Berehulak, 

An Antarctic Advantage, 3rd of December, 2015 
(Daily Life, 1st prize stories)
Priest, Father Benjam Maltzev looks on in the Bell room, after a vigil at the Russian Orthodox Church of the Holy Trinity at the Bellingshausen Russian Antarctic research base in the Fildes Peninsula on King George Island, Antarctica.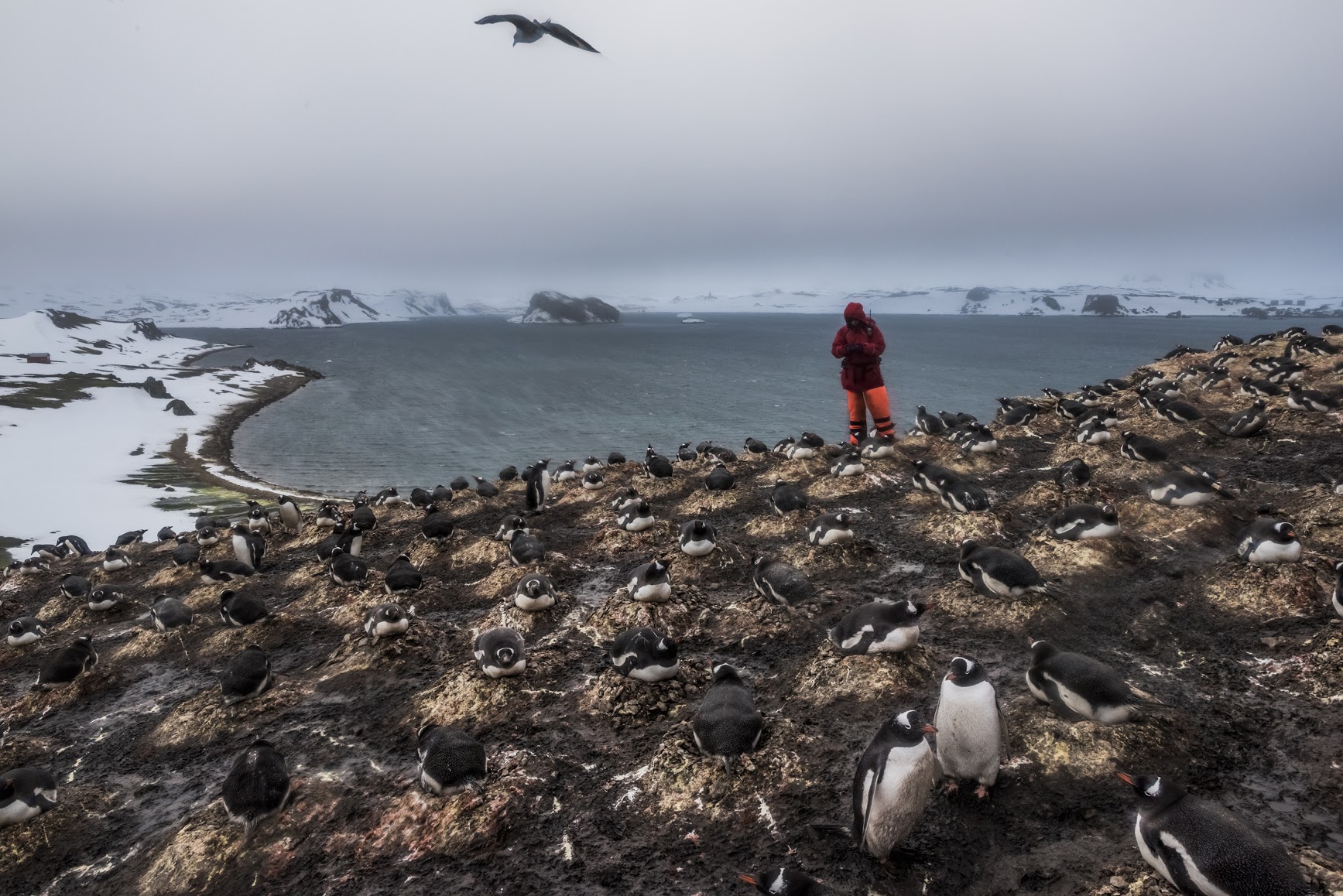 Daniel Berehulak, 

An Antarctic Advantage, Fildes Bay, Antartica, 07 December 2015 
(Daily Life, 1st prize stories)
A member of a German research team counts the number of penguin species and pairs as part of ongoing research on bird and penguin species in Antarctica.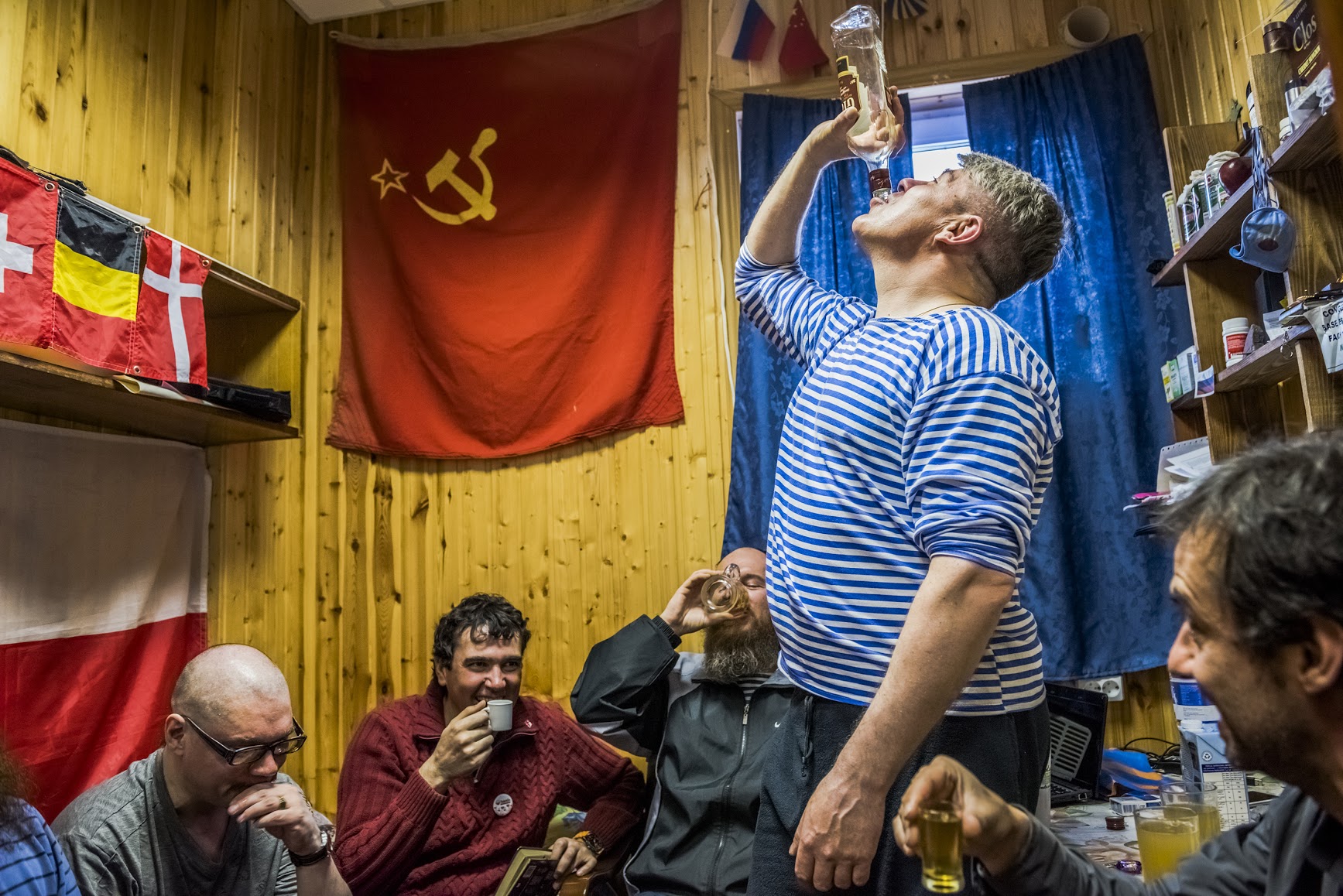 Daniel Berehulak, 

An Antarctic Advantage, 28th of November, 2015 
(Daily Life, 1st prize stories)
The winter expedition crew of Russian research team and (R) Chilean scientist Dr Ernesto Molina, drink "Samagon" a home-made vodka, as they sit in a bedroom of the Bellingshausen Antarctica base near Villa Las Estrellas, in the Fildes Peninsula on King George Island, Antarctica.
Daily 
Haze in China: Tianjin, the fourth most populous city in China, is an industrial and logistics hub. Its port forms a gateway to the national capital, Beijing. Hazardous smog blanketing China's northeast triggered red alerts in a number of cities throughout the month, including Beijing and Tianjin. Schools were advised to stop classes, and people were told to stay inside and restrict vehicle use.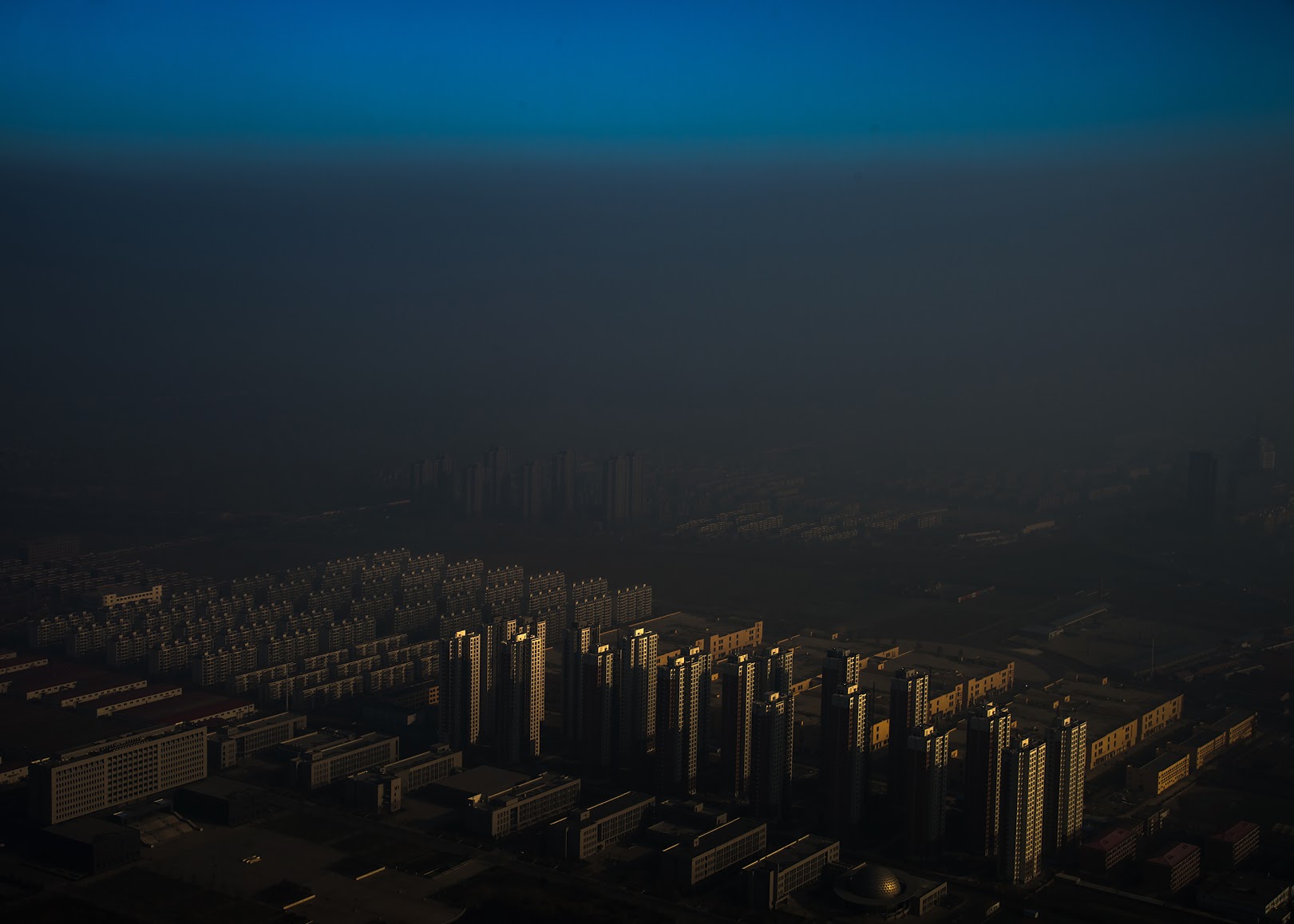 Zhang Lei, Daily 
Haze in China, December 10, 2015 (Contemporary Issues, 1st prize singles)
A cloud of smog hangs over Tianjin, in northeastern China.
Tough Times for Orangutans: Orangutans are found in the wild only in the rainforests of Sumatra and Borneo. Sumatran orangutans are on the IUCN Red List as a 'critically endangered' species, with around 7,000 living out of captivity. Borneo orangutans, the world's largest tree-dwelling animal, are listed as endangered. Numbers of both are decreasing sharply. Orangutans are facing a crisis in habitat, as logging activity, conversion to agriculture, and fires consume their forests. They are also poached for the illegal pet trade. In 2015, wildfires—spurred by drought and the effects of El Niño—devastated vast areas of rainforest in Sumatra and Borneo, driving out orangutans and putting them in increased danger from poachers, and into conflict with farmers as they searched for food.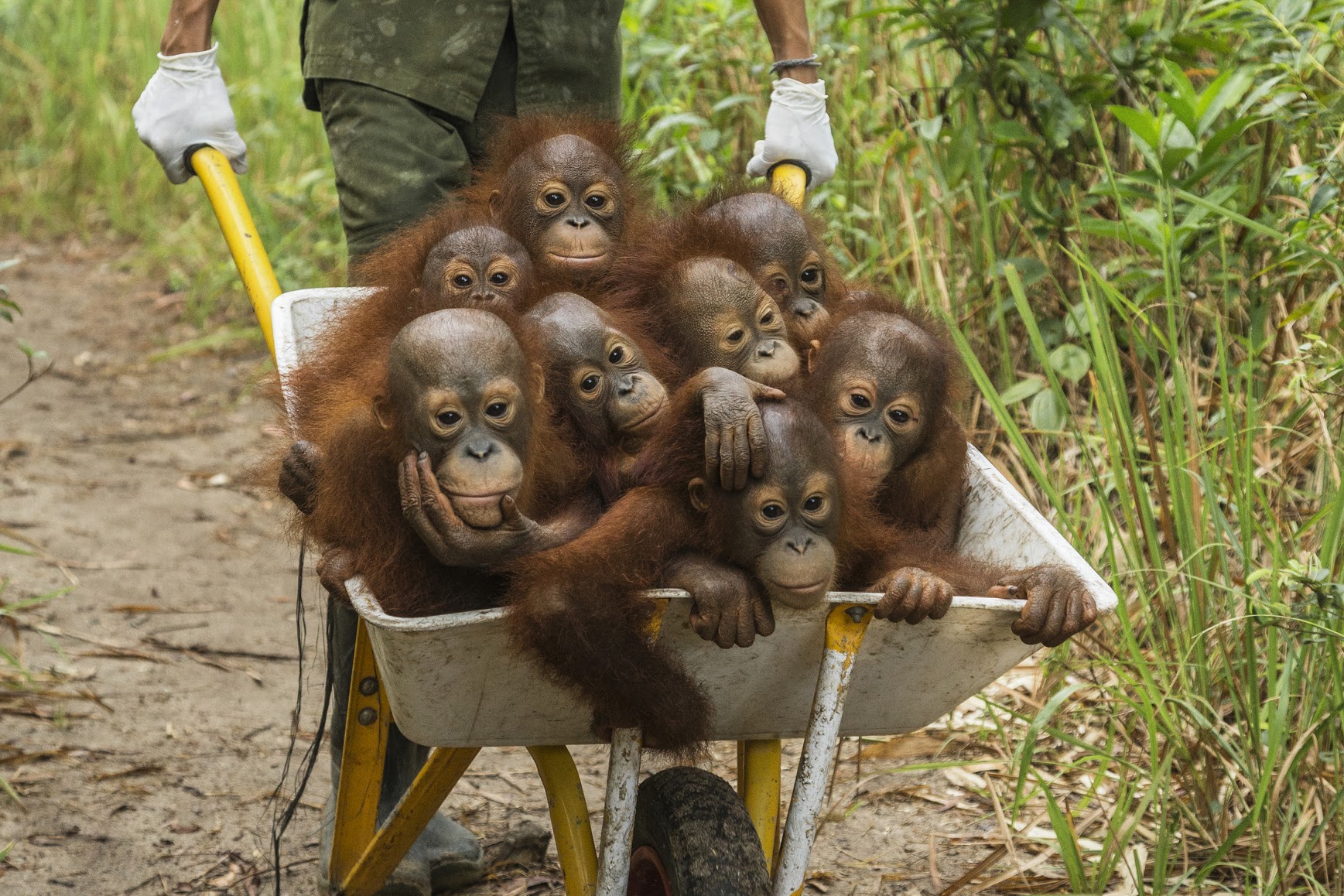 Tim Laman, Tough Times for Orangutans, June 13, 2014 
(Nature, 1st prize stories)
A keeper at IAR transports a group of juvenile orangutans by wheelbarrow to a patch of forest where they will learn skills for the wild International Animal Rescue (IAR)in Ketapang,Island of Borneo, Indonesia.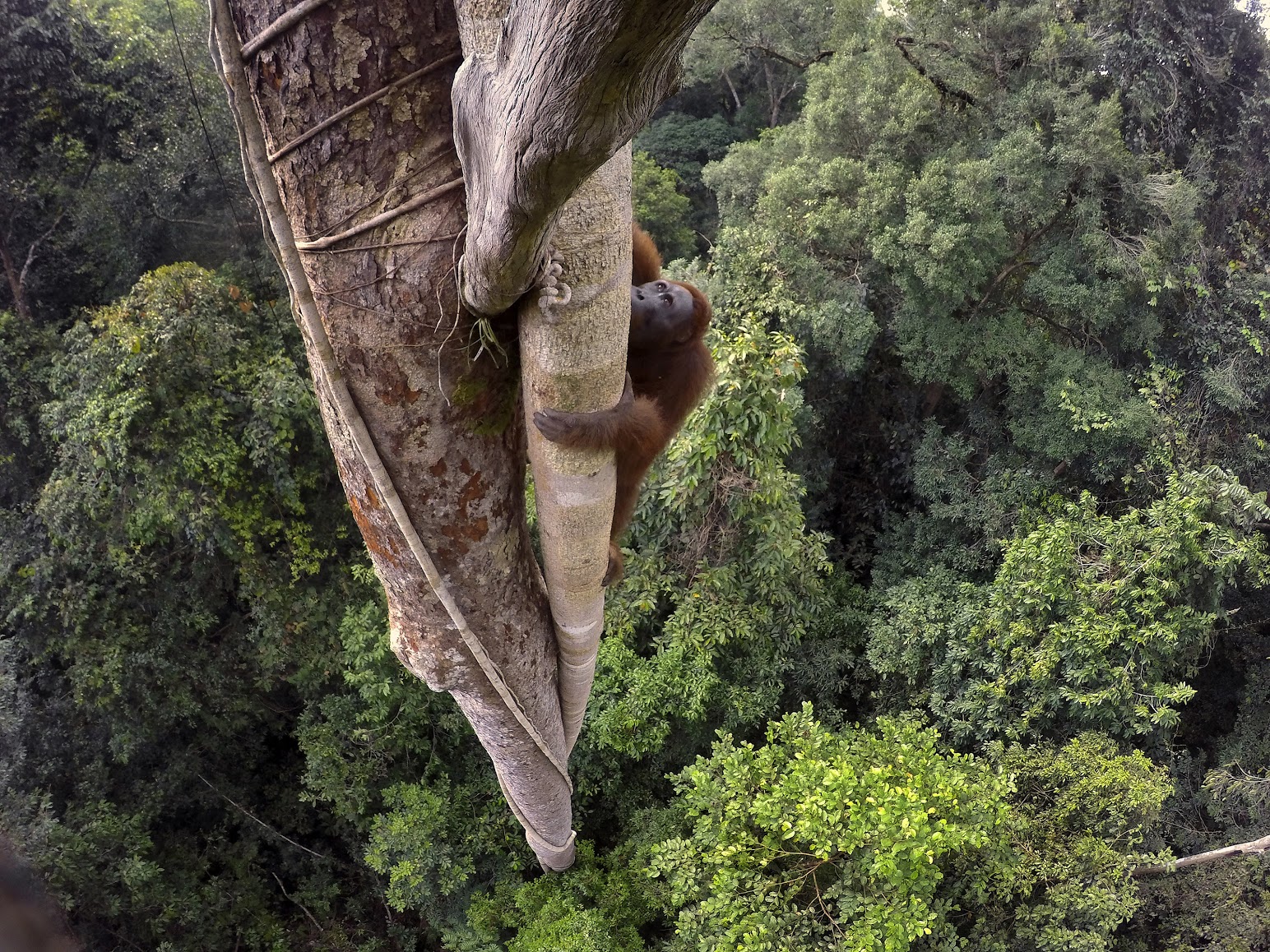 Tim Laman, Tough Times for Orangutans, August 12, 2015 
(Nature, 1st prize stories)
A young male Bornean orangutan climbs 30 meters up to the crown of a fruiting strangler fig tree to feed, deep in the rainforest in the Gunung Palung National Park.
Ivory Wars: The trade in poached ivory is financing rebel armed militia across Africa, such as the Lord's Resistance Army, Seleka rebels of the Central African Republic (CAR), the Janjaweed of Sudan, and the FDLR in the Democratic Republic of Congo (DRC). Various national armies actively trade with these groups, and centuries-old Sudanese poaching cartels participate in sending large bands of armed men across borders to kill elephants. Patrols of dedicated rangers around the continent are on the frontline of attempts to thwart the trade.

Brent Stirton, Ivory Wars, January 7, 2015 
(Nature, 2nd prize stories)
Rangers exhibit their riding skills as they return to base at Zakouma National Park, Chad, after weeks on elephant patrol. The park lost nearly three quarters of its elephants in the decade up to 2011, due to raids by Janjaweed rebels and poachers from Sudan. Since then—with the park under new management—Zakouma rangers, helped by intelligence from nomad groups, have eliminated poaching almost completely.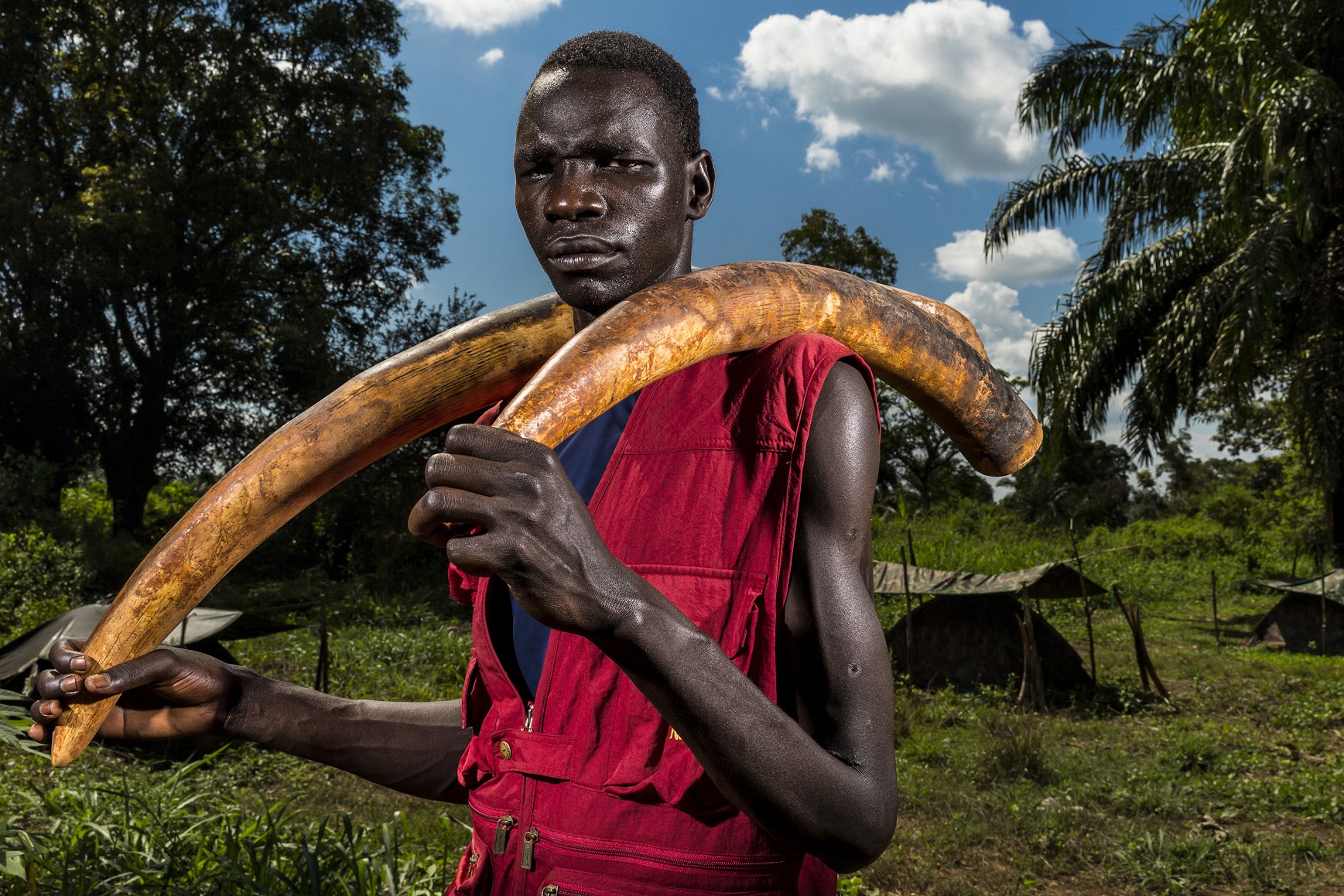 Brent Stirton, Ivory Wars, November 17, 2014 
(Nature, 2nd prize stories)
Michael Oryem (29) poached elephant with the Lord's Resistance Army (LRA), operating mainly in the Garamba National Park in DRC. He says he was asked by LRA leader Joseph Kony to take ivory to him in Darfur, Sudan, and that the LRA trades the ivory to the Sudanese Army. Oryem defected from the LRA and helped take Ugandan forces through the border into the Central African Republic to retrieve a stash of ivory he had previously hidden. He is carrying two of the six tusks he hid.
Ivory is now a real means of financing for the LRA, it is used for both food and weapons supplies and is traded to the Sudanese Army who transports it north to Khartoum.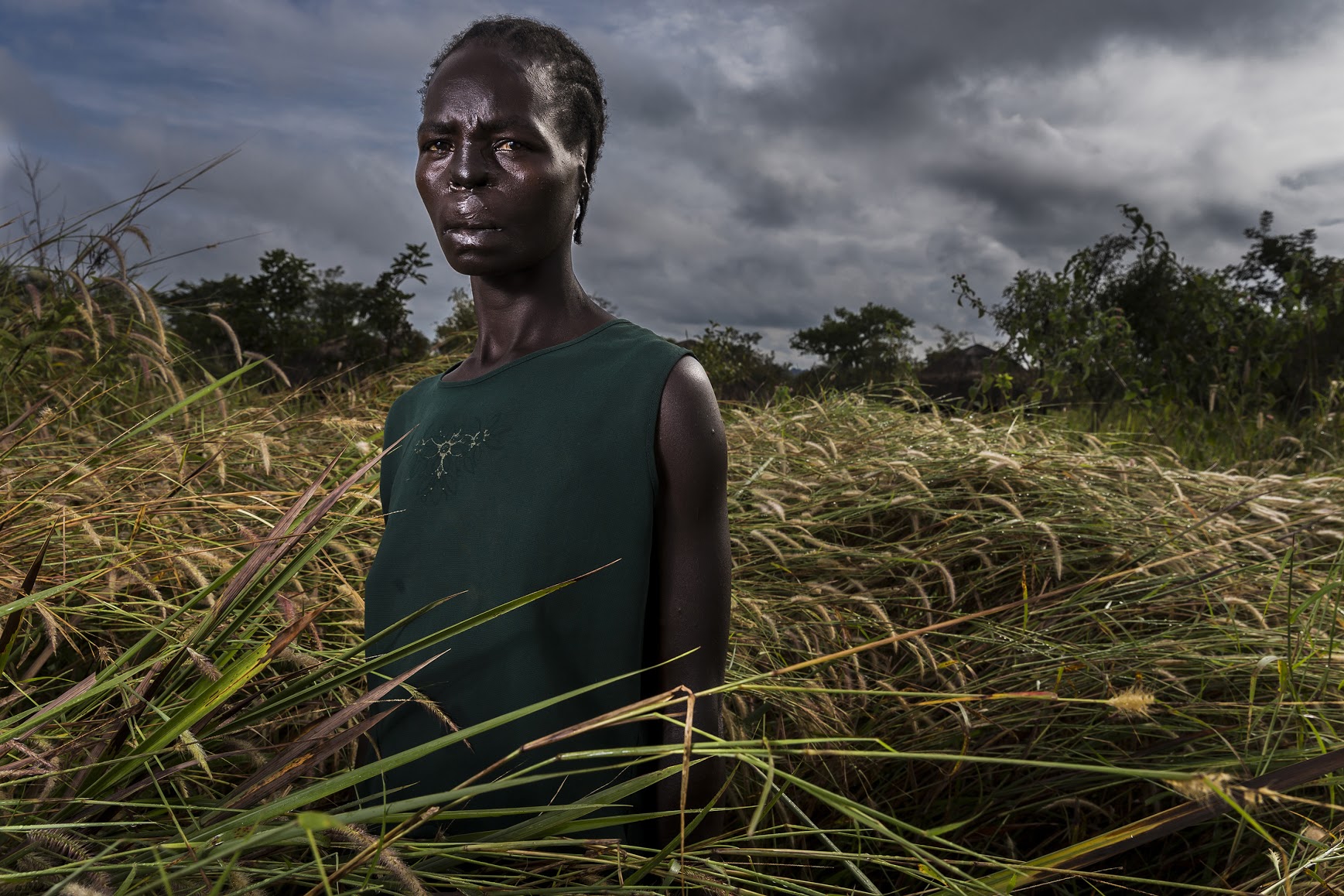 Brent Stirton, Ivory Wars, November 21, 2014 
(Nature, 2nd prize stories)
Margret Acino (32) was abducted from a field outside her village by the Lord's Resistance Army, who accused her of informing on them to the Ugandan Army. She was mutilated before being released.
Sexual Assault in America's Military: The incidence of sexual assault on women by their colleagues in the US Armed Forces is high. Many women see reporting attacks to their commands as difficult or futile. Very few sexual assaults are reported and only a fraction of those get to court. The trauma of a sexual assault, and the ensuing emotional distress, may lead to long-term personal issues. The effects of Military Sexual Trauma (MST) include drug and alcohol dependence, homelessness, and an increased risk of suicide. Challenges for women veterans are not always met by existing vet programs. Women veterans form the fastest growing segment of the homeless population of the US, and are four times more likely to be homeless as other women.
The photographer, who comes from a military family, made it her mission to document the lives of MST survivors, and to keep the issue talked about. She learned that they formed a network of support for each other, but that homeless survivors were a hidden population, who rarely spoke to others about their experiences.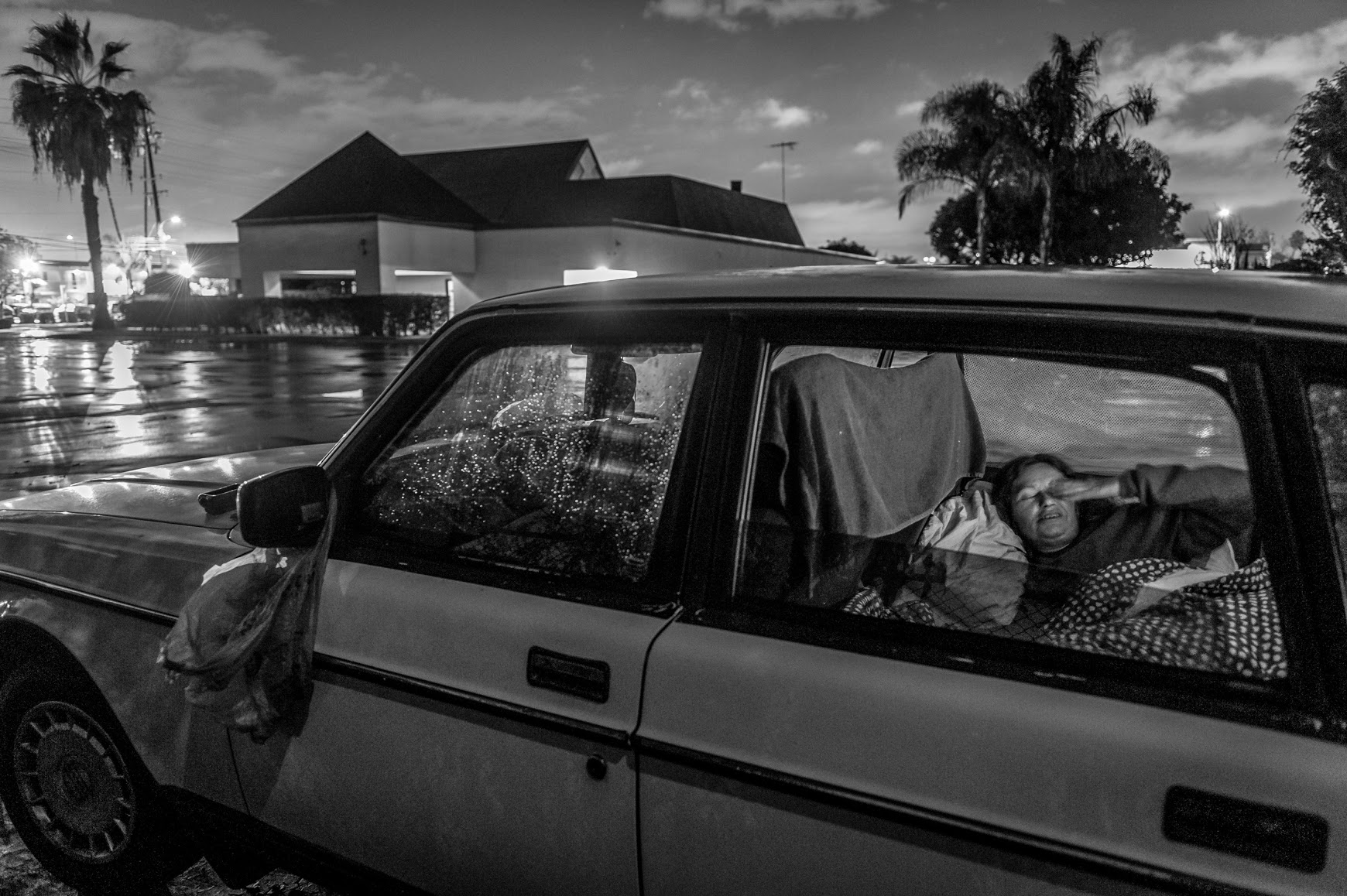 Mary F. Calvert, 
Sexual Assault in America's Military, December 1, 2014. Long Term Projects, 1st prize
Veteran Darlene Matthews has been living in her car for more than two years, while she waits for a housing voucher from the VA. Darlene joined the military in 1976, to escape an abusive home life, but was upset to discover that the army was not a safe place. After her discharge, she became depressed, and her life went into a downward spiral.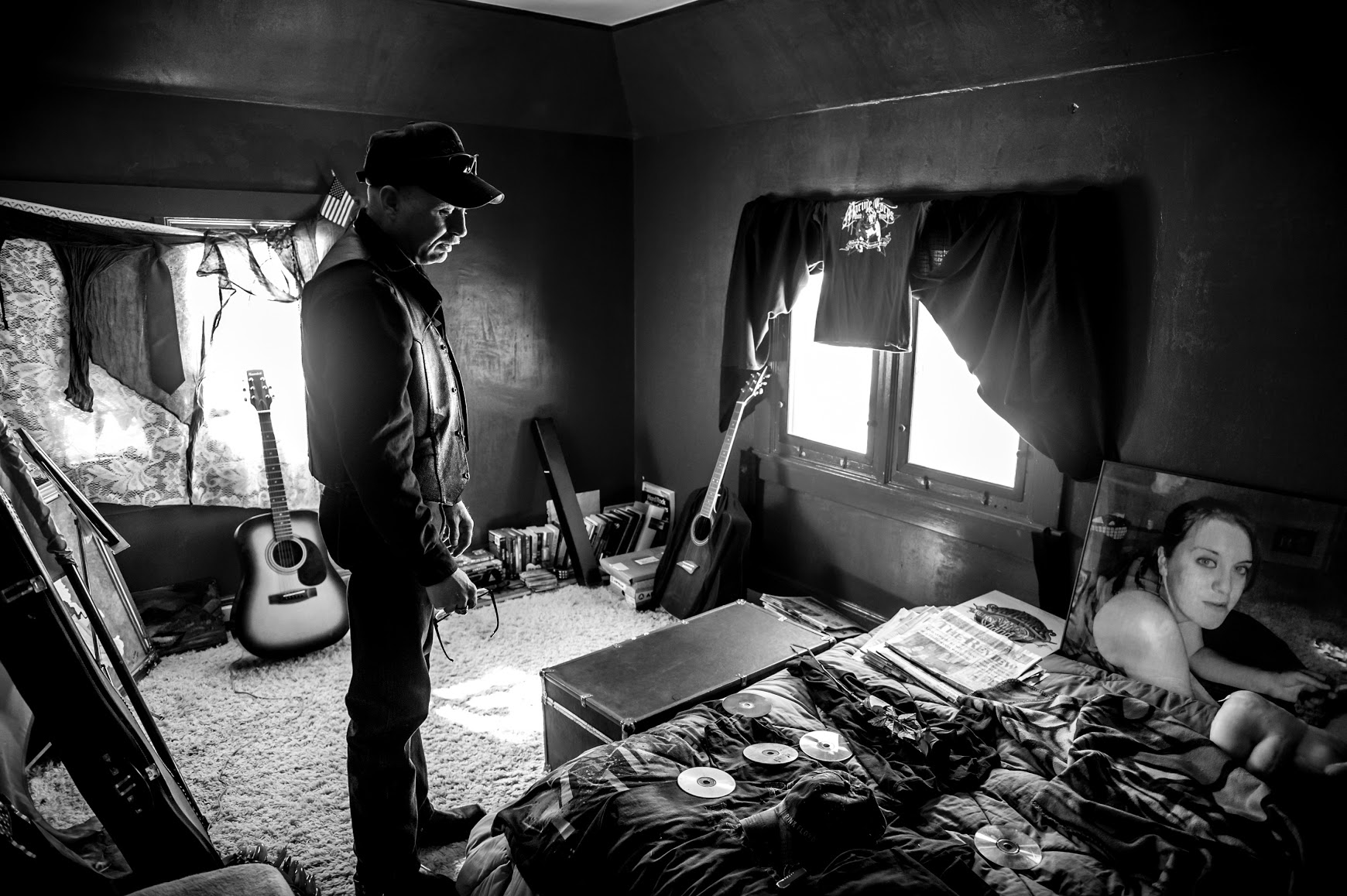 Mary F. Calvert, 
Sexual Assault in America's Military, March 1, 2014. Long Term Projects, 1st prize
Gary Noling stands in his daughter Carrie's bedroom, on the anniversary of her suicide. She drank herself to death following severe retaliation after reporting her rape to superiors.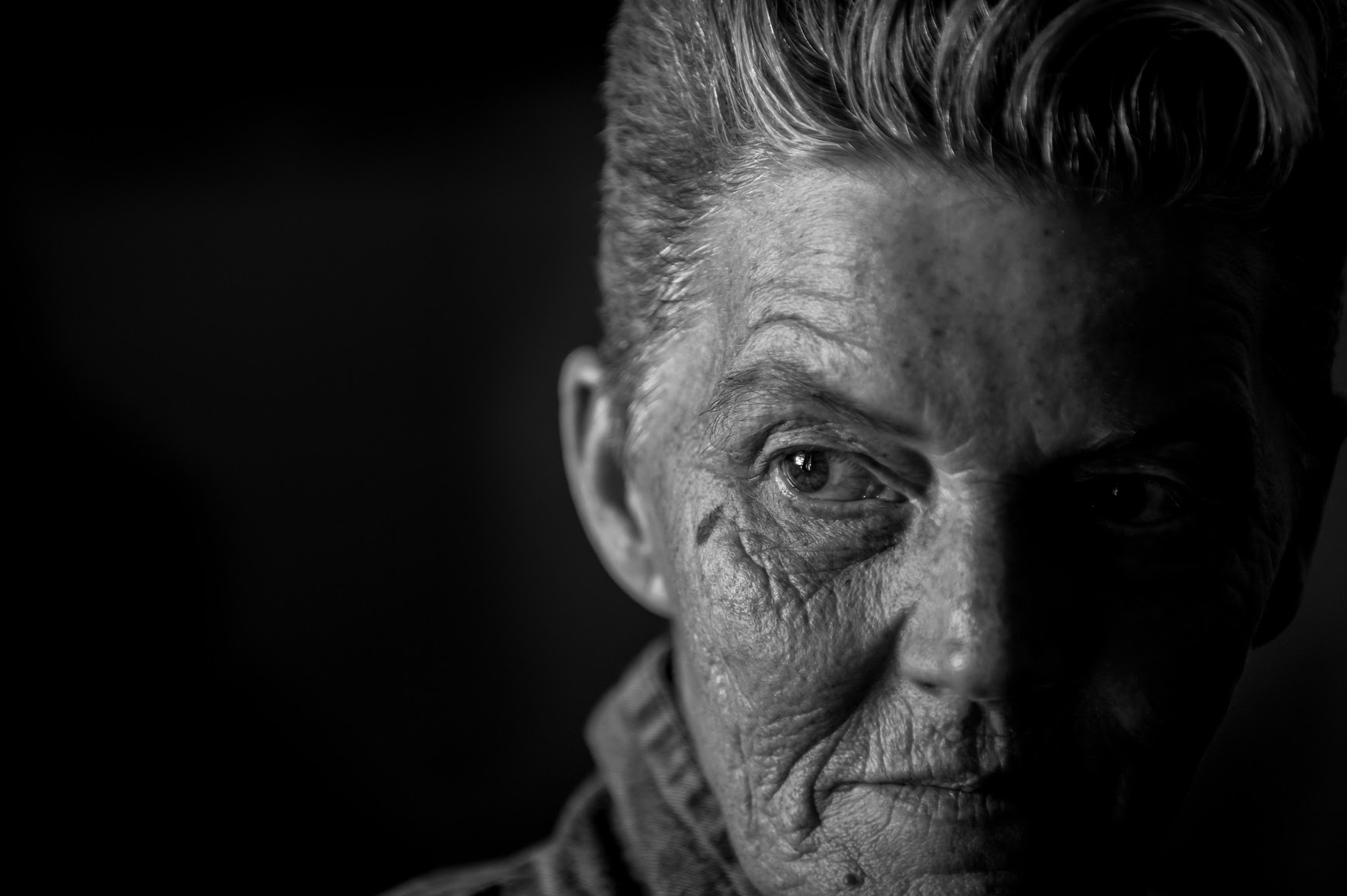 Mary F. Calvert, 
Sexual Assault in America's Military, November 29, 2014. Long Term Projects, 1st prize
Debra Filter was raped with several other recruits at a boot camp graduation party they were forced to attend in 1978. For a long time she suffered from PTSD, and eventually left the army. She has been homeless for ten years and wrangling with Veterans Affairs for benefits for decades, but now has a VA housing voucher for a studio apartment.
North Korea: Life in the Cult of Kim: North Korea has been one of the most isolated and least understood countries. Few outsiders have ever had a glimpse of the country and there have been very few independent photographs ever made there. This series documents urban and rural North Korea, capturing the daily life of its citizens, military events and ceremonies.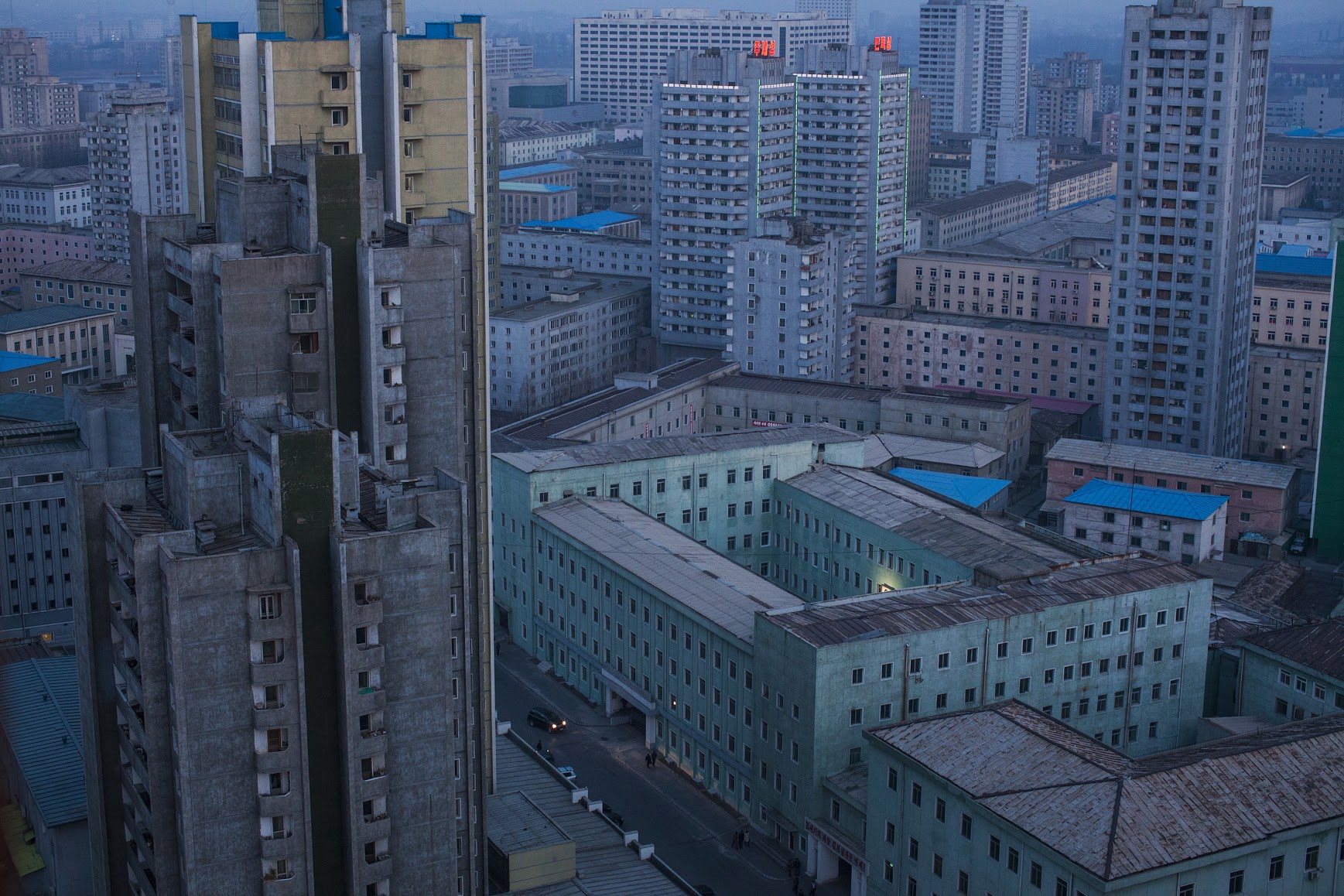 David Guttenfelder, North Korea: Life in the Cult of Kim, April 12, 2011 (Long Term Projects, 3rd prize)

At dusk, the skyline of central Pyongyang, North Korea.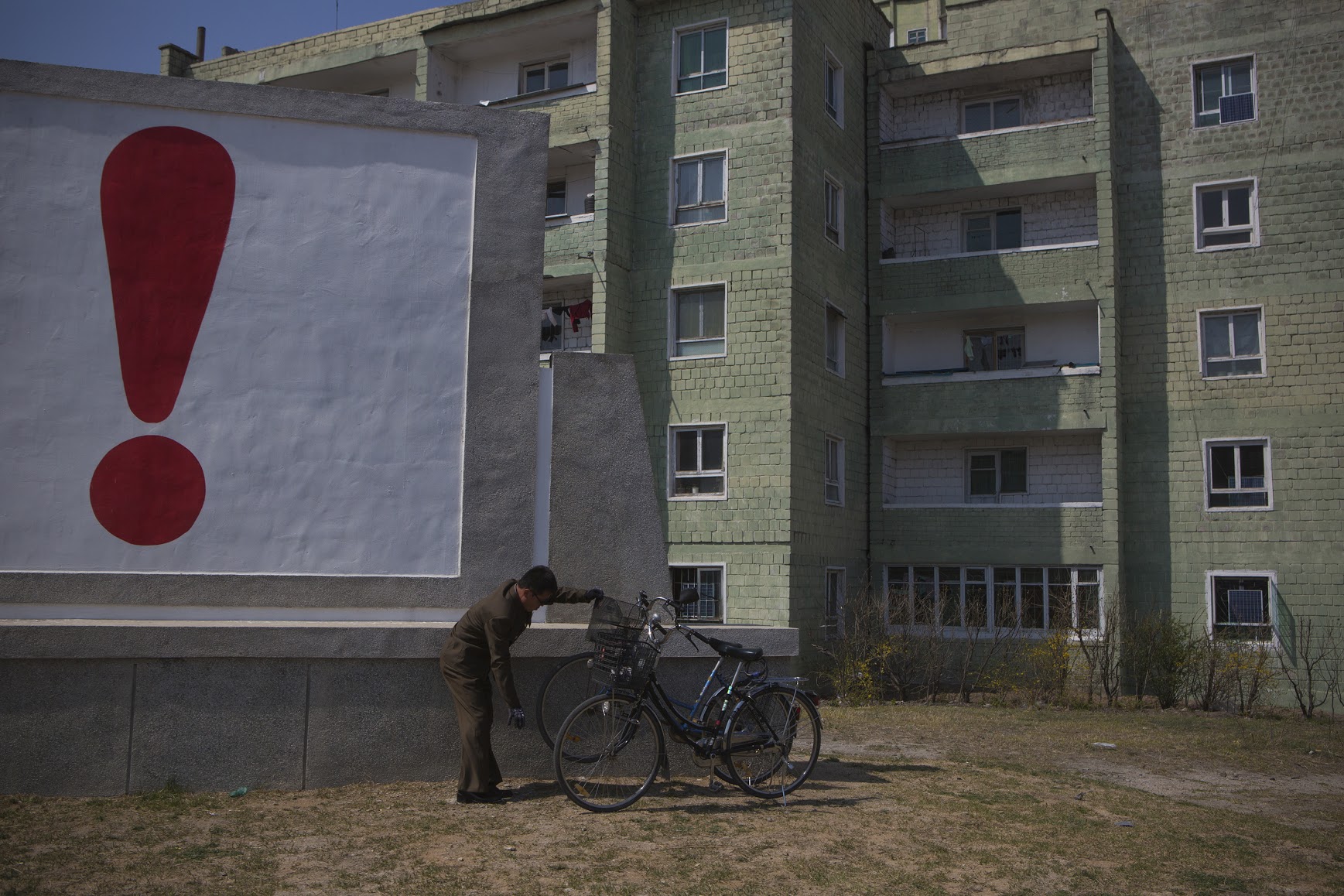 David Guttenfelder, North Korea: Life in the Cult of Kim, April 24, 2013 (Long Term Projects, 3rd prize)

A man checks his bicycle next to a painted exclamation point on a propaganda billboard in Kaesong, North Korea.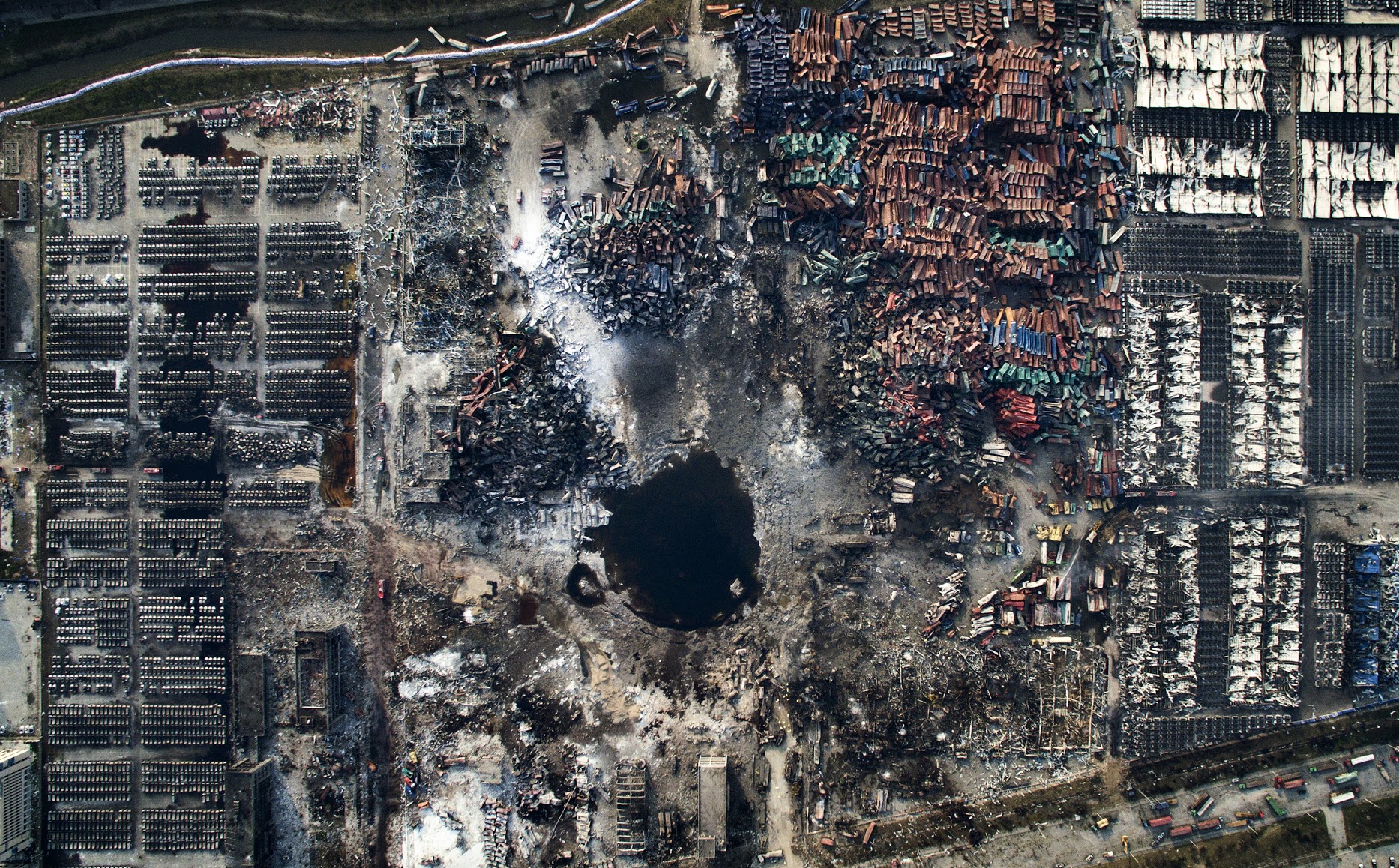 Chen Jie, Explosion, 15 August, Tianjin, China (General News, 3rd prize singles)
A large pit, wrecked vehicles and damaged buildings remain in the aftermath of explosions in the container storage station of a logistics company in the Port of Tianjin, northeastern China.
The warehouse, owned by Ruhai Logistics, was registered for storage of hazardous chemicals. Safety regulations stipulating that public buildings should be at least one kilometer away were not heeded. A series of explosions at the facility resulted in damage to some 17,000 residences and 8,000 vehicles, killing over 170 people (95 of them firefighters) and injuring hundreds more. Later investigation concluded that the first explosion occurred in an overheated container of dry nitrocellulose, which set off further explosions, including one that involved the detonation of around 800 tons of ammonium nitrate.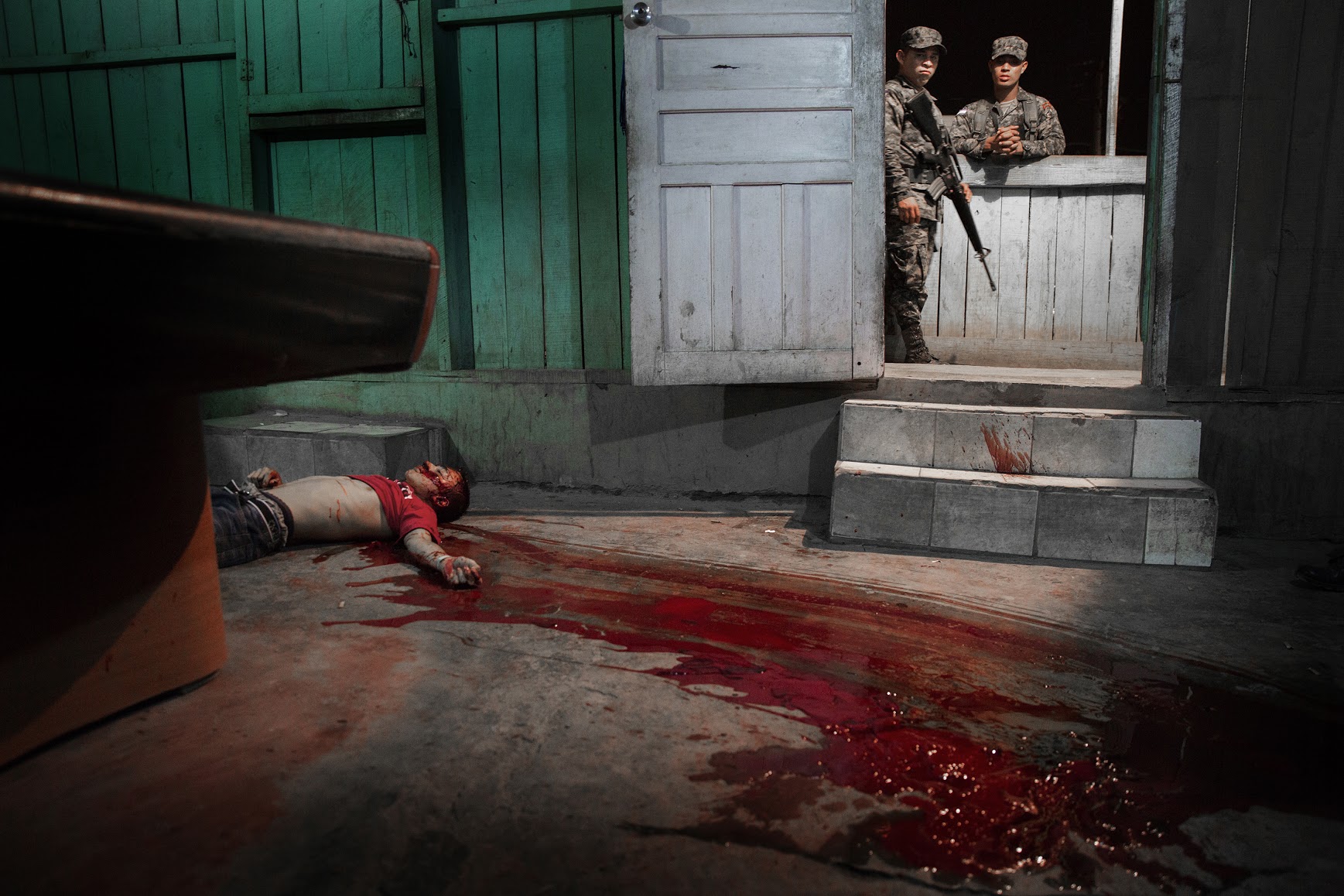 Niclas Hammarström, Gang-related Violence, 4 March, San Pedro Sula, Honduras 
(Spot News, 3rd prize singles)
A man lies dead after a gang shoot-out in San Pedro Sula. He was the fourth victim on the same street of an ambush by members of the 18th Street gang on their rivals MS13.
Honduras is at the top of the world's homicide list, with over 7,000 homicides a year in a population of eight million. Most of the violence is gang-related, in a country which is on a transit route for drugs, and where corruption is widespread and gangs wield great power.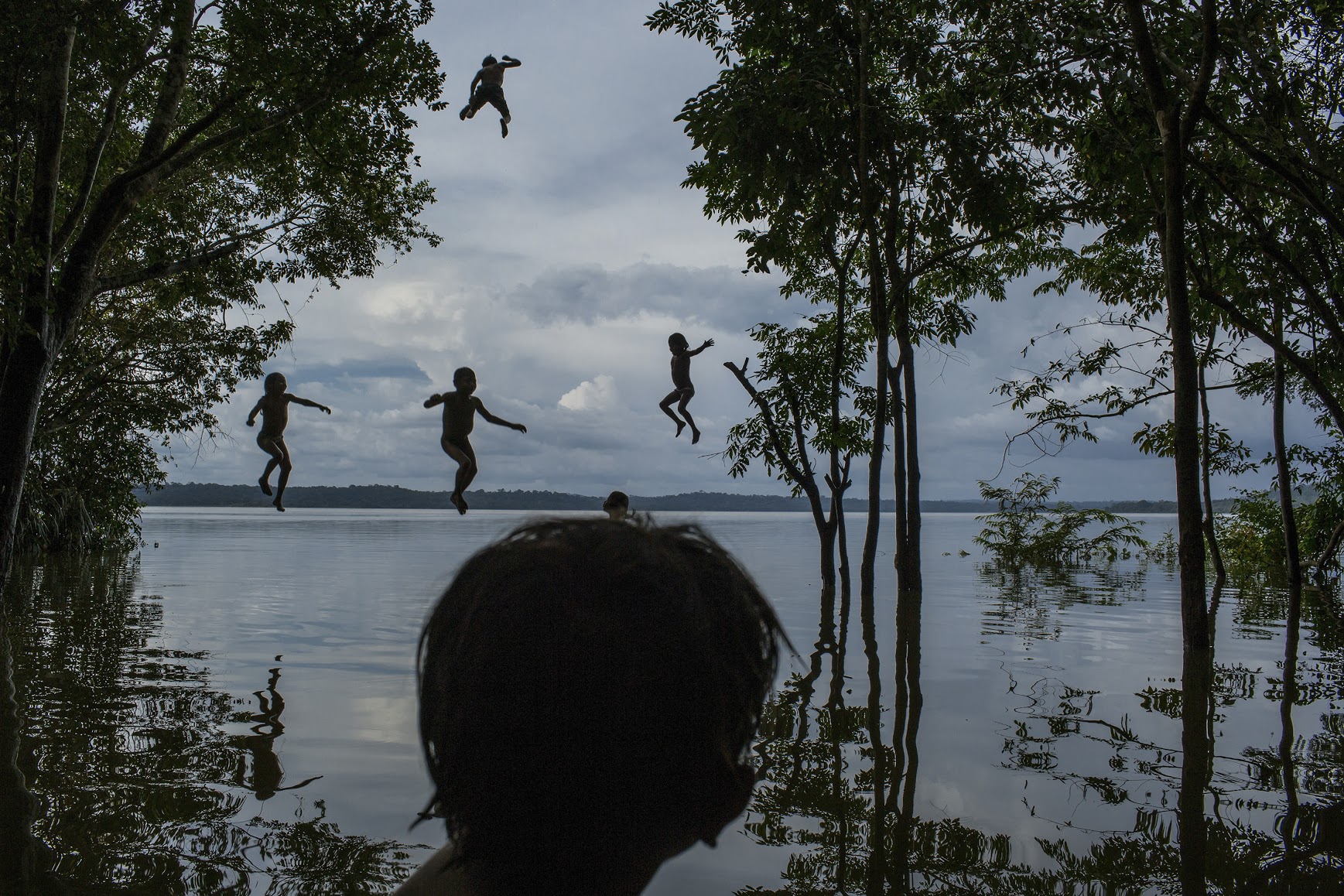 Mauricio Lima, Amazon's Munduruku Tribe 
(Daily Life, 2nd prize singles)
Indigenous Munduruku children play in the Tapajos river in the tribal area of Sawre Muybu, Itaituba, Brazil on 10 February 2015.
The tribesmen of the Munduruku, who for centuries have sanctified the Tapajos River on which their villages sit, are fighting for survival. Brazil's government plans to flood much of their land to build a $9.9 billion hydroelectric dam, the Sao Luiz do Tapajos, as part of a wider energy strategy across the Amazon rainforest.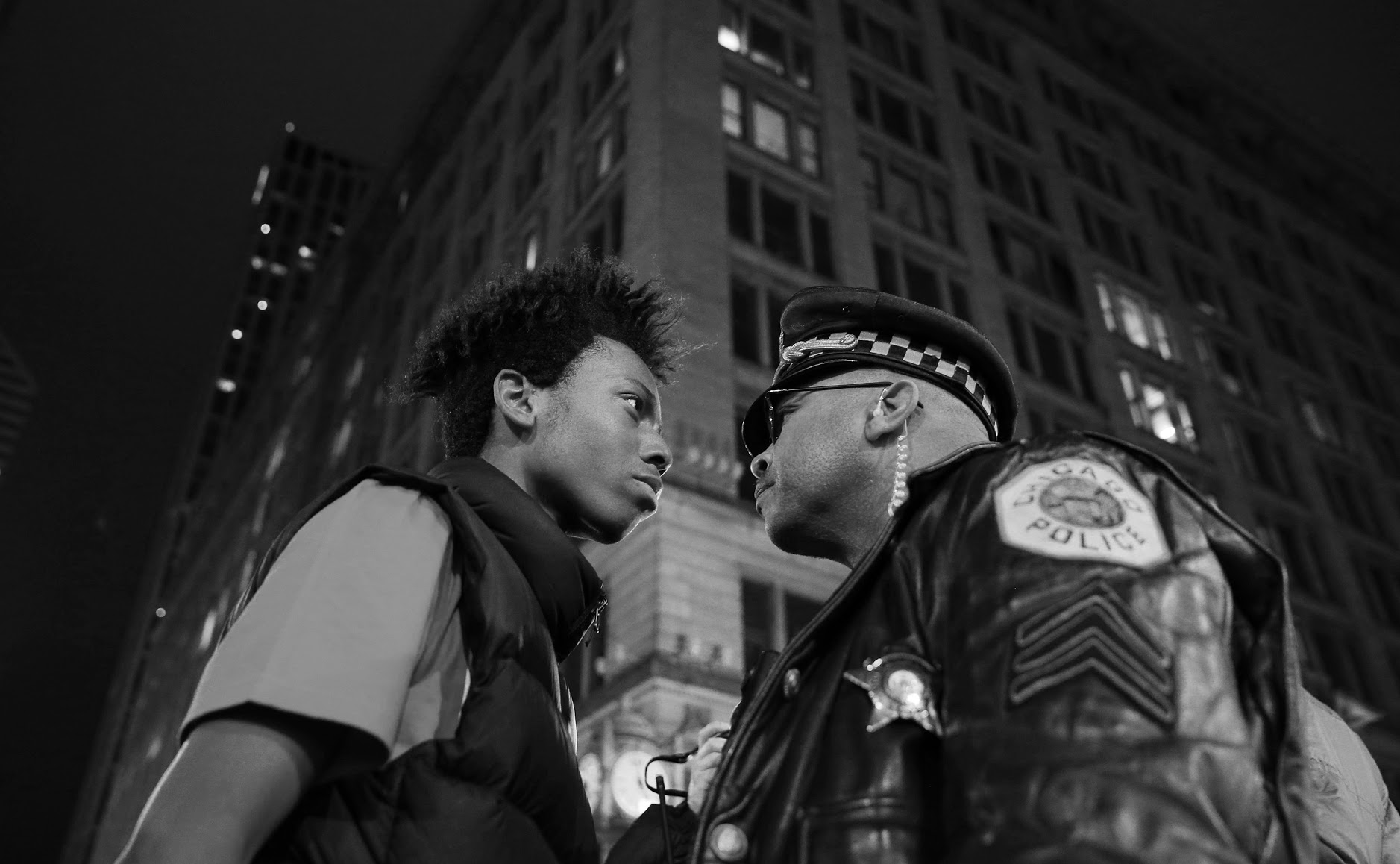 John J. Kim, March Against Police Violence, November 25, 2015 (Contemporary Issues, 3rd prize singles)
Lamon Reccord stares down a police sergeant during a march against police racial violence. Protests had taken place almost daily after the release of a police car dashcam video showing 17-year-old Laquan McDonald being fatally shot by a Chicago police officer. McDonald, who was armed with a knife, was shot 16 times by the officer, who said he feared for his life. The protest was one of a number that occurred throughout the year, following episodes elsewhere in the country where police were accused of using excessive force against black men, often involving fatal shootings.
Reporting Europe's Refugee Crisis: Over one million refugees entered Europe in 2015, the vast majority arriving by sea, through Greece and Italy. Many landing in Greece wanted to move on, through the Balkan countries, to enter the Schengen Area of the European Union, where movement between member states does not require a passport. Balkan countries tended to steer refugees towards the next border, in the largest movement of people on the continent since World War II. Hungary, to the north, closed its frontiers, first with Serbia, then with Croatia.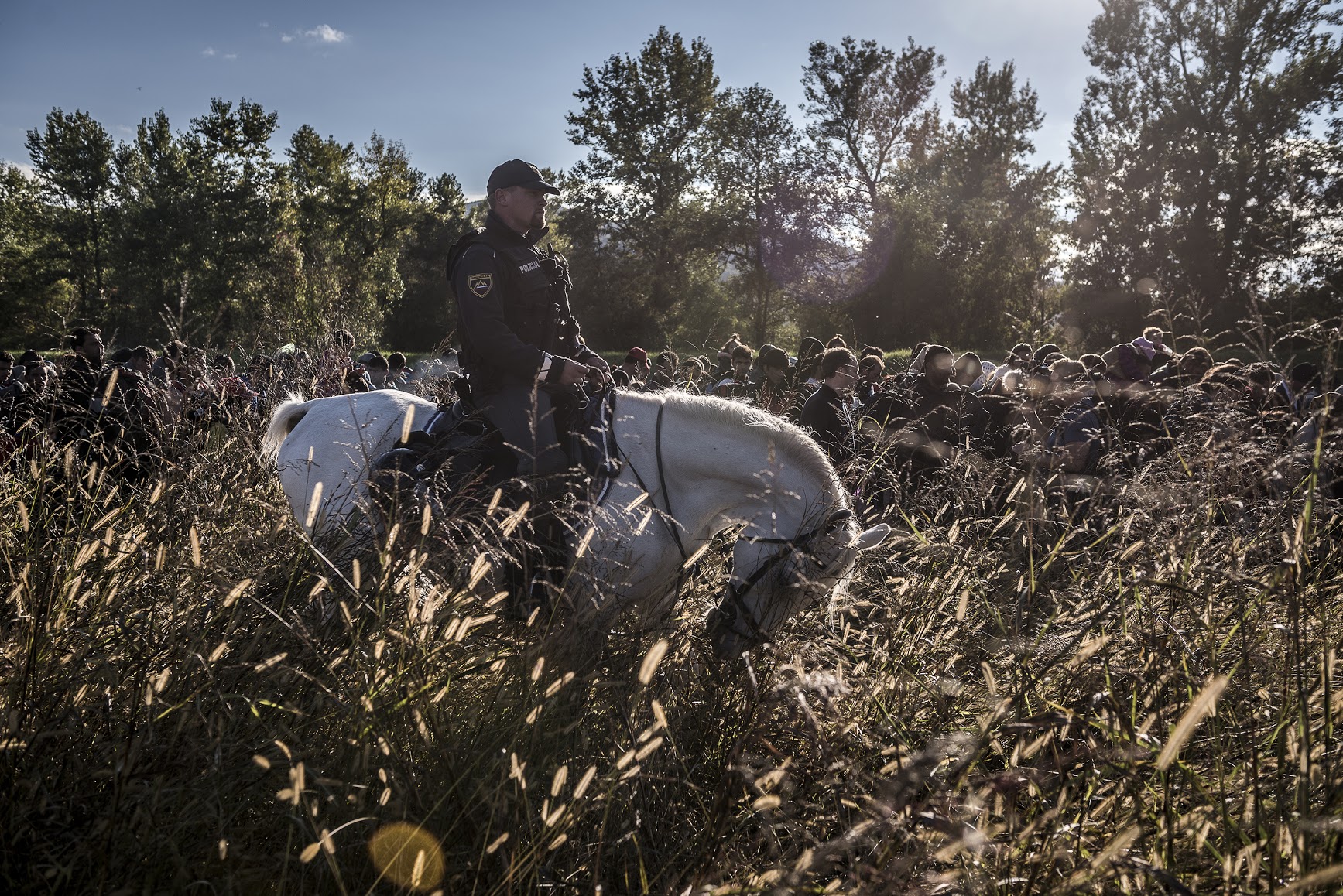 Sergey Ponomarev, Reporting Europe's Refugee Crisis, October 20, 2015 (General News, 1st prize stories)
A Slovenian police officer on horseback escorts refugees after they crossed from Croatia.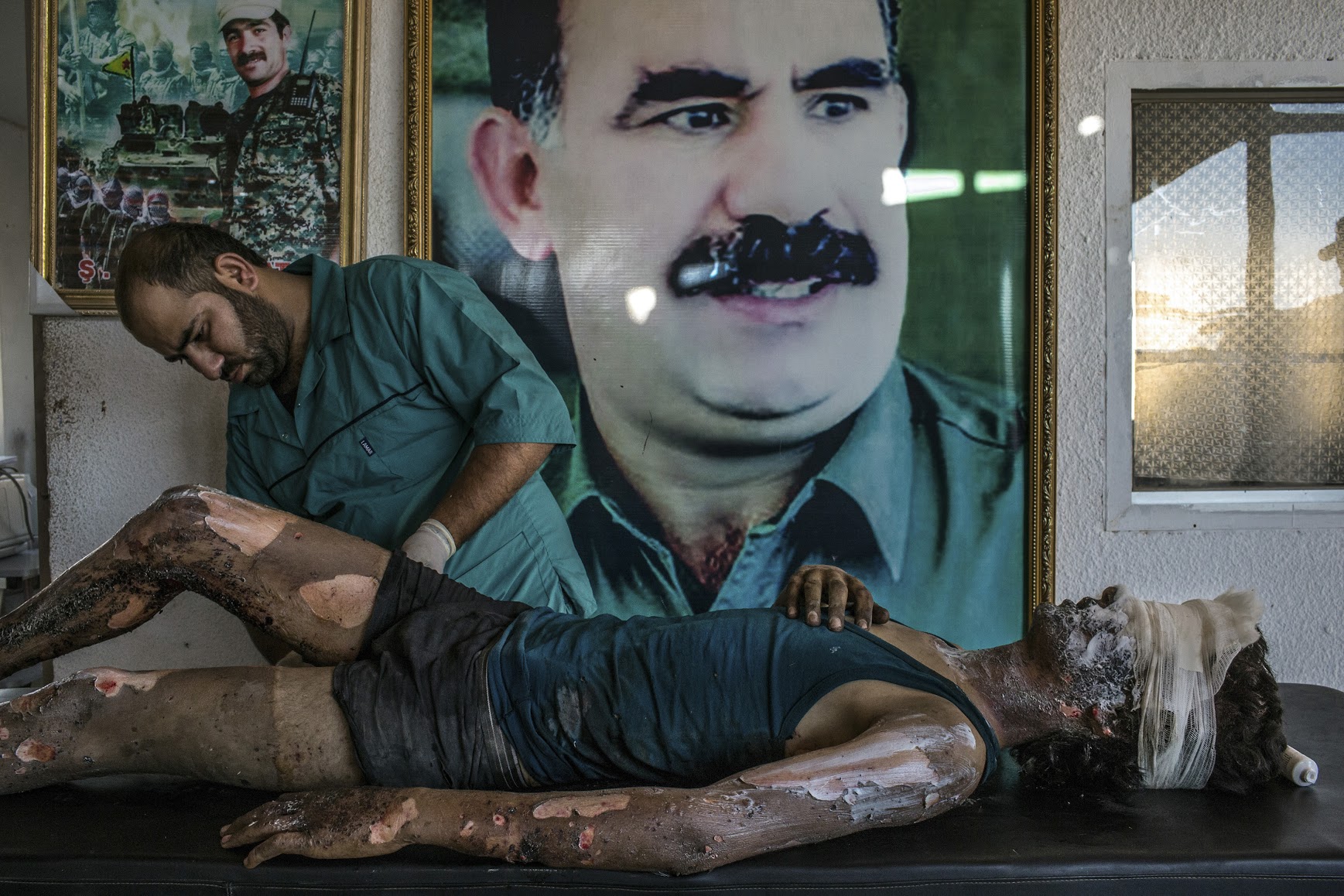 Mauricio Lima, IS Fighter Treated at Kurdish Hospital, 1 August, Hasaka, Syria (General News, 1st prize singles )
A doctor rubs ointment on the burns of a 16-year-old Islamic State fighter named Jacob in front of a poster of Abdullah Ocalan, the jailed leader of the Kurdistan Workers' Party, at a Y.P.G. hospital compound on the outskirts of Hasaka, Syria on 01 August 2015.
Aftermath of Airstrikes in Syria: The city of Douma in Syria lies in opposition-held Eastern Ghouta, an agricultural area on the outskirts of the capital Damascus. Douma and other small towns in Eastern Ghouta came under heavy shelling and bombardment. Responsibility for the attacks was difficult to verify.
The UN Office for the Coordination of Humanitarian Affairs says that parts of the region had been under continuous siege by government forces since 2013, resulting in severe shortages of food and medical supplies. People fleeing the attacks, and the deprivation caused by the siege, joined the millions of internally displaced people within Syria and the 4.6 million registered refugees abroad.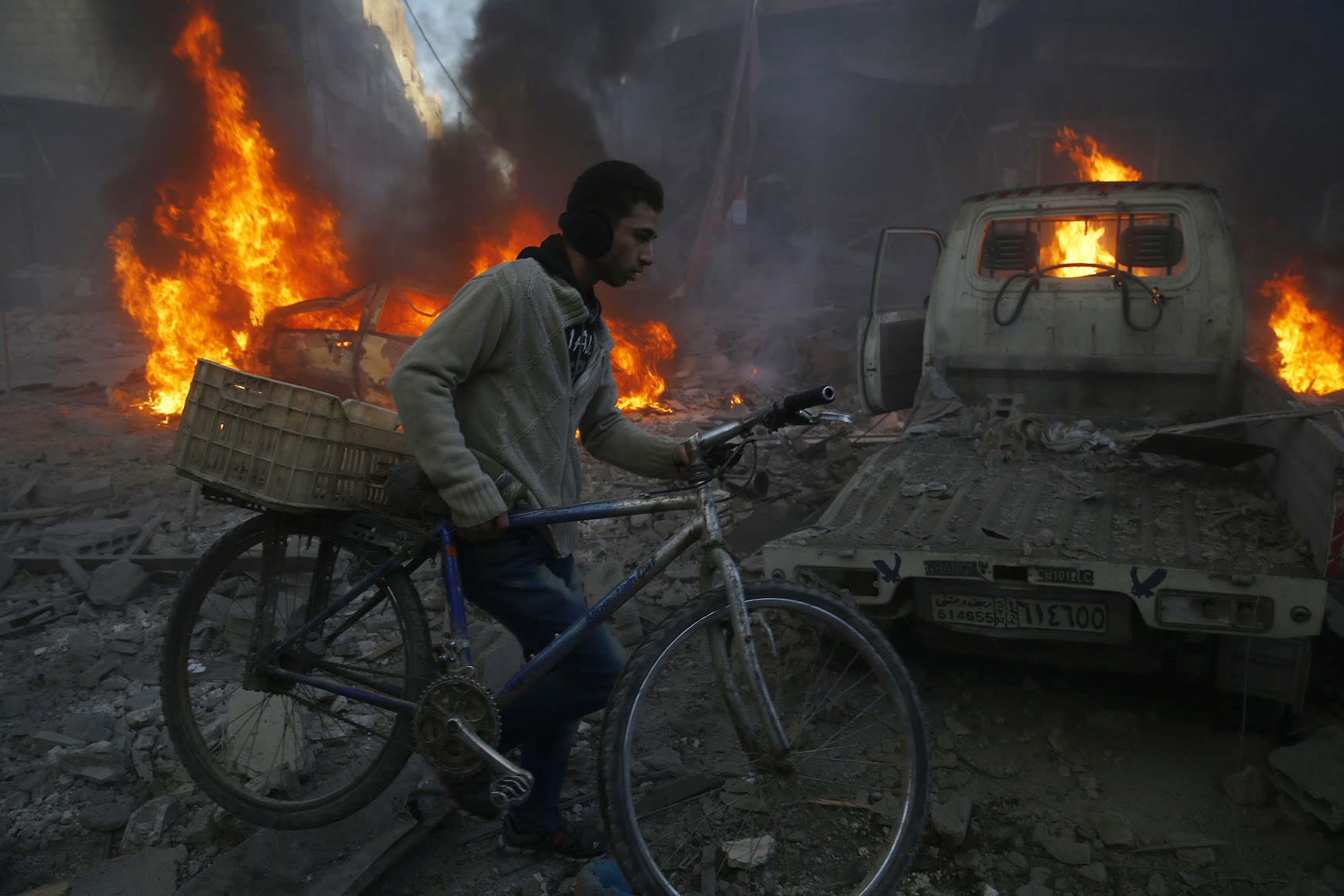 Sameer Al-Doumy, 
Aftermath of Airstrikes in Syria, December 9, 2015 (
Spot News, 1st prize stories)
A man pushes his bicycle past debris following airstrikes in Hamouria, Syria.
The photos will be shown at the 2016 World Press Photo Exhibition, Southbank Centre's Royal Festival Hall in London on 4 – 21 November 2016. And in many other cities around the world.
Previously: Slaughtered caimans, threatened orangutans and other tragedies at the World Press Photo exhibition, World Press Photo, the most spectacular works of photo journalism from the year 2010, FotoGrafia, Rome's international festival of photography – Part two and World press photo exhibition.