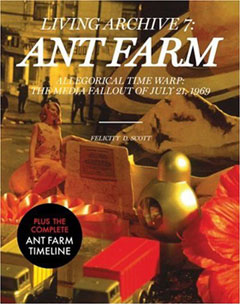 Ant Farm – Living Archive 7, by Felicity Scott, an Assistant Professor of Architecture at Columbia University and a founding editor of the Grey Room quarterly (amazon USA and UK.)
Publisher Actar says: Felicity D. Scott revisits the architectural, art, video, and intermedia practices of the experimental collective Ant Farm, self-described ¨super-radical activist environmentalists.¨ Drawing together archival material on their extended fields of practice, Ant Farm features the first full-color publication of the complete Ant Farm Timeline, as well as Allegorical Time Warp: The Media Fallout (1969) and an archival dossier on Ant Farm's Truckstop Network (1970-1972).
Ever since i saw that magnificent retrospective about Ant Farm at the Centro Andaluz de Arte Contemporaneo in Sevilla, i've been looking for the Ant Farm 'bible', THE book among the many books dedicated to the experimental architecture and performance group. This one is as close as it can get to being the best monograph i've found so far about the avant-garde architects, activists and performers (granted that i wouldn't call myself an expert in Ant Farm matters.)
Ant Farm – Living Archive 7 demonstrates the relevance of Ant Farm's work by situating it within the context of contemporary events and culture. It is incredibly well documented and illustrated with pictures, sketches, and other historical images. I found the illustrations so amazing that i'm going to shut my mouth, leave you with this little video i made to show you what's inside the book and spend some time with that wii fit i finally managed to snatch in a little shop over there in sleepy Namur!