nOtbOt, by Walter Langelaar, is a self-playing videogame. Viewers who try to get hold of the controller can only be disappointed as the interface is controlled and deranged only by the reactions to its own virtual environment in a kind of loop where the bot is driven by the joystick and the joystick responds to the bot.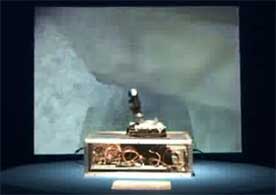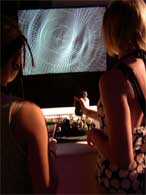 An old Logitech force-feedback joystick was modified so that it is used as input data to control a 'first-person' videogame. The view-angle data generated by the virtual player is sent to a PD app, which in turn loops the incoming data back into the force-feedback system of the joystick. The robotic maneuvers are projected in real-time in front of it.
Human interaction with the game/controller becomes obsolete, resulting in a completely erratic form of [art]ificial intelligence.
The work is part of the Gameworld exhibition at Laboral, Gijon, Spain. Runs until June 30.
Via Yves Bernard.
More controllers: [giantJoystick], Voodoo Doll controlled game, five joysticks combine to move the single PacMan, hard-wired devices, SweetPad replace joysticks to allow three persons to play Quake 3 Arena with tenderness, RoboGamer, a robotic system which plays video game together with you, Rehearsal Joypads, Control Freaks are devices that attach to everyday objects or living thing, eTech – Tom Armitage.