WORMS in Rotterdam has revealed last week a Biometric Barman. Sit on the chair, insert two euros, and in just 30 seconds the AUTOMEET will measure your physical condition (according to data such as your pulse, body temperature, blood alcohol level, etc.) The artificial barman then tells you which consumption is most suitable for you at that moment.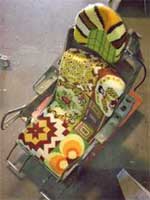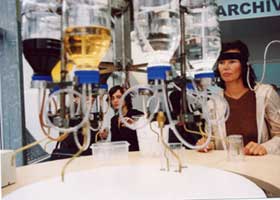 The Automeet chair and an older project: the Brainbar
Inside the Automeet cabin is a vending machine containing the liquid or snack that best suits your body needs: tea, coffee, light alcohols, energy drinks, valerian to calm you down, hot chocolate milk, homeopathic pils, but also non food products such as cd's of relaxing music, stressballs, etc.
Designed by JWA Sytems and Worm.
Related: The Venting Machines, Emotion Vending Machine, the Brainbar.
Via bright and Antenne Rotterdam.