Yesterday I stopped at the Fondazione Bevilacqua in Venice (just behind the pigeon-infested Piazza San Marco) to see the Drink Water exhibition by Lucy & Jorge Orta.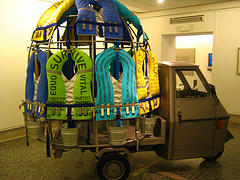 The works tries to give a tangible illustration of the question of drinking water, now a planetary problem. The artists collaborated with chemists, water filtration industrials, designers, economists and theorists of the ecological cause to come up with a water filtration system that pumps water from the nearby Grand Canal, purifies and bottles it.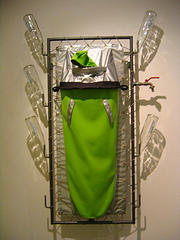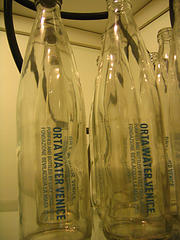 A series of prototype objects have been designed to aid the filtration, transport and distribute water. The pipes, cans and bottles mounted on mobile units and the systems for filtering water will never be able to bridge the gap between those who have enough to drink and those who are less lucky. The works are mostly demonstrative, they eveoke the necessity for growth and change.
More pictures from the exhibition.
Related: Clothing meets social activism.