Ever since i heard the endearing and hilarious talk of Wim Delvoye (ha! every single gesture or word from this guy screams "Belgium!") at ars electronica last September, i'm trying to follow the episodes of his Cloaca adventure.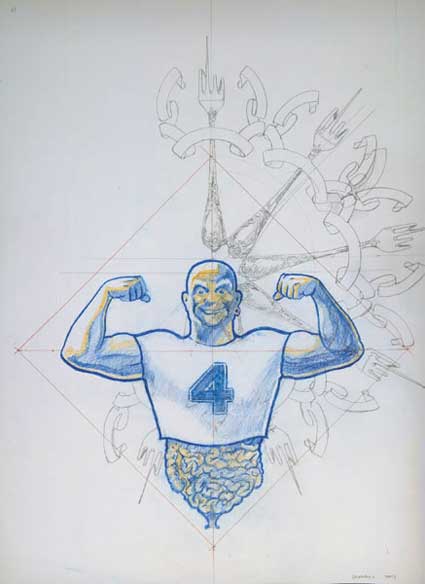 Wim Delvoye, Untitled, 2004
The Casino de Luxembourg has recently held a retrospective exhibition of Delvoye's defecating machines.
The whole family was there: Cloaca Original, Cloaca – New & Improved, Cloaca Turbo, Cloaca Quattro, Cloaca N° 5, Super Cloaca and Personal Cloaca. Plus original drawings, 3D and x-ray photographs, models of Cloaca Clinic gates, videos, sealed bags of Cloaca Faeces and other paraphernalia.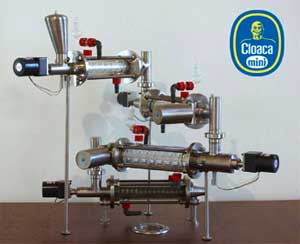 The brand new 8th Cloaca, Mini Cloaca (on the left), was premiered at the Casino. The tubular structure is made of metal and glass, and composed of mechanical organs that swallow, grind, digest and defecate a given amount of food. While Super Cloaca consumes 300 kg of food and produces 80 kg of faeces per day, the quantity of food ingested by the dwarfed one is equivalent to that of a breakfast.
The idea of a mechanical reproduction of the human digestive system goes back to the Digesting Duck by 18th century engineer Jacques de Vaucanson and just like Piero Manzoni 's Merda d'artista [Artist's shit] Delvoye's machines can be regarded as an assault on the system of art.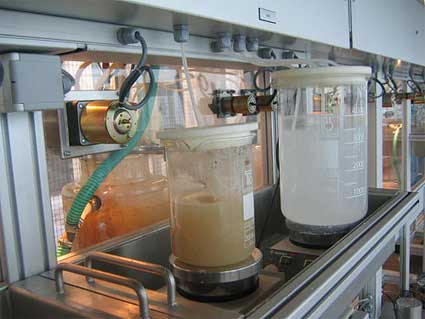 The best part of the exhibition for me were the video extracts of tv films about Cloaca.
Favourite is an extract of "Is This Sh*t Art", an episode from the very very brilliantissimo Art Safari.
Ben Lewis had a series for BBC4 where he'd go and meet the most iconic figures of contemporary art. He condensed his approach in an article he wrote about his encounter with Delvoye:
I will go to any lengths to find out if art means something. Just talking to the artist and looking at the work is never enough. The artists are usually inarticulate, or English is their second language, or they're just not very bright. None of these criticisms was true of Delvoye – but his art was so ambiguous it was impossible to work out what it meant. Was it raising up the lowly, or humbling the mighty? Was it optimistic or cynical?
In this case not only did Lewis get himself the same tattoo as one of Delvoye's pigs (video extract), he also ate the same meal as a Cloaca machine, gathered some of the product of its digestion, went to the toilet, collected some of his own faecal matter and brought the two samples to a laboratory. The scientist compared the two samples bacteriologically and found them very similar. Video:
I could not find the other videos online, except this extract from Eurotrash. Definitely not the best of what i've seen there but if you're interested in cloaca's farting problems and the solution to it…
Video:
I realized that what i liked best in Delvoye's work was not that much the work itself but to listen to Delvoye talk about it. Cloaca, he said in an interview, is not about aesthetics. Each machine is in total synchronicity with the advances of technology, there is no frivolity. Every single element you see has its function: you pour the food into the "oral" side of the machine, it is then processed by a series of mechanical organs (there is the stomach, the small intestine and the colon). Yet, Cloaca is not a commentary of science and is not either meant to be useful. The artist actually refused to sell one of his machines to a diaper company that hoped to use it for tests.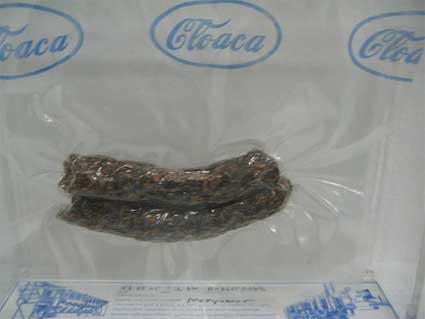 Delvoye also set himself the task to insert the products of Cloaca in the global economic system. The Casino Luxembourg had a special Wim shop where you could buy a Wim action figure but also a whole range of Cloaca products: Cloaca T-shirts, a 3D Viewmaster, Cloaca toilet paper, posters, etc. But that's just a merchandising detail: the Cloaca machines are works of art which produce works of art. On show were dozens of vacuum-packed Cloaca eliminations made during the 5 first exhibits of the machine around the world. There's apparently a waiting list of collectors eager to buy one of those, and the faeces made during the New York exhibition are the most sought-after. The matter is irradiated with gamma rays to kill bacteria, dried and vacuum-packed. After that they are packed air-tight in a plexiglass box. In 2003, they were offered for sale online. The faeces were also integrated into the company Cloaca Limited as a contribution in nature.

Cloaca-X-Rayed, 2003
Cloaca X-Rayed immediately brings to mind another famous art piece by Delvoye: his X-ray views of people having sex which he then turned into stained-glass church windows. Utilizing mammograms, sonograms and MRI's in addition to standard X rays, the artist captured skinny (they had to fit inside the machines) models tongue kissing, masturbating, or doing blow jobs. The key to getting such images was to slather the models with barium powder mixed with Nivea cream in order to "illuminate" the bones during x-raying.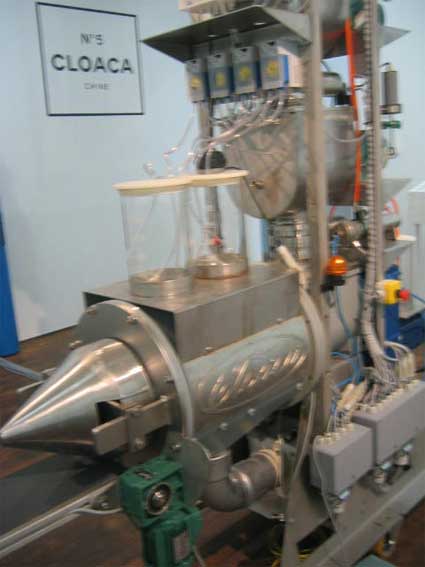 I give the microphone back to Ben Lewis: Delvoye's work satirises the art world, with its inflated prices and daft intellectual cul-de-sacs. Cloaca makes the ultimate criticism of modern art – that most of it is crap; that the art world has finally disappeared up its own backside. 'When I was going to art school, all my family said I was wasting my time, and now I have made a work of art about waste,' he told me happily.
My set of images.