On Sunday i went on a fun tour of the new ARS Electronica Center, they have all sorts of robots, prosthetic limbs, interactive installations, a biolab, a fablab and more geekiness and jaw-dropping exhibitions that i thought one could ever fit in one single building. The one thing i want to write about right now are the kinetic sculptures of Arthur Ganson. I know so little about kinetic art and he's so famous. He even gave this charming TED talk:
Ganson creates Rube Goldberg machines with themes so "existential" that they have been compared to the plays of Samuel Beckett. Absurd would be an easy but inadequate way to describe his sculptures. In spite of their delicate and whimsical aspect, they have the unique power of throwing you into deep thoughts without even you noticing. Here's a couple of them (i used the images and descriptions provided by ars electronica):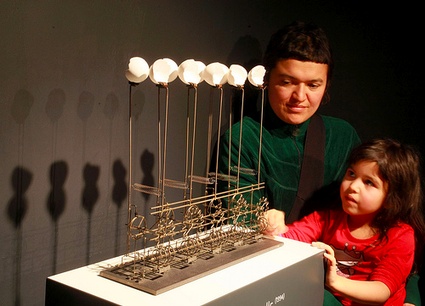 Arthur Ganson, Machine with Eggshells. Photo credit: rubra
Machine with Eggshells was born out of the impulse to play and the accidental discovery of the sonic potential of the eggshell. It is both a farcical meditation on the complexity of complex gear ratios and a machine for sending a strange and unique 'Morse code' message to the far reaches of the universe. The rhythm of clicks is based on the ratios of the numbers of teeth on the five main gears multiplied together.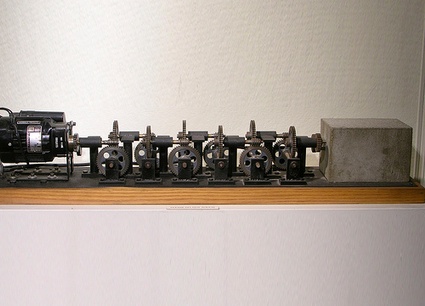 Arthur Ganson, Machine with Concrete (1992)
The speed at which the cogwheels in Machine with Concrete (1992) turn is slowed down by 12 pairs of reductors. The last cogwheel needs two trillion years to complete one rotation. In contrast to this figure, mankind first appeared on Earth only a few million years ago. Whereas the everyday life of modern men and women increasingly seems to be accelerating, changes in the universe take place in time dimensions of billions of years.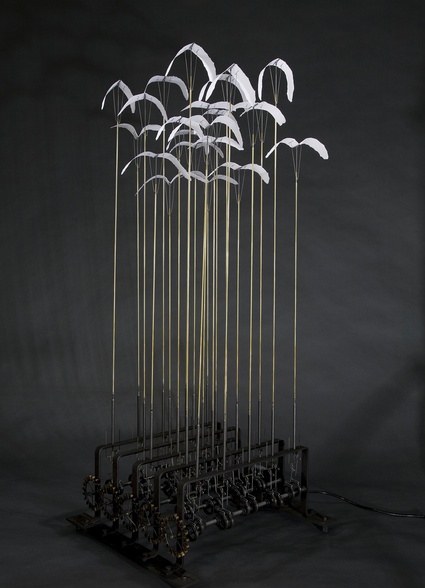 Arthur Ganson (US), Machine with 22 Scraps of Paper (# 1 of 5). Photo credit: Chehalis Hegner
Inspired by locks of birds, butterflies or just leaves in the wind, Machine with 22 Scraps of Paper sets scraps of paper in a gentle motion suggestive of birds in flight.
Ganson's machines (please do me a favour and have a look at their videos portrait) are part of an exhibition titled Poetry of Motion. The exhibition also features Eric Dyer's Bellows, the impressive Quarted by Jeff Lieberman and Dan Paluska and the video documentation of contemporary works of kinetic art such as Bernie Lubell's Conservation of Intimacy, an installation i raved about two years ago at the festival, Chico MacMurtrie's Totemobile and Maywa Denki's Tsukuba Series:
And here are my flickr images of the Ars Electronica Center.