While i was in London last week, Fiona Romeo gave me a tour of The Science of Spying, the exhibition she curated and managed for the Science Museum. It is meant for kids but there were enough interactive works and design pieces to make me want to spend a few blog posts on it.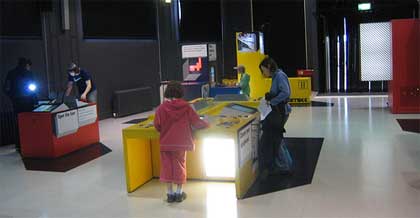 Training area
The idea behind the show was to create a genuinely interactive experience where children could be a spy for a day. The journey takes them from a training area, where they must hone their skills (i'm not going to dwell on that one as i failed in most of the challenges, ok?), before trying to infiltrate the mysterious OSTECK Corporation on an undercover mission, where they will spy – but also be spied on. It concludes with an escape from a high-tech surveillance area. To unite the exhibits in a compelling and convincing spy narrative, the museum worked with people from the Shunt Theatre Collective, a Former MI6 (the UK Secret Intelligence Service) officer, and sci-fi writer Cory Doctorow.
Counter-surveillance net curtain. and Surveillance monkey. The Science of…
I was most fascinated by the Technology Centre which shows some of the devices and technologies used in spying, including remote control spy planes, night vision goggles, Smartwater (a system which showers burglars with a liquid which shows up under ultra-violet light and contains a unique DNA-style code), cameras hidden in toys, false fingers… the kind of gadgets you read about in tech blogs. Big surprise though was to learn that granny-style net curtains can stop others from listening to what you're saying inside a sealed building. Distant laser microphones can hear your conversation inside a house up to 1 km away. The laser picks up tiny vibrations in the window pane, caused by sounds within the room but net curtains damper the vibrations.
Musical Morse keys, by AllofUs and Paragon. Photo The Science of…
There were several interactive installations such as AllofUs's Computer Keys. When children (and tired parents) sit on the big glowing computer keys they start to feel the chair vibrate Morse code.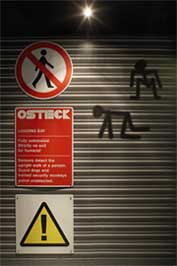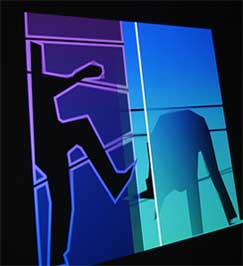 Escape… Photo: The Science of…
The best installation for me is the body scanner, designed by Pickledonion. Before going to see an installation i sometimes find myself thinking "Please, please, don't let it be interactive again!" Interactive (screen-based or not) installations can be engaging and exciting for more than 5 seconds but most of the time… well, yawn! I thought that this one is quite clever and original.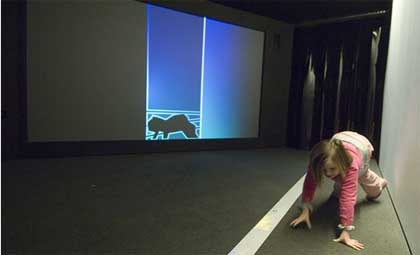 Escape… Photo: The Science of…
You've nearly completed your mission but there's one last challenge: to escape the OSTECK headquarters, you must go through an alley without being detected by the body scanner. The only way to do it is to walk like an animal or assume shapes that won't be recognized as human. Because of the huge bag i was carrying, the system didn't identify me as a human suspect.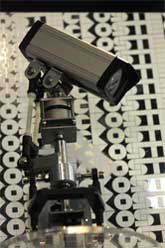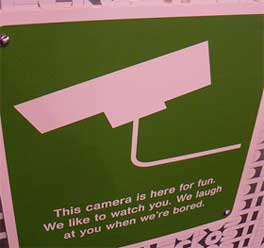 Dancing CCTV cameras. The Science of… and Image by Fiona Romeo
The exhibition is not all about fun and gadgets, Luckybite developed a whole area of the exhibition around everyday interactions, which have been modified in novel ways to invite the public to take a critical stance and reflect upon the implications and ethics of spying and surveillance: should parents be able to track kids on their mobile phones? Is it ok that paparazzi snap celebs on the beach? Surveillance cameras makes you feel secure but would you still welcome them if your boss had some installed in your office?
The Science of Spying runs until September 2, 2007 and will then tour abroad. A twin exhibition opens in Indianapolis in March. Main design office: Jump Studios!