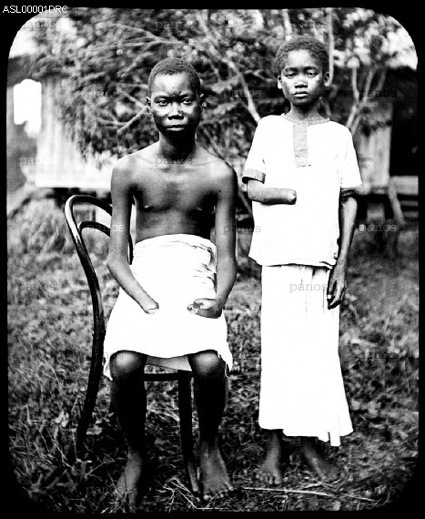 Democratic Republic of the Congo. A young man and woman with severed arms. Mola's hands, seated, were destroyed by gangrene after being tied too tightly by soldiers. Yoka's hand, standing, was cut off by soldiers wanting to claim him [sic] as killed, c. 1904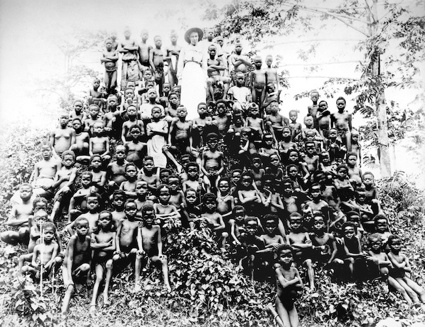 J.H. Harris, Alice Seeley Harris with a large group of Congolese children, Congo Free State, c.1904
The largest private estate ever 'owned' by man in recent history was perhaps an area of Africa acquired by Leopold II King of the Belgians in 1885.
For over 20 years, he would be the de facto owner of over a million square miles of central Africa (a territory roughly 76 times larger than Belgium.) He ironically called the country Congo Free Stateand modestly named its capital Leopoldville (via.)
Hiding behind humanitarian and philanthropic promises to develop the region and insure the prosperity of native people, Leopold II acquired the territory and set out to extract its resources. In particular ivory, rubber, and minerals. Nowadays, his rule over the country is associated with the regime of violence, murder or mutilation of the Congolese people. No human right consideration could indeed stop Leopold II's agents in their efforts to meet the growing demand for rubber and maximize profits:
Failure to meet the rubber collection quotas was punishable by death and a hand of the victims had to be presented as proof of the punition, as it was believed that they would otherwise use the munitions for hunting. […] Soldiers sometimes "cheated" by simply cutting off the hand and leaving the victim to live or die.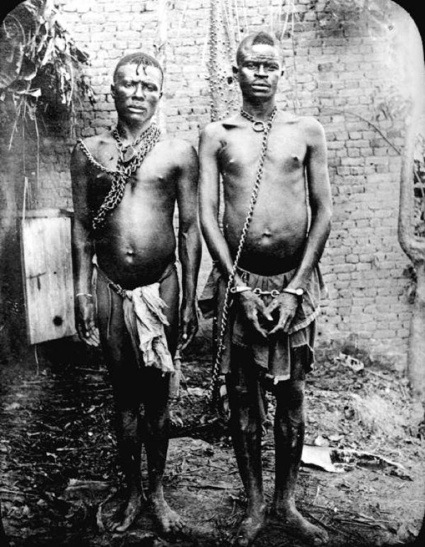 Alice Seeley Harris, Manacled members of a chain gang at Bauliri. A common punishment for not paying taxes, Congo Free State, c. 1904. Courtesy Anti-Slavery International / Autograph ABP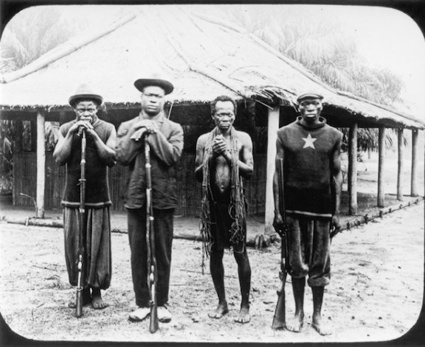 Alice Seeley Harris, Three head sentries of the ABIR with a prisoner, Congo Free State, c.1904. Courtesy Anti-Slavery International / Autograph ABP
Democratic Republic of the Congo. Nsala of Wala with the severed hand and foot of his five year old daughter murdered by Anglo-Belgian India Rubber company militia, 1904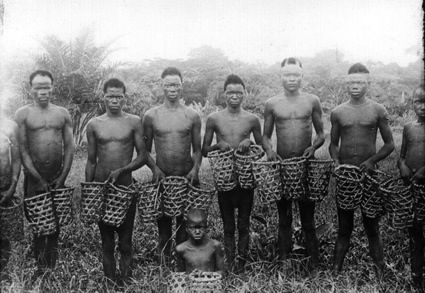 A group of Bongwonga rubber workers, c1905. The Harris Lantern Slide Show © Anti-Slavery International/ Autograph ABP
When Harmony Went to Hell. Congo Dialogues at Rivington Place in London brings side by side archive photos shot by Alice Seeley Harris while Leopold II was still the sole owner of the land and new work from Sammy Baloji, a Congolese artist who has been investigating the legacies of colonialism in his country.
In the early 1900s, the English missionary Alice Seeley Harris was traveling the Congo Free State with her husband and one of the world's first portable cameras, a Kodak Brownie. Shocked by the contrast between the king's claims of colonial benevolence and the oppressive regime, she carefully documented everyday life as well as the atrocities and brutality towards the inhabitants.
The result is often regarded as being the first photographic campaign in support of human rights. The couple took the images on a tour around Europe and the US. The photos of the Harris Lantern Slide Show were accompanied with powerful lectures which managed to raise the public awareness about human rights violations in Congo.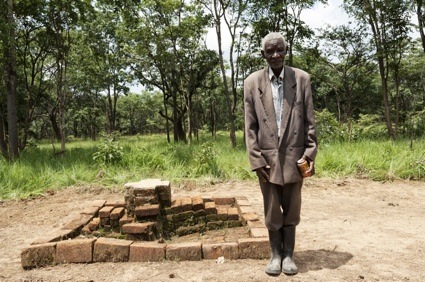 Sammy Baloji, The site where Patrice Lumumba, Maurice Mpolo and Joseph Okito were executed and first buried, Katanga Province, Democratic Republic of Congo, January 2010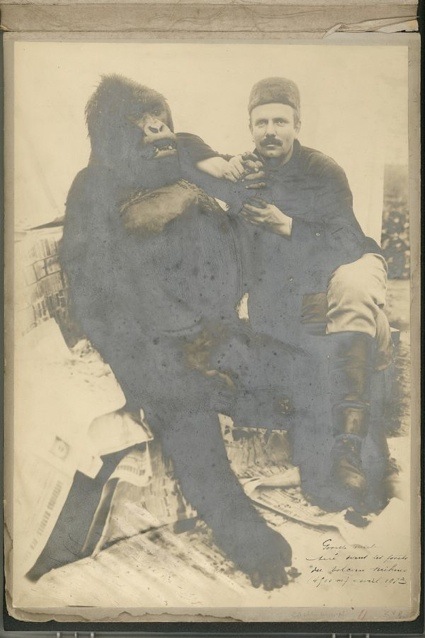 Sammy Baloji, 2013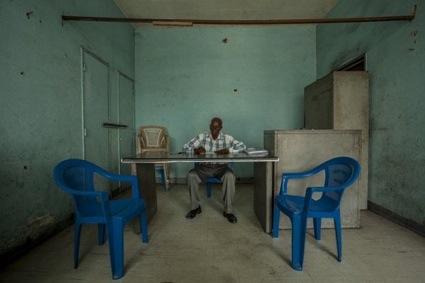 Sammy Baloji, Deputy Assistant to the Director General's office, Batiment Cielux OCPT – The Congoloese Office of Post and Telecomunications, Masina Sans Fil, Kinshasa, 2013
The Alice Seeley Harris archive was last shown to the public 110 years ago. Her black and white prints are exhibited in an up stair gallery at Rivington Place. The ground floor, however, hosts Sammy Baloji's stunning photos which explore the cultural and architectural 'traces' of Congo's colonial past; in particular, the Katanga province and its capital, Lubumbashi. Some of the pieces exhibited belong to a series of photomontage works that juxtapose post-industrial landscapes with ethnographic archival imagery.
The photos i found most extraordinary, however, are part of Baloji's new body of work. The photos of the Gécamines mining district and of the derelict Office of Post and Telecommunication in Kinshasa are simply jaw-dropping, even for someone who has seen her fair share of derelict buildings. I can't seem to find much images of them so you will have to take my word for it and swing my Rivington street to see them. You won't be taking much risk, the show is free.
I'm going to end this post with an anecdote i read online..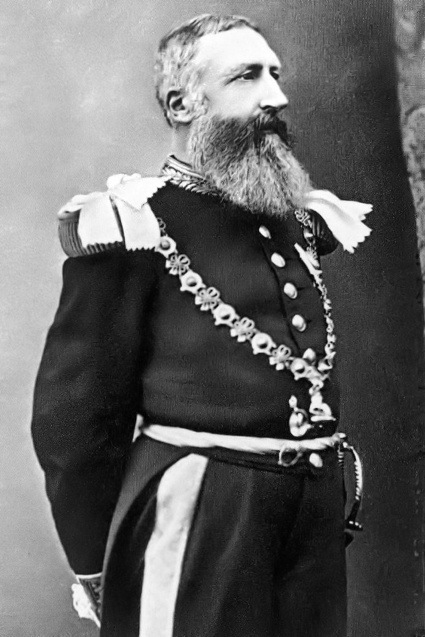 Leopold II of Belgium as Garter Knight/ Pd _old; old photograph of the king in private collection, own scan. Carolus 17:09, 24 July 2006 (UTC)
With his ZZ Top beard and his neat outfits, Leopold was also a feisty man and he particularly loved women. His last, embarrassingly younger, and most adored mistress was Caroline Lacroix. She gave him two sons, the younger was born with a deformed hand, leading a cartoon to depict Leopold holding the child surrounded by Congolese corpses with their hands sliced off. The caption said Vengeance from on high!
When Harmony Went to Hell. Congo Dialogues is at Rivington Place in London until 7 March 2014. If, like me, you're a Belgian expat who's never really been taught the whole colonial story at school, you shouldn't miss the show.
Check out also Brutal Exposure: the Congo at the International Slavery Museum in Liverpool until 7 September 2014. The always excellent Double Negative has a review of the show.