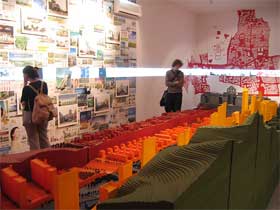 The theme of the Korean Pavilion this year is perma n stant (permanent + instant).
As one of the oldest modern metropolitan areas with longer than 600 years of history, Seoul exposes its marginal layer of time-cumulated strata when the innumerable thin layers of instant events incessantly tint on the surface of it. The first part of the theme, perma supposedly epitomizes all the characteristics and fundamental geographic elements the city possesses with relatively constant nature, while the latter part, n stant could suggest all of its momentary and adaptable images and shifts we see these days.
Built in the early '60s, the first apartment complex in Korea contained only 642 units. Today, almost half of the eighteen million population lives in apartments.
The market for buying apartements is divided in two: the open market which deals with "second hand" units and "bunyang" which means sale by the drawing of lots, in other words pre-build sales through model houses or mocked up prototypes of the living units.

Bunyang is quite sadly the lottery of the real estate in Korea. Depending on timing, quality and location, the chances of winning the big prize (the right to buy!) vary from 1/100 to 1/2000 in areas around Seoul and newly built cities. Those who do not win at bunyang must either enter another round, or move to the open market where the less desirable older units are sold at much higher prices.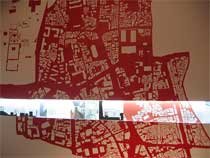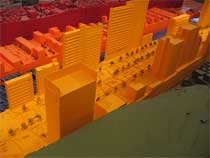 The extreme demand for new apartments has lead to fierce competition amongst Korean developers, apartments are branded and sold like soft drinks, jeans and other goods. Along with TV, radio and print ads, Korean developers display pre-built prototypes of not-yet-existent spaces in large showrooms. It takes about four to six weeks to erect an entire model house, from steel skeleton to plywood finish.
Chanjoong Kim was showing The Last House, a vertical, fragile-looking and intricate vertical super-columbarium. The lack of land doesn't allow people to have personal graveyards anymore. Just like residential situation such as huge apartment complex in Seoul, the function of graveyard would also have to be transformed into high-density, vertical storage spaces. 18 3D structural frame blocks are bundled by six floating platforms where people can worship and enjoy the urban scenery. By applying solar cells to the surface of the ash container, the columbarium wouldn't be only a place of death anymore but a new breed of urban infrastructure that generates clean energy for the city.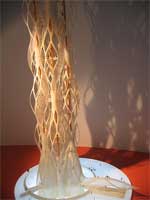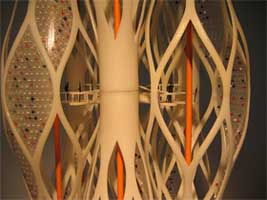 The nice techno-trendy touch of the project is that mourners wouldn't have to bring flowers to show the deceased how much they miss him/her. A phone number would be assigned to the ash container. Each time you call the number a little light would glow on the tower.
My images on flickr. More in designboom, archinect (where i found the second image on this post) and forgemind.