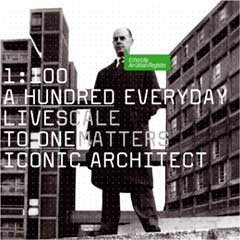 The installations, interior design and objects at the British Pavilion were so lavishly presented, stylish and nice-ish that i totally forgot to try to understand what was the point of the exhibition. So i had to do my little homework after the Venice trip.
Titled Echo City, the Pavilion examined the issues facing Britain's regional cities, rather than London which gets plenty of attention in the Arsenale space anyway. The city chosen to illustrate the focus of the British Pavilion is Sheffield. Apparently, there is not one defining landmark of Sheffield, therefore the exhibition had to rely on soundscapes, a digital "warts and all" mural and photography of streetlife to convey the city's essence.
Jeremy Till, curator of the pavilion, turned to a team immersed in theatre, music, art and design. These architectural "outsiders" developed an "urban register" describing several aspects of Sheffield at a variety of scales from 1:1 to 1:10 million.
The 1:1 room is an installation of found objects (buttons, toys, pieces of plastic jewellery, etc.) from a project in the inner-city neighbourhood of Sharrow initiated by the art collective Encounters; 1:100 features architectural projects by Sauerbruch Hutton, Studio Egret West and Hawkins Brown, and Mecanoo; 1:10,000 is a literary and photographic journey written in the streets of Sheffield by writer Tim Etchells and photographer Hugo Glendinning; and 1:10,000,000 is Martyn Ware's soundscape projecting Sheffield's relationship with the world at large.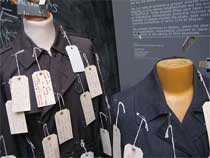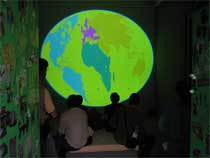 1:1 room (detail) and 1:10,000,000 room
The central exhibit is an interactive model developed by Jim Prevett which invites visitors to reconfigure urban elements at a variety of scales from the surrounding rooms. Wooden objects, related to the other installations in the pavillion, can be moved around by visitors. The objects are then shown amongst visitors onscreen mixing the scales and the virtual and real spaces.
Till comments: "Architects tend to focus on the 1:100 and in this eschew the dynamics of the other scales and the rich interplay between them. Their main loss is an understanding of the settings for social and political life�.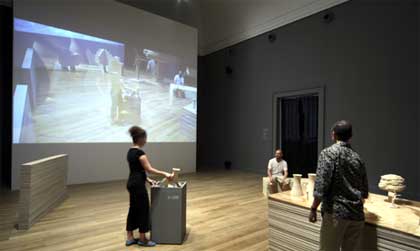 "Our exhibition has Sheffield at its heart, but it is about much more than Sheffield; it is about any city. Sheffield, once famous for its steel and cutlery, is now the archetypal post-industrial city, torn between its own identity and those of others. In this it is an echo of many cities, buffeted by the social and technological forces of modernity. We thus use Sheffield as the context to explore the present and future of all our cities. We do not make proposals for Sheffields, but give the context in which more empowering urban proposals may be developed for cities of all kinds," wrote Till in the Biennale catalogue.
My images on flickr. Archiportale and British Council have more. BBC article on Sheffield at the biennale.