Vanessa Beecroft has been invited to make an installation to celebrate the grand opening of the Louis Vuitton Megastore on the Champs Elysées in Paris.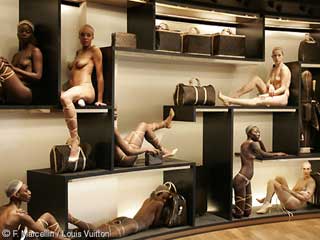 The opening show featured works by three leading artists displayed as landmarks of the house promenade. James Turrell created a "Wide Glass" modular light sculpture, while Tim White-Sobieski contributed a video installation alongside the house's 20-meter long "traveling staircase." Olafur Eliasson transformed an elevator linking up directly with the top floor of the Champs-Elysees building, which will open in January 2006 as a permanent space of artistic and cultural expression, into a "chamber of sensual entropy" isolated from its surroundings. And of course i found a picture gallery of Beecroft's work but nothing else.
Via Stern (german) and Yahoo news.
Viele Danken Roman!