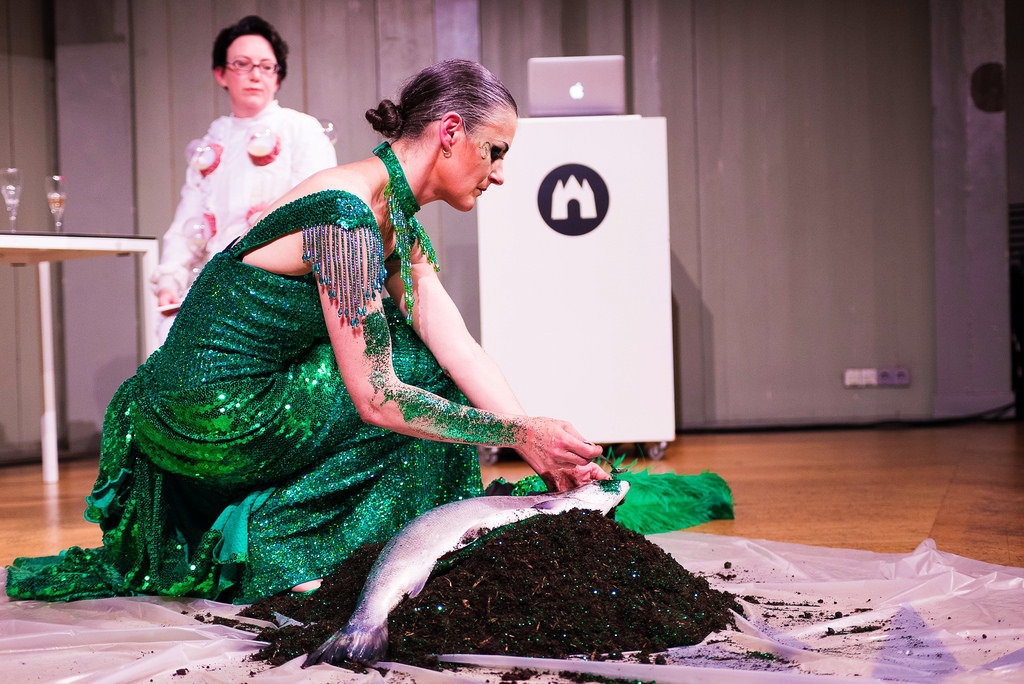 Kira O'Reilly and Jennifer Willet, Be-wildering performance. Photo: Bas de Brouwer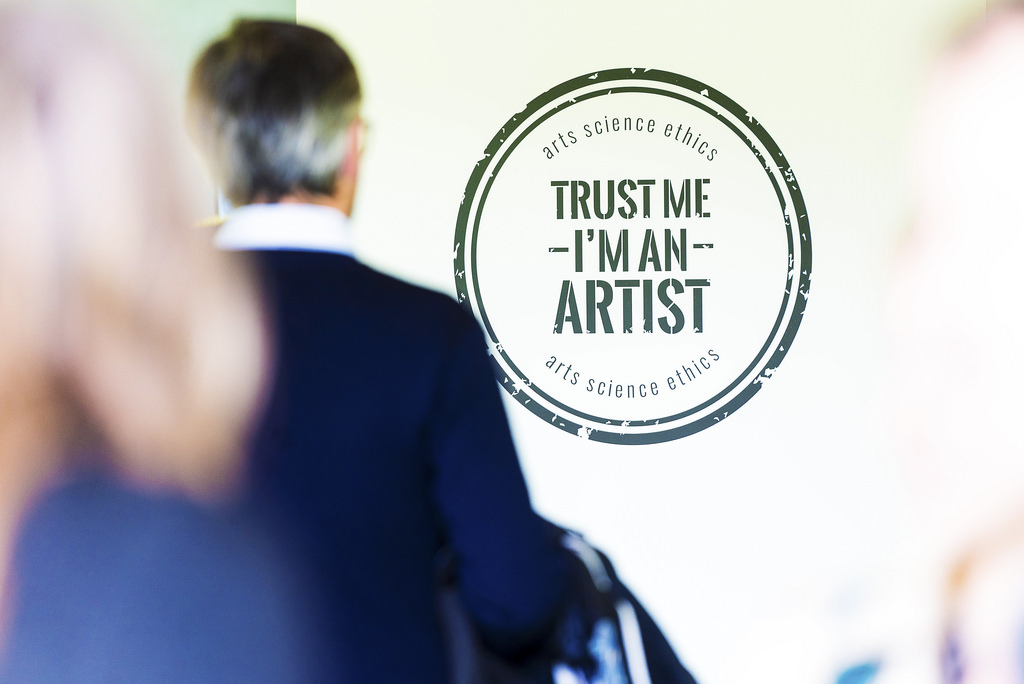 Trust Me, Im an Artist. Opening of the exhibition at Het Glazen Huis, Amstelpark, Amsterdam. Photos by Bas de Brouwer
Do artists using biotechnological materials and scientific processes have the same obligations, rights and responsibilities as scientists? Or should they enjoy more liberties and particular prerogatives? And finally, do art and science collaborations bring about new ethical dilemmas, new debates and challenges?
A group exhibition open until Sunday evening at Zone2Source's Het Glazen Huis in Amsterdam is engaging with all these questions through artworks that explore issues such as the ethical complexities of gene editing, the communication of nuclear culture over thousands of generations, the risks associated with medical self-experimentation, the difficulty to empathize with plants, etc.
The exhibition is the result of a European research project that aims to help artists, cultural institutions and audiences understand the ethical issues that arise in the creation and display of artworks developed in collaboration with scientific institutions.
The model followed by each of the artwork participating to the Trust Me I'm an Artist project is as follows: an artist or artist collective is teamed up with a research center to create a work that investigate the ethical limits of innovative (bio)technologies. The work is then exhibited. So far, so very usual.
What makes Trust Me I'm an Artist different from other science & art collaborations is that, as is practice for scientists, the artists need to present their work in front of a specially formed ethics panel made of scientists. Because the whole process takes place in front of an audience, the project also brings into the public sphere a series of mechanisms and discussions that are usually kept hidden.
As i mentioned above, the exhibition closes soon but don't despair if you can't make it to Amsterdam over the weekend! The whole project has been splendidly documented on the website of Trust Me I'm An Artist, in a book, in a series of podcasts by art critic and curator Annick Bureaud (who also chronicled the project in a diary in french) and in videos.
I'll get back to you with a second story detailing other projects exhibited at Zone2Source's Het Glazen Huis, but here's the ones i managed to delve into since i returned from Amsterdam: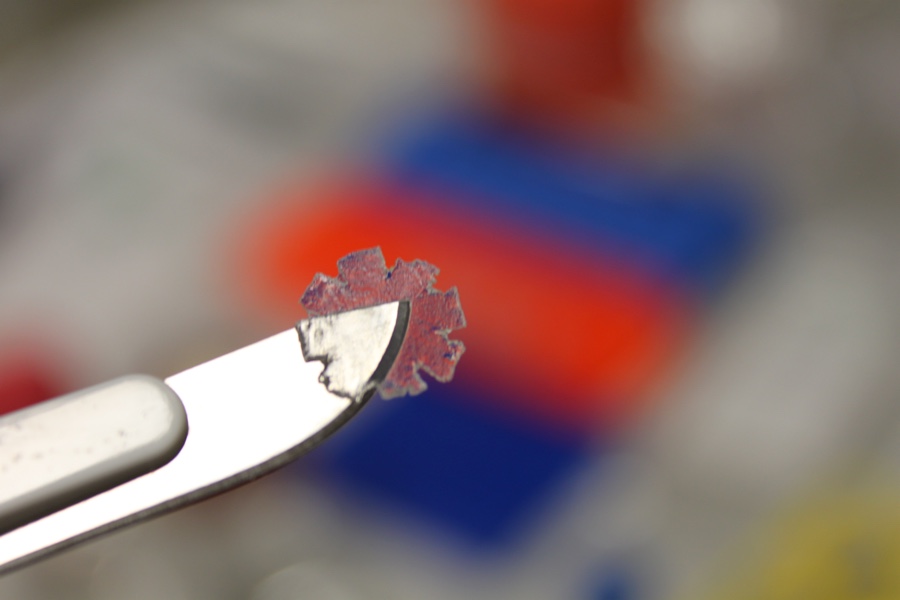 Howard Boland, Cellular Propeller, 2013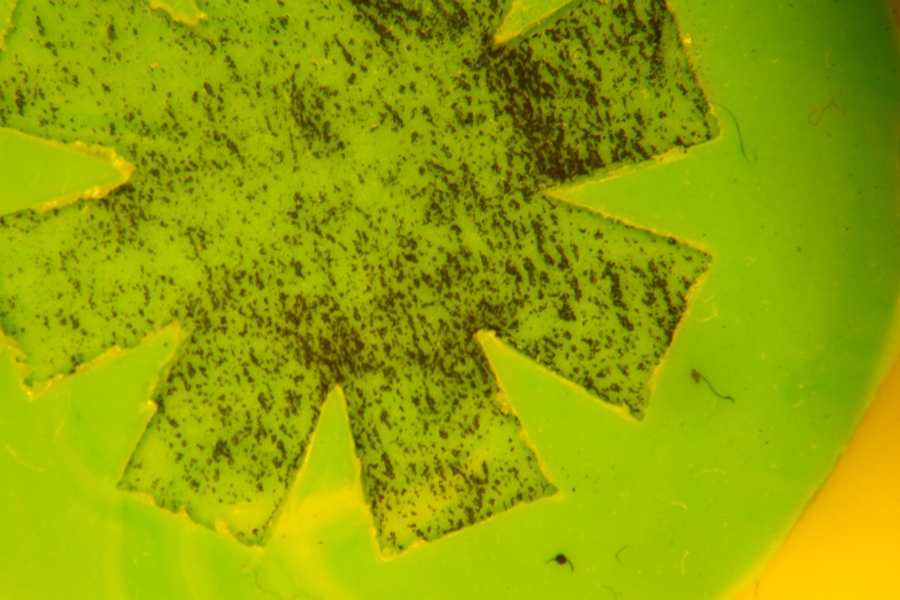 Howard Boland, Cellular Propeller, 2013
Howard Boland, Cellular Propeller, 2013
Cellular Propeller, Howard Boland's provocative project, explores the possibility to recruit bio matter to perform novel tasks and behaviours unintended by nature. In particular, the artist hopes to use his own sperm cells to spin and thrust forward a thin wheel about the size of a ten pence coin.
Inspiration for the project came from the famous scientific paper describing how bioengineers had used heart cells of a rat to create an artificial swimming jellyfish.
Howard Boland kicked off his research during his experimental laboratory residency at the German Cancer Research Center in Heidelberg. He first wanted to experiment with heart cells from newborn rats to make motile scaffolds. Unfortunately for the artist, obtaining these cells is not only difficult as they are sought-after materials in laboratories, it also involves a very cruel procedure. Hence, his decision to use his own sperm cells to propel the synthetic material.
The project is still ongoing and it might look ludicrous at first sight. However, it provides an invaluable starting point to reflect upon issues such as: How do you perform self-experimentation in an institutional setting? How can sperm function in an artificial environment and what are the fundamental laws that govern its behaviour? What is the status and definition of this bio hybrid artefact? If it moves and is powered by human cells, is it human? Etc.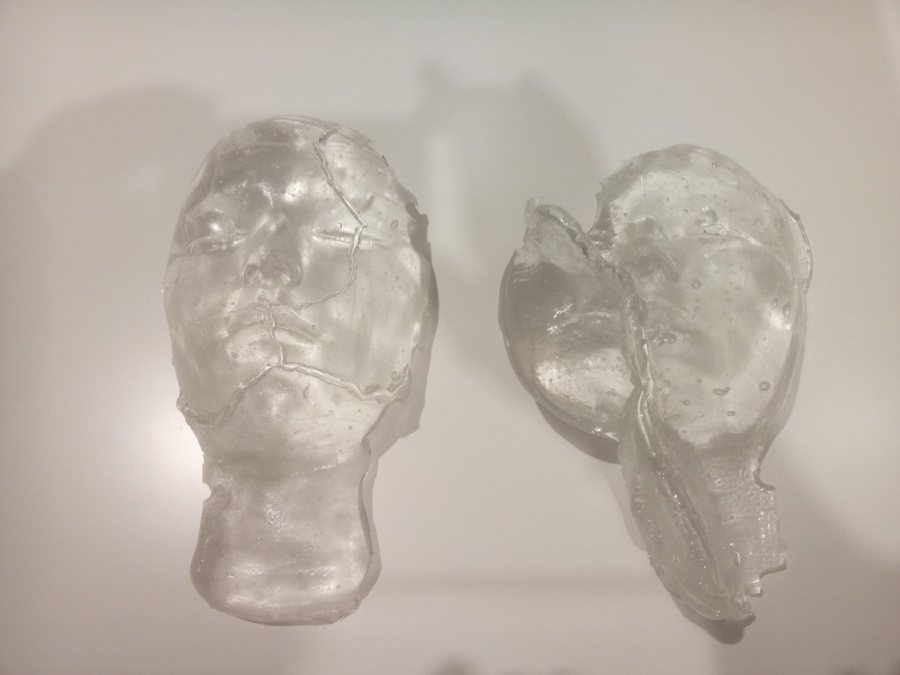 Gina Czarnecki and John Hunt (with Saskia and Lola Czarnecki-Stubbs), Heirloom, 2016
Gina Czarnecki and John Hunt (with Saskia and Lola Czarnecki-Stubbs), Heirloom, 2016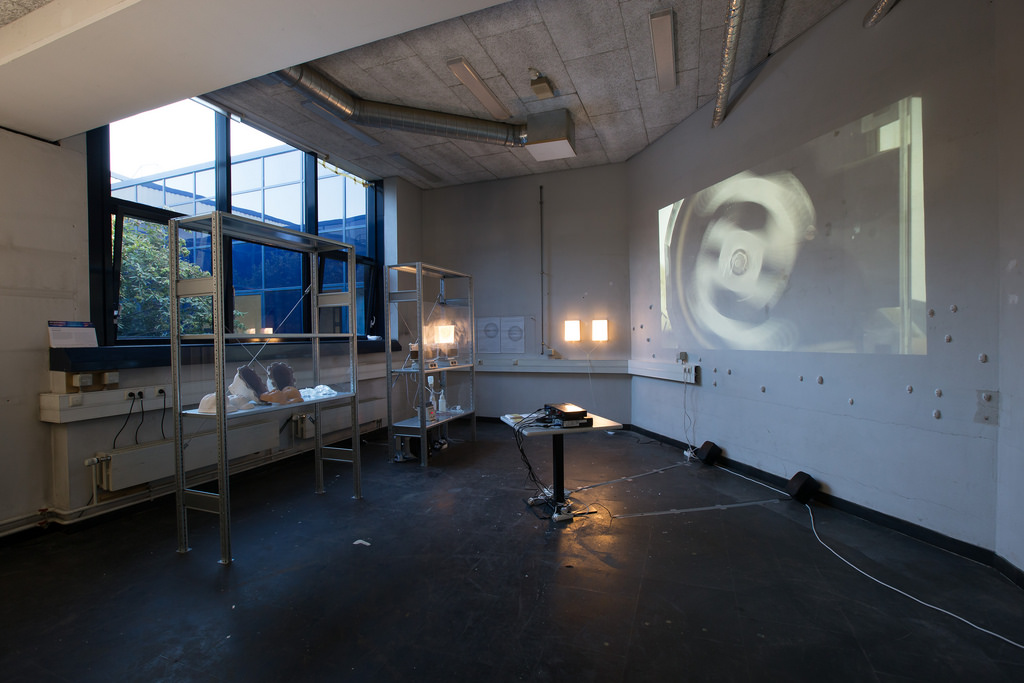 Gina Czarnecki and John Hunt (with Saskia and Lola Czarnecki-Stubbs), Heirloom. Credit photo: Florian Voggeneder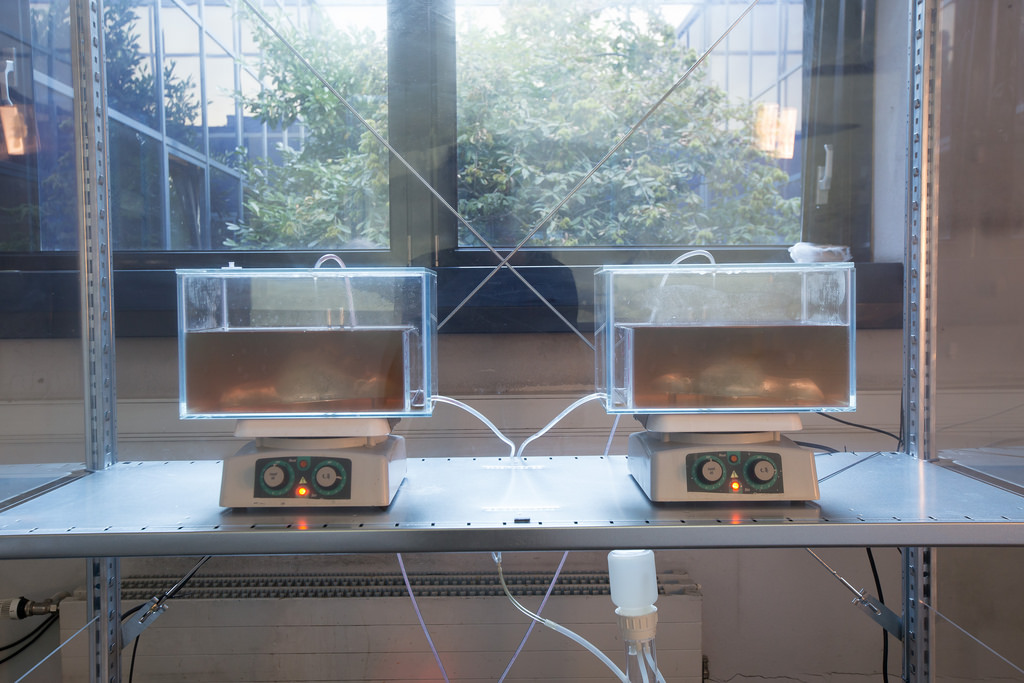 Gina Czarnecki and John Hunt, Heirloom. Credit photo: Florian Voggeneder
Artist Gina Czarnecki collaborated with John Hunt (a professor of clinical sciences who worked with John O'Shea a few years ago to create the famous Pigs Bladder Football) to create living portraits of her two daughters using cells collected from inside their mouths. The cells, bathed in a nourishing liquid, grew on glass casts of the girls' faces until they reached the thickness of tissue paper.
Heirloom redefines the boundaries of the art of portraiture in a fascinating way. It is not made of oil nor clay, yet it replicates the face of the young girls as any photo or painting would.
The use of human material of a subject also raises the issue of privacy. As she explains in an interview with Annick Bureaud, Czarnecki never posts photos of her children online out of concern for their privacy. Yet, as she added, would displaying the portraits in their hometown of Liverpool be too invasive, even if her daughters are comfortable with the exhibition? And isn't biological material more intimate than pixel? Since they are disembodied, can these cells be perceived in the same way as any other material traditionally used in art? Is Heirloom the new selfie?
Finally, this process of creating a living 3d architecture of face points to a future of personalized medicine where it will not only be easier to perform facial reconstruction and cosmetic modification on people who have been disfigured but it might even become desirable for some to go back to the face they had when they were 20. How far will obsession with an eternally youthful appearance lead society?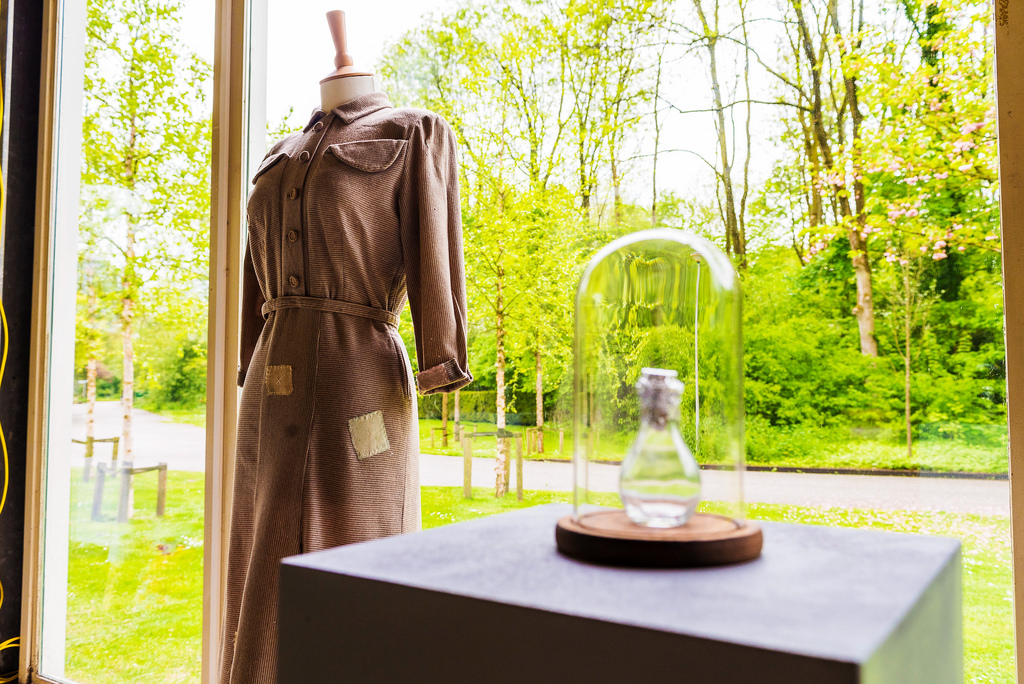 Anna Dumitriu, Controlled Commodity, 2017. Exhibition view of the Trust Me, Im an Artist at Het Glazen Huis, Amstelpark, Amsterdam. Photos by Bas de Brouwer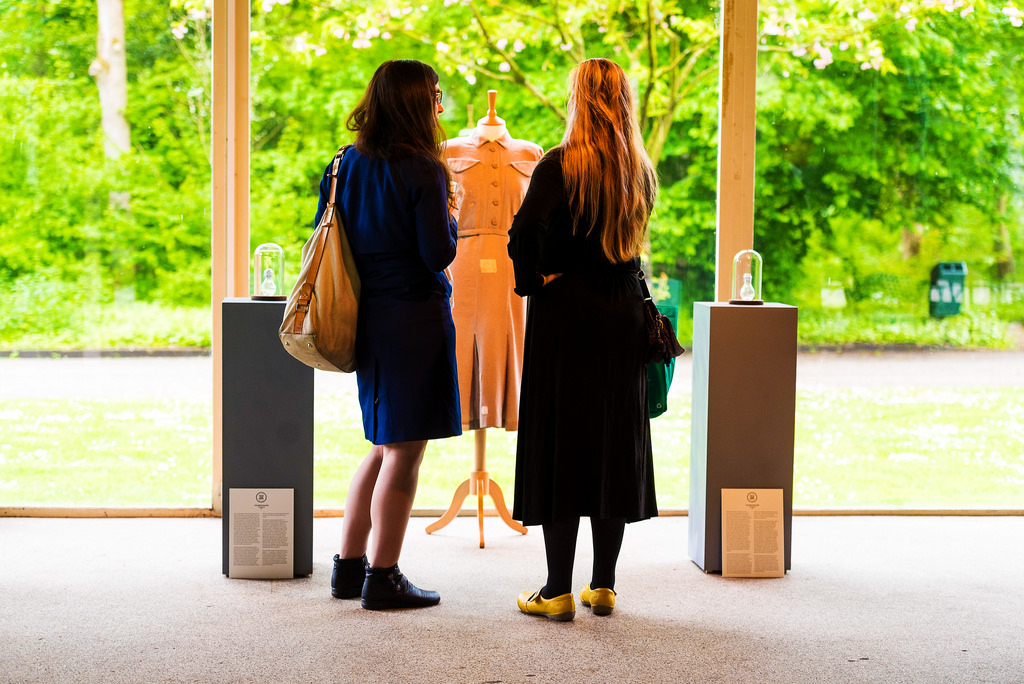 Anna Dumitriu, Controlled Commodity, 2017. Exhibition view of the Trust Me, Im an Artist at Het Glazen Huis, Amstelpark, Amsterdam. Photos by Bas de Brouwer
Anna Dumitriu's piece explores the "fundamental threat" to global health and safety posed by antibiotic resistance. The works also commemorates the 75th anniversary of the first use of penicillin in a human patient in 1941. This patient was Albert Alexander, a policeman with a severe face infection. Within 24 hours of being given an intravenous infusion of the antibiotic, his condition improved significantly. However, due to the instability of penicillin and the war-time restrictions, only a small quantity of the drug was available, and the patient died when the pathologists ran out of supplies. Nowadays, securing the drug is easy in most parts of the world. However, penicillin and other antibiotics have become less effective, they've been overused (to treat humans but also in animal farming) and a number of pathogens have now evolved resistance to these drugs.
Dumitrius' traveled back to the early 1940s through an antique wartime dress. She patched up any hole or stain in the fabric with cloth that contains genetically modified E. coli bacteria. The genomes of these E. coli bacteria have been edited using CRISPR gene editing technique to remove the gene that provides modern day bacteria with resistance to antibiotics. The deleted sequenced was then replaced with the WWII slogan Make, Do and Mend encrypted with ASCII code and then translated into DNA code.
"In a way it is conceptually and poetically true to say that, with this artistic genomic edit, Anna Dumitriu and her collaborator Dr Sarah Goldberg have used today's latest technology to 'mend' the organism back to its pre-1941, pre-antibiotic era state."
The title of the work, Controlled Commodity, refers to two facts. The first one is that the wartime women's suit was labelled with the British Board of Trade's logo CC41, or 'Controlled Commodity 1941', which ensured that the use of materials met the government's austerity regulations. This contrasts with our current antibiotic stocks which have not been protected as the 'controlled commodities' they should have been.
More images from the opening of the exhibition: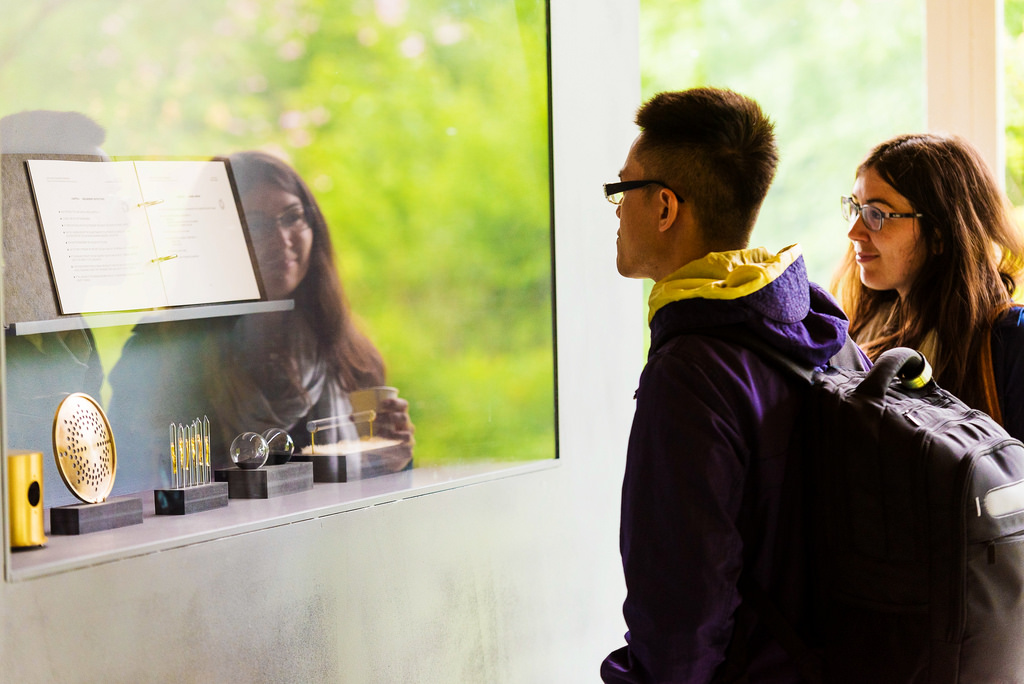 Erich Berger and Mari Keto, INHERITANCE, 2016. Trust Me, Im an Artist. Opening of the exhibition at Het Glazen Huis, Amstelpark, Amsterdam. Photos by Bas de Brouwer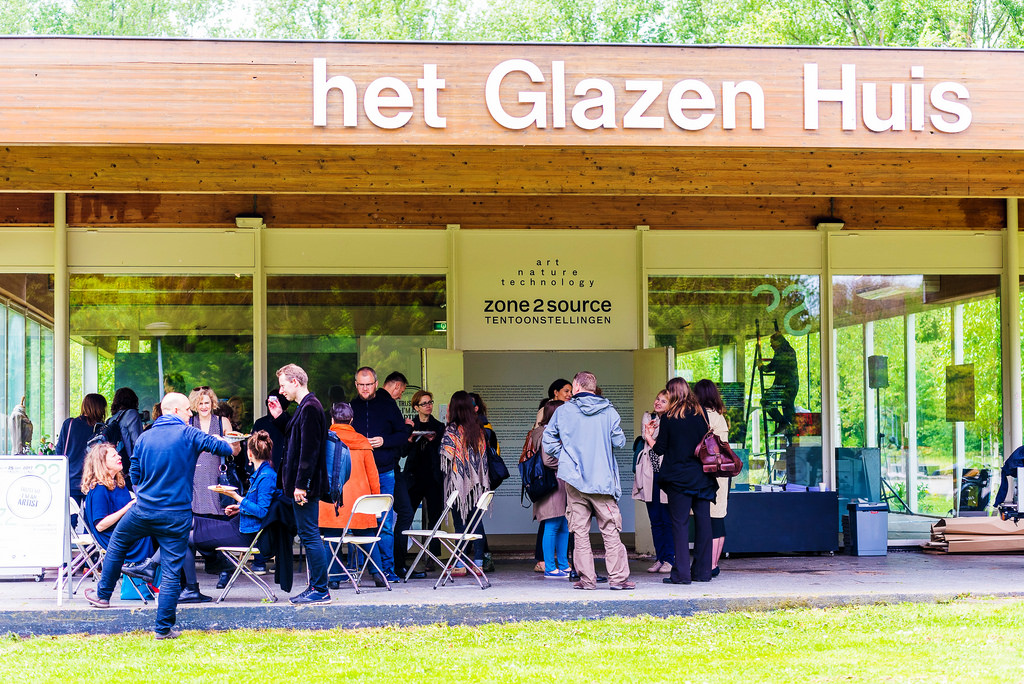 Trust Me, Im an Artist. Opening of the exhibition at Het Glazen Huis, Amstelpark, Amsterdam. Photos by Bas de Brouwer
Also part of the exhibition: Inheritance, a precious heirloom made of gold and radioactive stones.
Trust Me, I'm an Artist is curated by Anna Dumitriu and Lucas Evers along with project partners Nicola Triscott, Louise Emma Whiteley, Jurij Krpan. The exhibition remains open at Zone2Source's Het Glazen Huis in the Amstelpark in Amsterdam until Sunday, the 25th of June.
The Waag Society has a flickr set of the exhibition and of the Be-wildering performance. I also uploaded a few images online. The photo on the homepage is Heirloom by Gina Czarnecki and John Hunt. Credit: Gina Czarnecki.
The project Trust Me I'm an Artist: Towards an Ethics of Art/Science Collaboration was set up by artist Anna Dumitriu and Professor of Clinical and Biomedical Ethics Bobbie Farsides in collaboration with Waag Society and Leiden University.