Council chiefs in Wrexham have come up with a surprising idea to quell drink-fuelled violence in their town centre: mood lighting.
A 300-metre stretch in Wrexham's late-night drinking hotspot has been adorned with 115 pastel coloured lights on street lamps.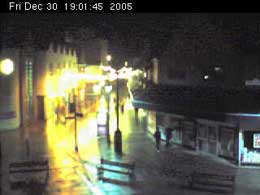 "The LED lights mounted in the pavement change colour in a 10-minute cycle from blue, to red, to green with every shade in between," said Isabel Watson, of the council's economic development department. "The theory is that anything that gives you a positive feeling at night will reduce aggression and anti-social behaviour."
"The feedback we've had from police and partygoers is that this is working – violent crime in the town centre is much reduced," added Aled Roberts, leader of the council. "And there is evidence from the continent that this kind of lighting calms people down."
"Another bonus is that the lights have made images from our CCTV cameras much clearer. So we're glad we went ahead with the scheme."
See also: Wrexham's portable toilets to stop men urinating in the street.
Via The Guardian.
Couldn't find any image, so the one above shows a webcam shot of one of the city's main streets.