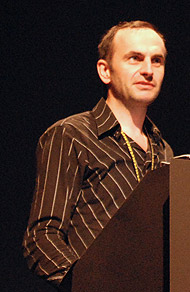 Tim Edler, co-founder of media facade specialists realities:united believes that ten years ago, many architects asked themselves how to connect to the hyped digital media. Architecture today has grown a bit more complicated since Dubai for instance shows that any hope for consistency might currently be lost and the place, as interesting as it is, seems like a spot on the planet where all (at least the architects) meet for business and that spot might as well be somewhere else tomorrow.
Another good example for the contemporary confusion is one of realities:united's own projects – the Museum X in Mönchengladbach, Germany. The actual museum is currently being renovated and so they were asked to transform an old theater in the center of the city into a temporary museum before it will eventually be turned into a shopping-mall ("to save the city"). Although the building is more or less fake and basically not much more than a facade which resembles modernist museum architecture, it takes on the same role as a real museum-building would. The same can be observed at Berlin's Leipziger Platz where whole "voids" are covered with faux facades and are often perceived as real buildings in the context of the city.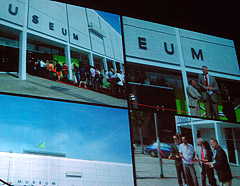 This, according to Edler, has a very confusing effect on himself as an architect as it profoundly questions the role and impact of architecture itself.
realities:united became well known for the BIX light and media facade on Peter Cook's Kunsthaus Graz. They managed to convince Cook to make the device a real part of the building which is "tattooed" like pigments into the skin of the building. It's very low-res (less than 1000 pixels) but works very well with the architecture, also because with incandescent kitchen lamps it uses "pre-aged" technology. They applied a similar design called SPOTS to a building vice-versa of the mentioned facade at Leipziger Platz. They regard this project as a half-step towards something that might eventually be able give buildings a greater and dynamic identity. For a current project at the new ECAC-media center in Spain, they have almost completely let go the notion of a raster of pixels in favour of something that more resembles a crystalline surface with the structure of the retina with denser and less dense areas. Due to how our perception works, images that have been in the higher-resolution area will work better in the outer, low-res areas as well.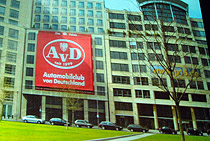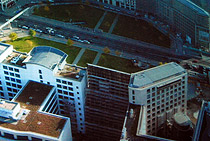 Faux buildings in Berlin
So what to actually show on media facades? Creating a dynamic surface brings about a certain responsibility and according to Edler, it will not be enough to have buildings which look vaguely remindful of Blade Runner or something that is just arbitrarily reactive to motion. Future projects might include a building where all lamps can be controlled to create a volumetric display and shake off the notion of the media facade as something that is "glued on". Many of those designs aren't exactly great with the current debate about energy consumption and sustainability but realities:united are confident that also big-scale light installations can be designed in a reasonable way.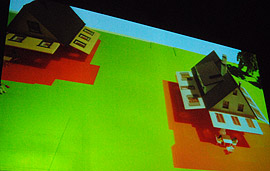 With a project called Openhouse, Edler and his colleagues also ventured into the realm of wearables and conceived prototypes of houses which would adapt to future clothing that might feature build-in air condition or heating. The houses would just contain one heated cell and otherwise expose their well-heated inhabitants to the surrounding air in favour of greater exchange with the environment.