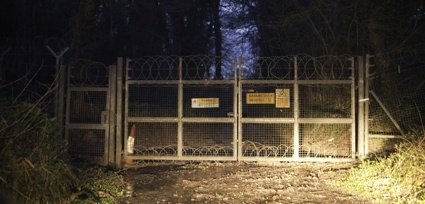 Corsham Computer Centre
Neal White is an artist, an Associate Professor in Art and Media Practice but he also holds the enigmatic title of 'Director of Experiments' at the international collaborative research practice The Office of Experiments.
I discovered the activities of the OoE in 2008, when i read about Truth Serum, a performance that involved self-experimentation, psychological games and a comment on the rise of 'security state.'
One of the current interests of the Office involves an 'overt research' that attempts to build up an alternative and experimental knowledge source about the UK's "Dark Places", the labs and facilities of advanced technological development which are often (purposefully or not) concealed, secret or inaccessible to the public.
The techno-scientific and industrial-military sites under study are approached through publicly available information but conspiracy theories and rumours surrounding these sites form also part of the narrative. The Dark Places place is headed by Neal White and Steve Rowell, but the overt researchers also invite artists, amateur scientists, urban explorers and local communities to contribute to the investigation by participating to bus tours and by contributing to the online geo-mapped database Dark Places.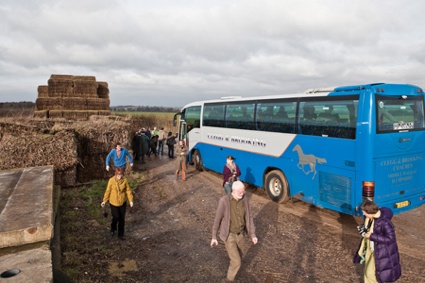 Secrecy and Technology Bus Tour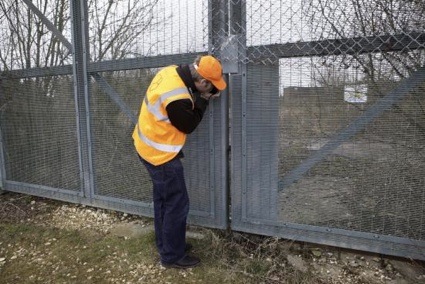 Greenham Common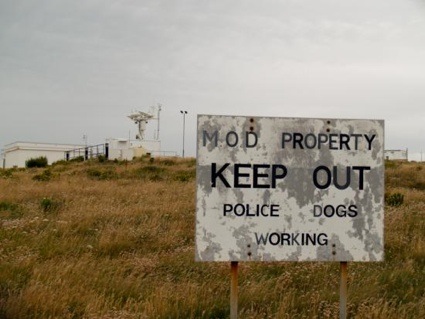 QinietiQ – Portland Bill. Compass Test Centre
The next critical excursion that will take people on an Overt Research tour will be in London in October. In the meantime, here's what Neal White had to say about my many questions regarding the Dark Places and his work at the Office of Experiments.
Hi Neal! My only contact with the world of sites of advanced technological development in the UK took place a few months ago when watching an episode of the tv series Sherlock: The Hounds of Baskerville.
Your experience and knowledge of these sites, while not being complete, is obviously much wider and more grounded in research than mine. Does getting to get closer to these sites makes you more worried about what goes on inside than before? Should we be concerned about what is devised and created in these places?
In our research we are interested in where the limits of an experiment end; literally, spatially and structurally, but also in terms of the 'public imaginaries' that closed spaces of all kinds generate – myth, rumour, conspiracy. So we are interesting in interrogating our own relationship to the military-industrial or techno-scientific complex as cultural and critical practitioners. Sharing practices and approaches with other culturally positioned research organisations, such as the Center for Land Use Interpretation in the USA, our aim is to utilize some of the technologies and techniques used by this contemporary complex and developed by them in terms of technologies of surveillance, mapping, intelligence and to invert them. So with Overt Research for example, our aim is to re-frame documentation of a site or sites.
Within this research we also explore alternative archives and knowledge extracted through new open governance policies as well as posthumous release of information from the official accounts of such sites. We make links with autonomous and independent researchers, activists and amateur enthusiasts, whose work in this area is often informed by a person having worked at a site, having a personal issue or a political motivation.
We feel that the bodies of knowledge produced by this unofficial research are overlooked and should play a stronger role in our cultural life. In using, interpreting and sometimes exhibiting such knowledge, our aim is to create new and open resources that anyone can use or interpret. It is this opening up of what is not visible that makes the world less full of fear.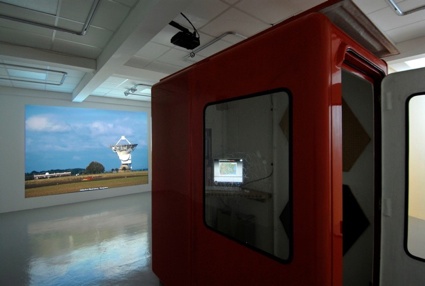 Office of Experiments – Dark Places Database – installation. From Dark Places – An exhibition curated with Arts Catalyst, SCAN and the John Hansard Gallery 2010
Tales from the ARC – The Mike Kenner Archive (Declassified archive of Secrets of Porton Down) – OOE/ Mike Kenner. From Dark Places – An exhibition curated with Arts Catalyst, SCAN and the John Hansard Gallery 2010
Steve Rowell – Ultimate High Ground UK. From Dark Places – An exhibition curated with Arts Catalyst, SCAN and the John Hansard Gallery 2010
The Overt Research Project relies on personal research and field trips. How much can you actually discover through these field trips? I guess most of the structures you investigate must be off limits.
You will appreciate yourself that much of the way in which we experience the world is shaped and informed by media, including online sharing of photographic imagery of remote, interesting, derelict or even secret places – or artwork in exhibitions. The staff at the sites we focus on are of course also aware of this and so use the media to project the official story of a site, or not. We visit the sites as this information about them often frequently does not add up or we have information about them unofficially which we want to explore.
For example, you may go to a site, standing in plain sight with a high viz jacket (the Overt part that inverts the logic of the secret site and the technology) of a site that might be a decommissioned Nuclear Power Station, and find that this is only part of the story. Part of the site is decommissioned but a new business park or some new activity is going on there, more discretely communicated shall we say. We can document that in the images. The interpretations on our site of these images then alludes if not explicitly points to the other activity. Part informed by our dark sensibilities and by a critical eye, we point to the construction of scientific research as one which shares intimate links with some of the more sinister aspects of government, security organisations etc. And if you want to add to our database, or undertake Overt Research, we insist that you must first participate physically by joining us on one of our research fieldtrips to learn more about what we do and how we do it. We like to make a link between the worlds we inhabit – informational and experiential. Testing limits and boundaries from the spatial to the virtual I suppose.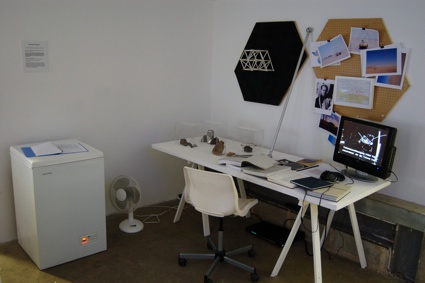 Neal White: Fieldworks from the Museum of the Void, Experiments in the Event of an Archive (Entropic Popsicle fridge, Spiral Jetty Petition, and Information Point) Photography Giulia Imbriaco
You're working with Steve Rowell from CLUI and Lisa Haskell on the Overt Research Project. How do you complement each other?
I met Steve Rowell through the Center for Land Use Interpretation as I received a grant from the Henry Moore Foundation in 2008 to make some work with them and consequently spent too much time at their research residency in Utah, on and off over three years (See 'Museum of the Void – Experiments in the Event of an Archive'- Chelsea Space 2010). During this period I was also undertaking initial research for the exhibition Dark Places at John Hansard Gallery in 2009-10. It seemed like a good idea to see if Steve and I could work together as he was based in Europe for a while. So we performed an informal and strategic knowledge exchange about how to approach, document and uncover information about the sites in which we were interested. I had realized OOE could learn more directly about the methods developed by CLUI and then start to build on these. This formed the basis of the site Dark Places around which the exhibition was then curated. The inclusion of Steve and then Beatriz da Costa, who worked closely with Critical Art Ensemble, made total sense for that exhibition then.
I had known Lisa Haskell for some time (we worked together at Ravensbourne College with Prof Karel Dudesek and Armin Medosch). Wanting her great experience as well as some gender balance in our organization, I approached her to come on board as Technical Director. In this capacity she not only builds our technical back end, but her experience with smaller activist organisations, such as Irational etc, have meant that we could also exchange ideas and knowledge in approach to physical and virtual sites, what to disclose and reveal, intelligence and its counter forms.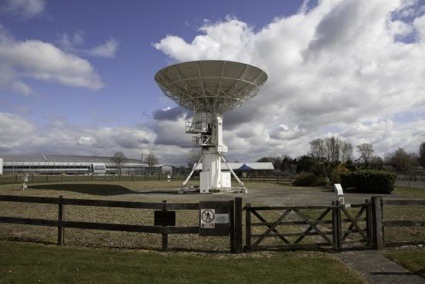 Harwell Science and Innovation Campus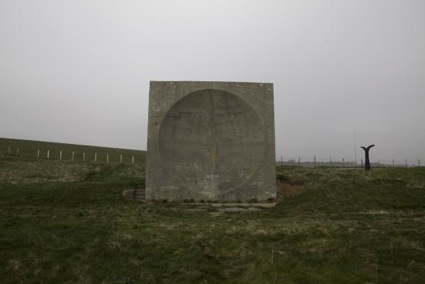 Abbotts Cliff Sound Mirror
I had a look at a few of the sites mapped on the Dark Places website. These sites don't seem to hide themselves, their architecture is often even massive. So what makes them dark?
As I have mentioned, we know that the sites we list may or may not fully disclose all of their activities. Some of the work that goes on is official, but in others it is unofficial. In the USA, the approach is different, and as Trevor Paglen (Experimental Geographer – Blank Spots on the Map, etc) or Lize Mogel (Radical Cartography) would tell you, there is a different official attitude and foundation in law in terms of what constitutes official secrecy and a security threat. Also, in the USA, the vast scale of the landscape is used to conceal.
Here in the UK with such a dense population, and a different legal structure (Officials Secret Act), the aim is to sometimes create public secrets in plain sight, about which we do not speak. As I have mentioned, there are numerous ways in which the truth is presented, leaving room for other truths to remain untold or hidden beneath.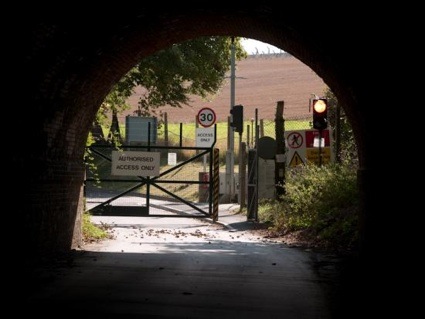 DSTL Porton Down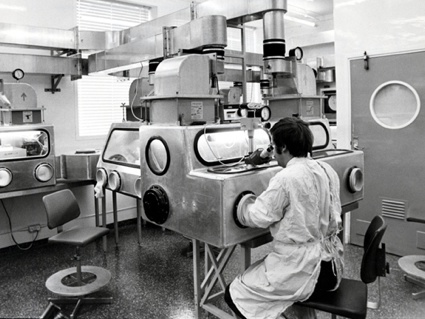 Porton Down. Image: Neville Marriner/Daily Mail/Rex Features, via New Scientist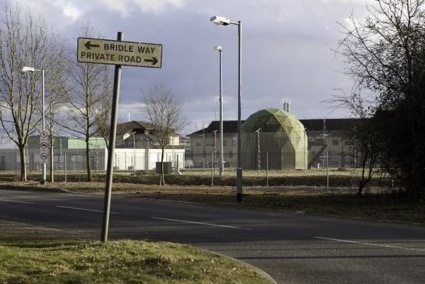 Hanslope Park
Can you tell us something about the ones that are secret? The ones that don't have such a visible presence in the landscape? How do you find about them? Are there national or international networks of amateurs investigating them?
Take for example GCHQ, nearly everyone knows it is there, Google it! But disclosing more information about how they organize themselves, who works there, etc. would leave you open to direct legal problems. So when we documented it, we photographed the housing estate that surrounds it, with only small glimpses of its structure. Obviously, no people, cars, no number plates. We avoid disclosing any information of this sort. However, the documentation creates a different landscape, something we explored at Apexart in New York in our publication – The Redactor. Redaction is the ultimate aesthetic of a security driven world. Inadvertently the act of redaction drives speculation and conspiracy in terms of the security networks, which is something advantageous to those with power, so to short circuit or speak truth to power in some ways is good. Back to GCHQ, you can go there and drive around.
However, sites like Hanslope Park or Porton Down are less visible, even by car. They make use of geomorphology to reshape the landscape, traffic controls to create circuits of access and entry at high speeds, a range of measures and counter measures. Since we documented Hanslope Park, they have updated their websites and attempted to communicate a little more – openness can be a strategy too.
Office of Experiments with Tina O'Connell – Intervention – Department of Homeland Security, Emergency Preparedness Office, Washington DC
There is the word 'research' in the Overt Research Project but may we take it at face value? Where do you intervene as an artist? And how important is it that artists and citizens engage with these sites?
Art has always sought to question the way in which we know and understand the world. It cannot simply take the world for granted, but how can it take into account the globalized scale life? Academic research does much to enable greater understanding of the world, but it is slow, bound in a set of ethical dilemmas and almost moribund when it comes to unofficial or non-institutional accounts of the world.
The Office of Experiments itself is based on what Maria Lind has called the 'fourth wave of Institutional Critique', the pseudo institution. However, our aim is to go beyond a critique of the artworld institution per se, and alongside others create new and alternative resources, knowledge and interpretations of the world that surrounds us. Research is a word used to describe this, but it is experimental, non-standard and undisciplined in our minds and in its practice. Our research is collaborative, discursive and opens up dialogue to discussions that many wish to keep concealed. It is a dialogue outside of the mass media, beyond the art of the aesthetics of protest, but is networked and precisely focused on its subject. I wonder if it is an emergent form – structural aesthetics. That would chime with the drive of artists like Ashok Sukumaran or writers such as Owen Hatherly and Stephen Graham.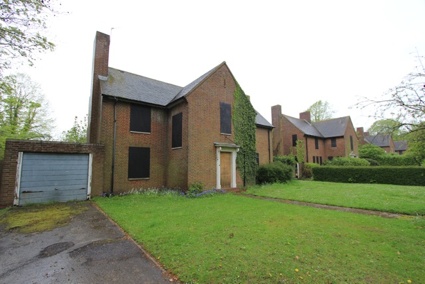 Research for Experimental Ruins. Harwell Campus, Oxford
Another chapter of the research, 'Experimental Ruins', focused on sub-urban London. What did you discover during that phase of the project?
Experimental Ruins refers to the shifts and changes in the specifics of scientific research. As we virtualize through models on computers, less laboratory space is required. Digitisation has meant that models can replace organisms, the infrastructure of labs is shrinking onto networked, distributed and smaller scale sites. There are empty labs in the heart of London. So we wanted to explore the recent geology of science, to excavate its ruins and see what else there was and make a relationship between sites. We started with a workshop with academic colleague Dr. Gail Davies at UCL, a while back and have taken it from there.
Of course when you think about it, Sub-urban London is the perfect place to conceal in public as you have the cooption of local workers, the banality of infrastructure with the efficiency of logistics. It remains a key space in which to place a site of interest to us.
JG Ballard lived in Shepperton all his life. I was born very near there and was always fascinated by the barbed wire fences and private spaces of anonymous private organisations – firing my imagination perhaps. However, JG Ballard also knew that suburbia is a space of fear, a thinly veiled reality that behind its net curtains is morally dark. By way of example, you can go to a site on a small business park in the heart of suburban west London just off of Ballard's beloved M4 corridor and as you come around the corner, you will find it guarded by armed Military Police. This is the Defence Geographic Centre (DGC), which includes the MOD Geospatial Library and Map Depot.

We are currently organising a critical excursion – another of our fully mediated bus tours following on from hugely successful versions around Southampton, Falmouth, Newcastle and Portland, that will train people to undertake Overt Research based on this specific project. This tour will explore the London Orbital to the West of London. As is often the case with our work, it is supported by Arts Catalyst. The tour will launch from The Showroom in West London in October.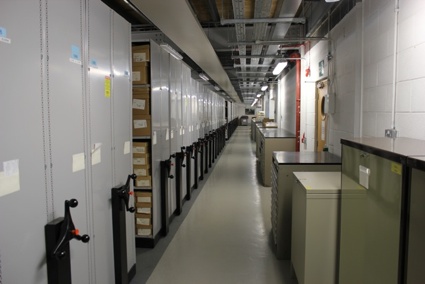 THE LAARC. Museum of London Archaeology Archive Centre 2011 OOE (cc)
On your website there is an announcement for the Office of Experiments Department of Catastrophe – with Museum of London, a new project examining 'Post-Event Archaeology'. Can you already tell us something about the project?
We are working with Museum of London on 'Experimental Ruins'. This has led to the possibility of exploring their vast archives, but also into looking more deeply into contemporary archaeology, a development that enables the forensic exploration of sites at a micro level.
As we are interested in event-structures (a term coined by John Latham with whom I worked a little) – that is the temporal dimension of space and its use, and the context of a social engagement, then this works with the history of site, also revealed in archives. Thinking further about this in an International context, we started to explore ideas of time and events through sites. Catastrophic is probably a category at one end of the register – a very sudden event. At the other end is a slow social decline, in places such as Detroit. Both ends of this register are difficult to document, either due to the rawness of trauma of conflict or massive environmental disaster, or as illustrated in the photography of Detroit, with Ruin Porn. In February, both Steve Rowell and I discussed these challenges at the Association of American Geographers in New York with the Detroit Unreal Estate Agency. The panel was called Ruinations: violence, snafu and porn. We also started to explore the Catastrophic area in a major public artwork that Steve Rowell curated in Washington DC – the 5×5. With the Irish artist Tina O'Connell and Transformer Gallery, we tried to draw on links between communities in the USA and Japan following the Tsunmai and Fukushima Diaichi disaster last year.
Overall as a project it is exciting, but fraught with danger of all kinds. Ultimately it might spell disaster for us, or for those with who are exploring how we might turn their Museum into a ruin itself. This is what we mean by the Department of Catastrophe.
Thanks Neal!
Previously: Truth Serum by The Office of Experiments, at the Sk-interfaces exhibition.