On Tuesday i was in Amsterdam for a conference titled "I'm not a Barbarian, I'm an Alien' at the Dirty Art Department of the Sandberg Institute (with titles like that how could i refuse the invitation?) but i also found some time to visit Sonic Acts – Travelling Time at the NIMK, an exhibition of artworks that explore different modalities of time. What i might not find is the time to blog the whole show before it closes on 15 April 2012. But it's so good i should at least make space for a quick mention of one of the participating pieces: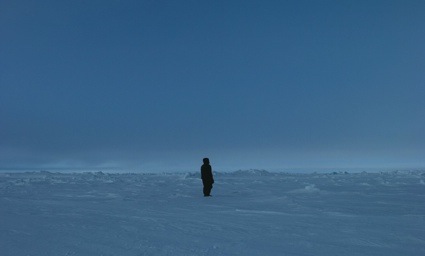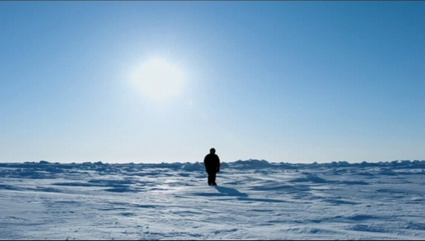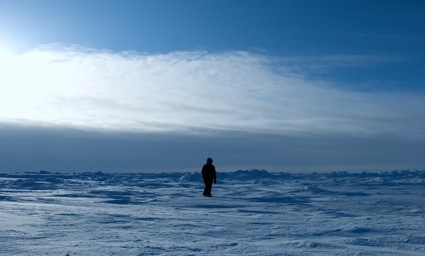 GUIDO van der WERVE, Nummer Negen, 2007
Nummer negen: The day I didn't turn with the world is a time-lapse photography showing the artist standing alone on a barren, icebound plain. Guido van der Werve spent 24 hours in almost complete immobility on the axis of the world at the geographic North Pole. His only movements consisted in turning slowly clockwise as the planet under his feet turned counterclockwise.
This means that in these 24 hours, he didn't indeed "turn with the world" but let the Earth rotate around him.
The physical tour de force would be enough to make anyone admire the work. But the images are as stunning as the performance. The solitary silhouette, the shadow moving around the artist, the slowly changing sky, the unsympathetic landscape. And then there's that quiet, dream-like piano piece composed by van der Werve.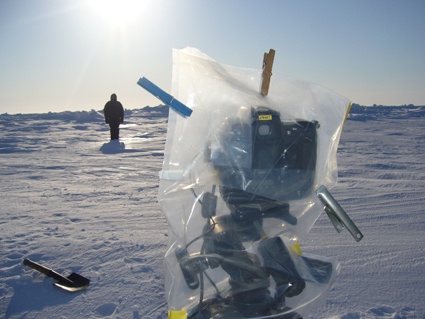 Behind the scene of the shooting. Photo by Ben Geraerts
In Nummer negen: The day I didn't turn with the world, time and Copernican system seem to be suspended. It's an absurd, poetical and almost heroic work.
Sonic Acts – Travelling Time remains open at NIMK (the Netherlands Media Art Institute) in Amsterdam until 15 April, 2012. Don't miss it if you're in or around Amsterdam!