The Art of Walking: A field guide. Edited by David Evans and published by Black Dog Publishing.
and UK.
Book description: The Art of Walking: a field guide is the first extensive survey of walking in contemporary art. Combining short texts on the subject with a variety of artists work, The Art of Walking provides a new way of looking at this everyday subject.
The introduction relates peripatetic art now to a wide range of historic precedents, and is followed by a series of visually led 'Walks' dealing with seven overlapping themes: footprints and lines; writers and philosophers; marches and processions; aliens, dandies and drifters; slapstick; studios, museums and biennales; and dog walkers.
The guide includes newly commissioned art and writing, and many artists have been actively involved in the design of their respective pages.
This overview of artworks dealing with walking completely took me by surprise. I was expecting psychogeography, peripatetics, geolocation and theory. But The Art of Walking: A Field Guide is not only light on words, it also follows themes that range from aliens to slapstick to dog walking.
The way the content is illustrated is worth a mention too. There are the usual photos that document performances of course but also letters, preparatory drawings, souvenir programme, etc. The succession of images for each artwork allows the reader to fill in the dots, complete the short presentation text and create their own narrative. The author even asked some of the artists to participate in the editorial process. For example, The Art of Walking opens on a series of proposals that artist Peter Liversidge wrote down on his old typewriter for the author of the book, for himself or for the reader. He invites you to put down the book and go outside, for example. And following his suggestion, the book closes on 5 empty pages for you to write down notes.
The book was thus nothing i expected. And that's never a bad thing.
Special mention for the format and design of the book. Soft cover. Thick, glossy pages but not too glossy (if you know what i mean.) Round corners.
And now for the traditional tour of some of the works presented in the book: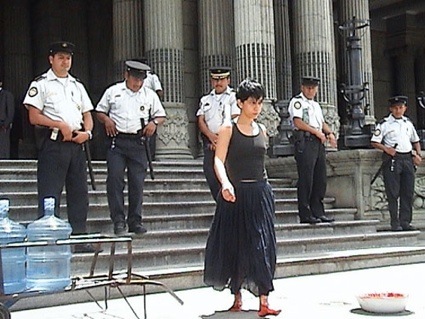 Regina José Galindo, ¿Quien Peude Borrar Las Huellas? A Walk from the Court Of Constitutionality to the National Palace of Guatemala, leaving a trail of footprints in memory of the victims of armed conflict in Guatemala, 2003
In 2003, Regina José Galindo walked from the Congress of Guatemala building to the National Palace, dipping her bare feet in a basin filled with human blood, leaving red footprints behind as a protest against the presidential candidacy of Guatemala's former dictator José Efraín Ríos Montt whose military regime committed widespread human rights abuses.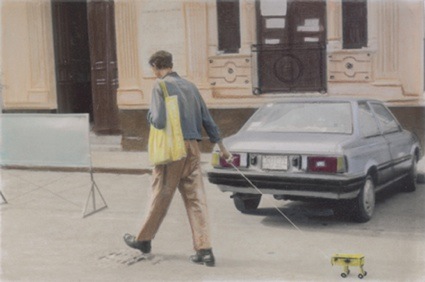 Francis Alÿs, The Collector, Mexico City 1991-2006. In collaboration with Felipe Sanabria
In 1991, Francis Alÿs dragged a magnetic toy dog on wheels through Mexico City until it became covered entirely in coins, bits of old tin cans and other street debris.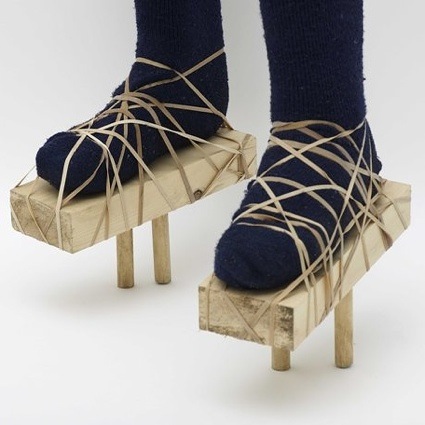 Marcus Coates, Stoat, 1999. Photo: © Andy Keate
In the 1999 video performance 'Stoat', Marcus Coates is staggering on wooden platforms, in a pitiful attempt to recreate the animal's gait.
Simon Faithfull, 0.00° Navigation, 2009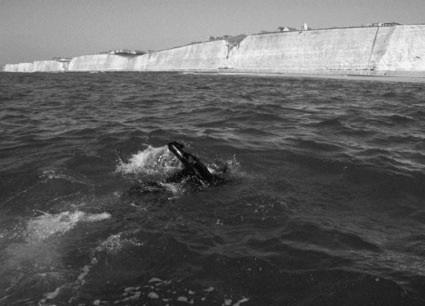 Simon Faithfull, 0º00 Navigation, 2009
GPS device in hand, Simon Faithfull walked along the Greenwich Meridian from Peace Haven in Hampshire to Cleethorpes in Lincolnshire. Following the exact line of longitude involved climbing through windows and up fences, crossing private properties, swimming through streams and crawling through hedges.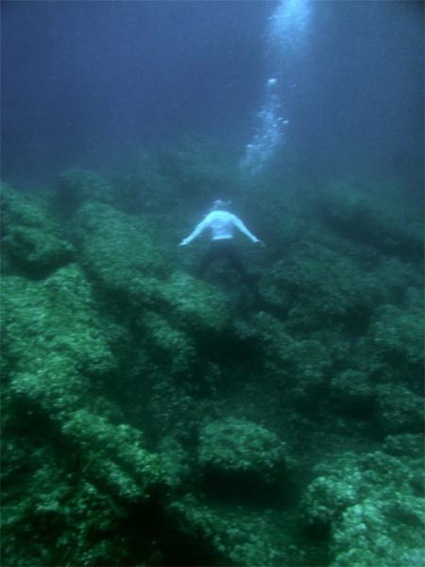 Simon Faithfull, Going Nowhere, 2011 (video still)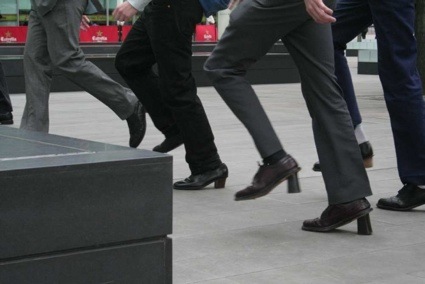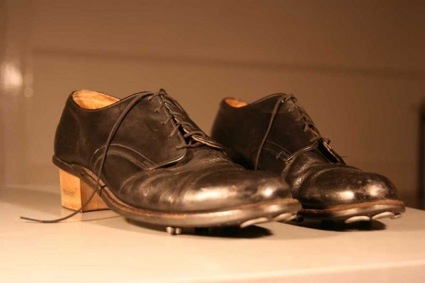 Lawrence Abu Hamdan, Marches – A sonic mapping of London, February 2008 – May 2009
Marches by Lawrence Abu Hamdan is an audio recording, booklet and map documenting two performances on 23 May 2008.
Lawrence Abu Hamdan choreographed two marches in the Queen's Walk and Tower Hill areas of London. The marchers stomped wearing footwear created by local cobblers for greater sonic effect.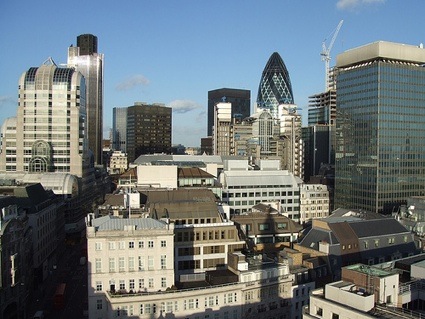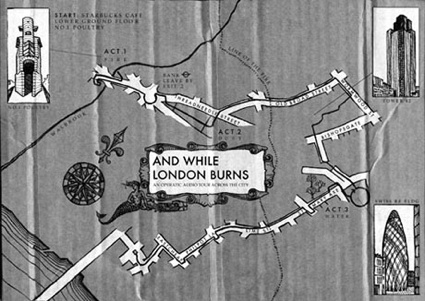 And While London Burns, An operatic audio tour across The City
And While London Burns is the soundtrack for the era of climate change, set amongst the skyscrapers of the most powerful financial district on Earth, London's Square Mile. An opera for one, it takes the listener, equipped with an mp3 player on a walking audio adventure through the streets and alleyways of our city.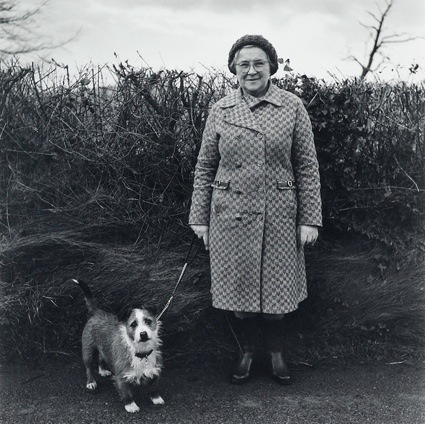 Keith Arnatt from the series: Walking the Dog, 1976-9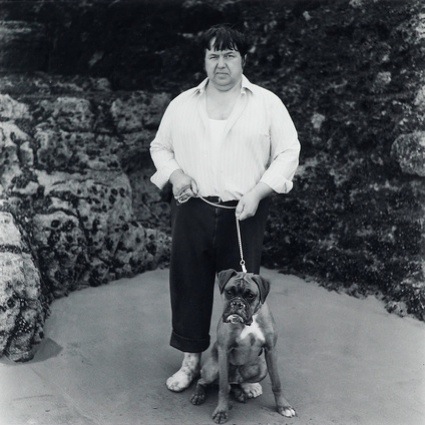 Keith Arnatt from the series: Walking the Dog, 1976-9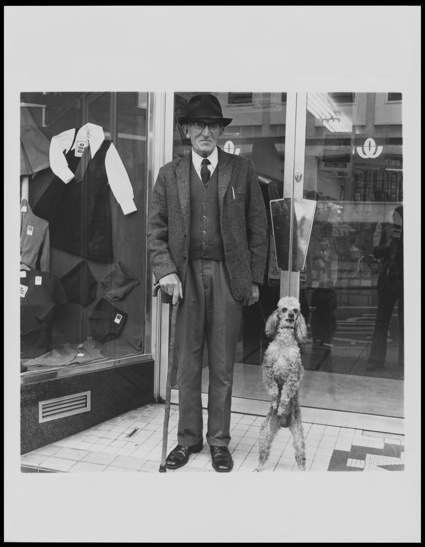 Keith Arnatt from the series: Walking the Dog, 1976-9
Between 1976 and 1979, Keith Arnatt photographed dogs and their owners out for walks near his home in South Wales. The artist went to great lengths to ensure that the owner and his pet are looking at the camera at the same time.
"Where the photographic act is concerned, a dog's attention span is extremely short. When, for example, calling a dog's name fails to attract its attention, I am forced to resort to more extreme measures."
"My barking and growling are quite effective, though such antics tend also to affect the owner's own response. And though a fair number of pictures do show the dog making the required response, they are marred by showing the owner peering down to see whether they are doing so."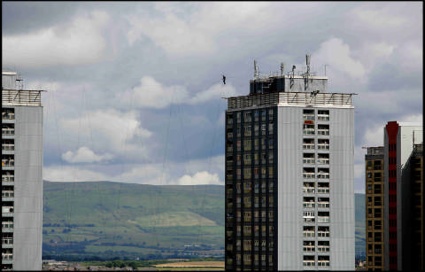 Catherine Yass, High Wire, 2008. Photo: Angie Catlin. Commissioned and produced by Artangel
In 2007 high wire artist Didier Pasquette attempted to walk between three of Glasgow's Red Road high rise tower blocks. Unfortunately, high winds forced Pasquette to retrace his path. The performance was used by artist Catherine Yass as the basis of a reflection on the urban environment.
Also by David Evans: Critical Dictionary.