The Word is Art, by artist, author and director of London's Museum of Contemporary Art (MOCA) Michael Petry.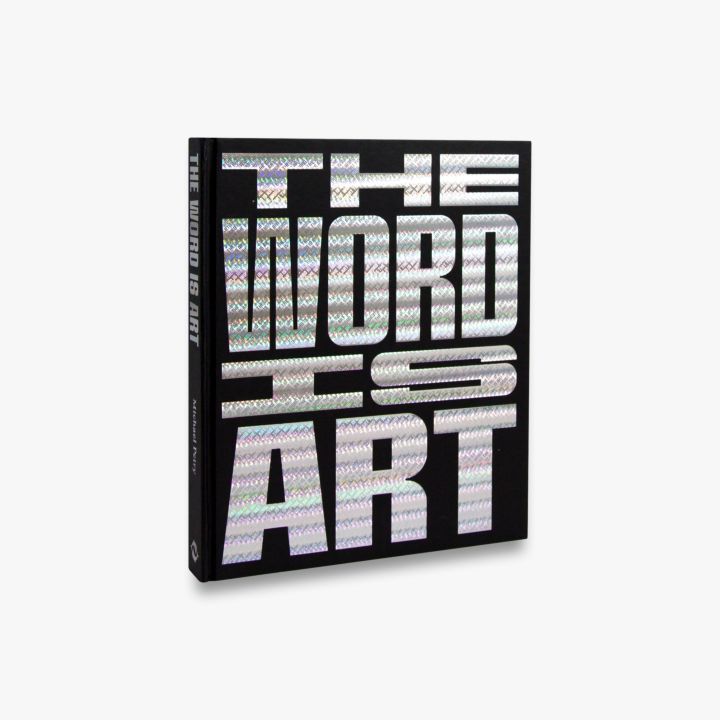 Publisher Thames & Hudson describes the book: Presenting a history of word- and book-based art, and examining major areas where the word has dominated artistic practice, this book takes us on a fascinating and richly illustrated global tour of diverse contemporary art forms.
What value can text hold in the sphere of visual art? How is such text different from poetry? Can the poetic itself be visual art, or is text in this context consigned to the realms of gimmick and catchphrase? Looking at the work of a broad range of artists including Bruce Nauman, Julien Breton, Jeremy Deller, Tracey Emin, Jenny Holzer, Shirin Neshat and many more, The Word is Art examines each of these questions, contending above all that in the digital age, words have become more important than ever.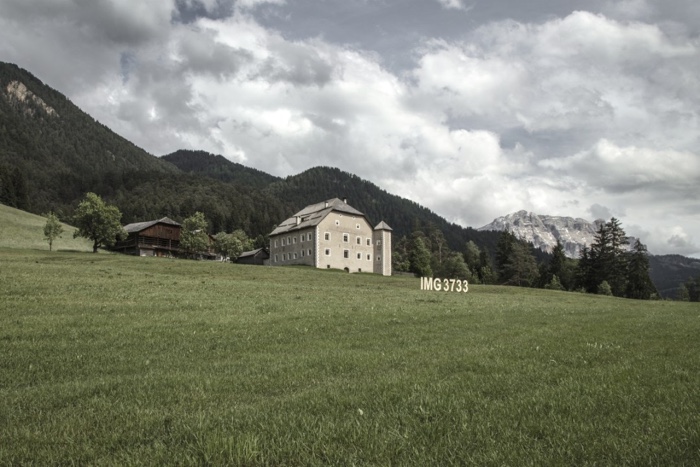 Luca Rossi, If You Don't Understand Something Search For It On YouTube (photomontage with wooden letters), 2017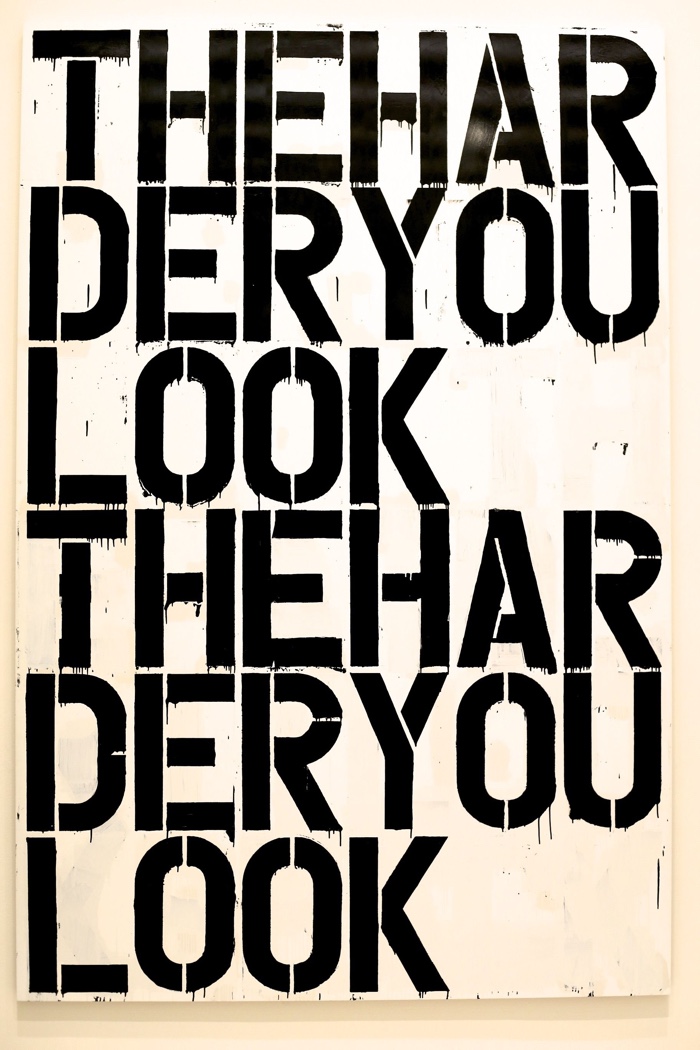 Christopher Wool, Untitled, 2000
The way we read, communicate and use words or even characters evolve with each technology. The changes have been particularly visible with the advent of digital technologies and our reliance on emojis, acronyms and other shortcuts.
This book is a wonderful dive into artistic strategies to rediscover and reinvent the magic of words and characters in the 21st century. Letters so big they become installation works. So luminous they reformulate their surroundings. Words so physical and disturbing they call for increased attention and meditation. Words in wood, words engraved on laminate panels or projected onto facades or even the moon. Words handwritten on post-it notes, words printed on posters, words that become sculptural or words that are painted and remind you of the difference between seeing an artwork and reading it.
Sometimes the words are full of humour. Sometimes they denounce tragedy and injustice, as exposed in my (unsurprisingly) favourite chapter in the book: "Social Comment" which investigates how artists combine good art with an effective message that exposes corrupt politics, discrimination, unethical work practices, or flaws in the art world itself.
The other chapter i found relentlessly fascinating was the one dedicated to 'new media' or how QR codes, robots, dating apps and live projections are used to give new dimensions to textual information.
The Word is Art is entertaining, stimulating, beautiful, packed with images and ideas. It's been the much-needed breath of fresh air i needed this month.
I loved many many of the works presented in the book. Here's a super short list of my favourite: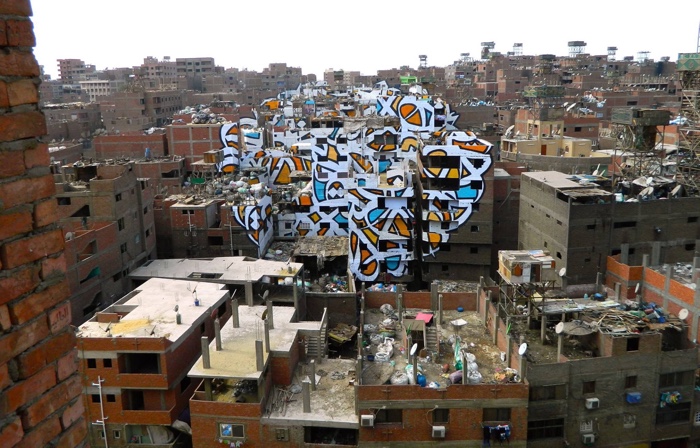 eL Seed, Perception, 2016
eL Seed's painted a 'calli-graffiti' piece across 50 buildings in the neighbourhood where Cairo's garbage collectors live.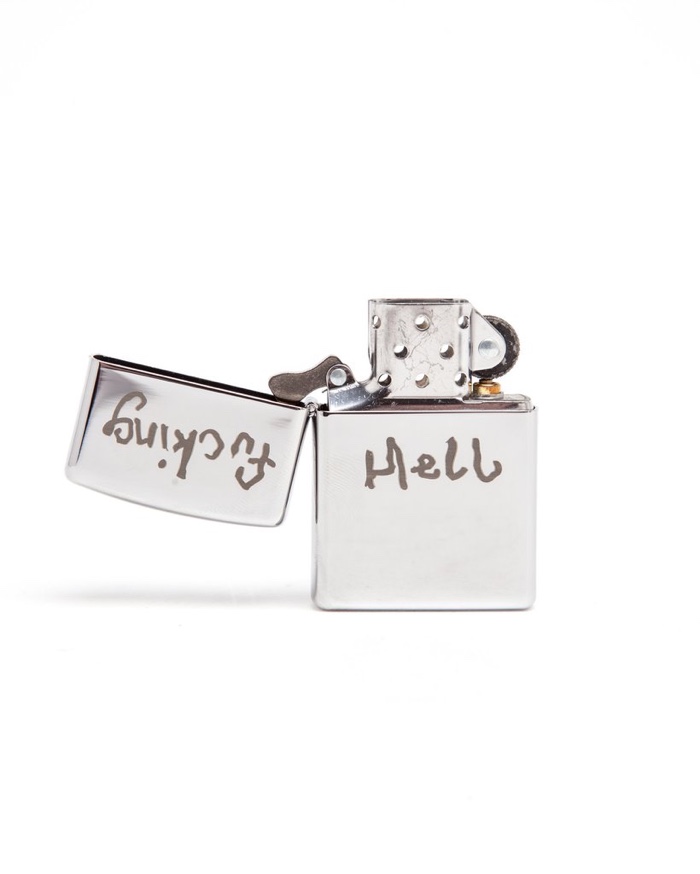 Jake & Dinos Chapman, Skull Etched Zippo Lighter, 2015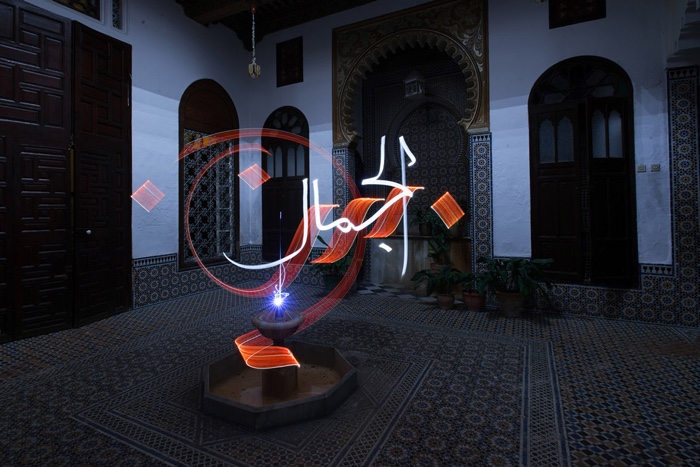 Julien Breton, aka Kaalam, La beauté, 2015
Kaalam uses long exposure and no digital manipulation to record rehearsed motions that translate on film to Arabic handwriting.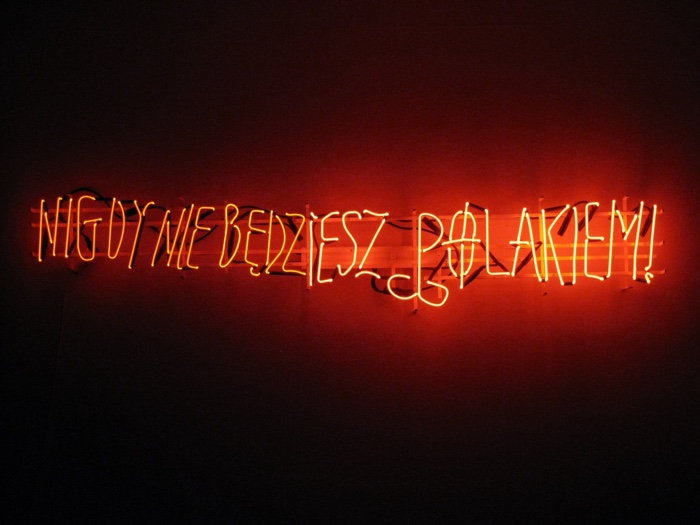 Hubert Czerepok, Nigdy nie bedziesz polakiem (You Will Never Be Polish), 2008
The Brazilian Roger Guerreiro was one of the first players of colour in Poland and many were angry at the speed at which he received citizenship in order to play for the national team. Football fans in Polish cities hung banners and shouted "Roger, you will never be a Pole!" at matches when Guerreiro was on the field. Czerepok has used red and white (Polish national colours) in many works as a comment on the rightwards drift in Polish, European and U.S. politics.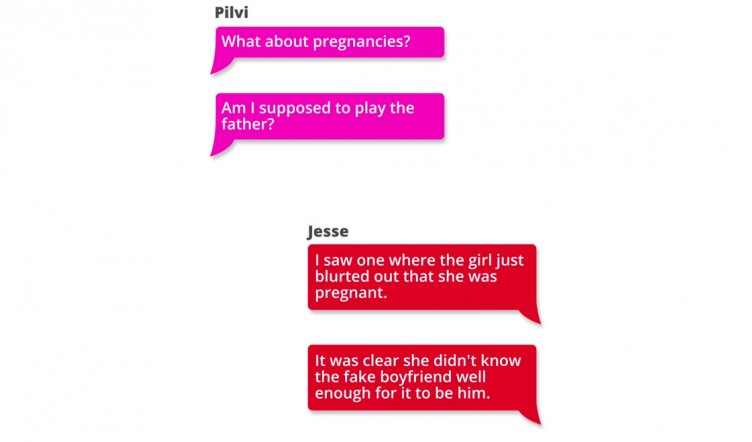 Pilvi Takala, Workers' Forum, 2015
Workers' Forum is an animated message conversation, the idea for which developed from Pilvi Takala's experience as a micro-tasker in the United States, in which she worked for a service where users pay to have a pretend girlfriend or boyfriend texting them.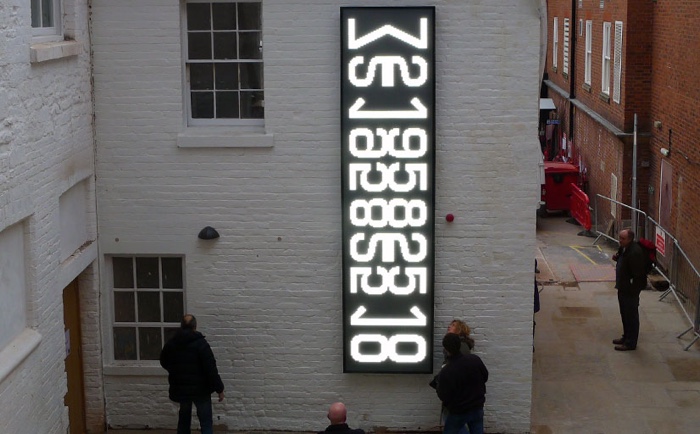 Thomson & Craighead, Hello World, 2014
Thomson & Craighead's Hello World LED sign displays current world population in realtime, updating in response to statistical sources. The vertical mirroring of this simple macroview of our world transforms the information into a decorative totem.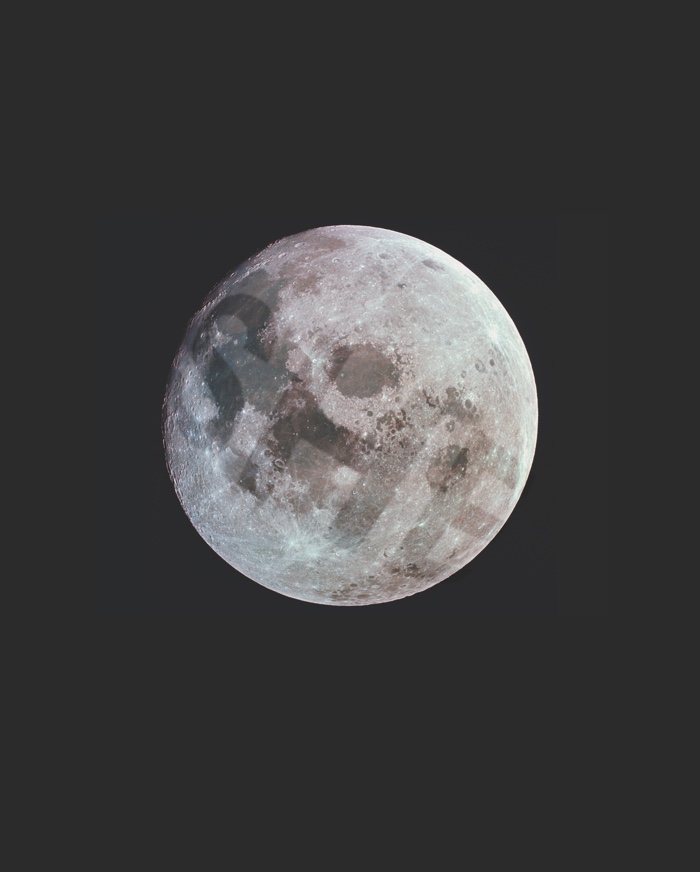 Lilian Lijn, moonmeme, 1992- ongoing
Liliane Lijn's moonmeme is a homage to the feminine principle of transformation and renewal that for millennia was held sacred in the form of the full moon and its recurring cycle. In this as-yet unrealised work a single word is projected across the lunar surface – large enough to be seen from Earth. As the entire lunar surface is revealed, over the course of its cycle, 'SHE' emerges from its gender opposite 'HE'. In using the lunar surface as a living screen the artist is also signalling the concern that the moon could one day be used for advertising and propaganda.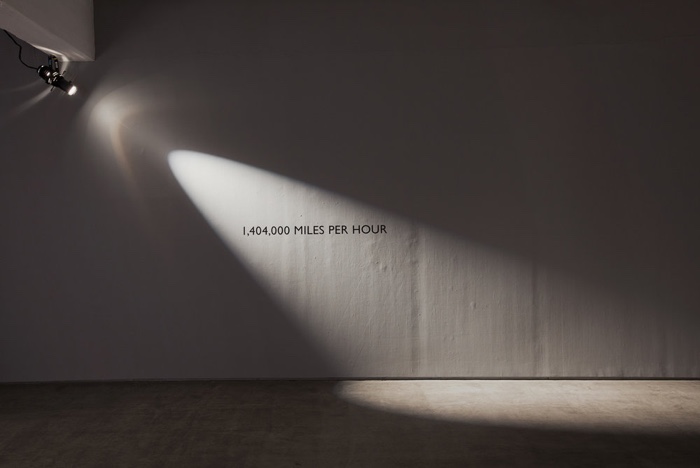 Carey Young, Terminal Velocity, 2010
The beam of light that enables the text to be read moves across the universe at about 186,000 miles per second. Dr. Malcolm Fairbairn, an astrophysicist based at King's College London, calculated that the Earth, the gallery, the artist and all viewers are moving at a rate of 1.404.000 miles relative to the Big Bang. The light is thus not just part of the installation, it enables the work to exist.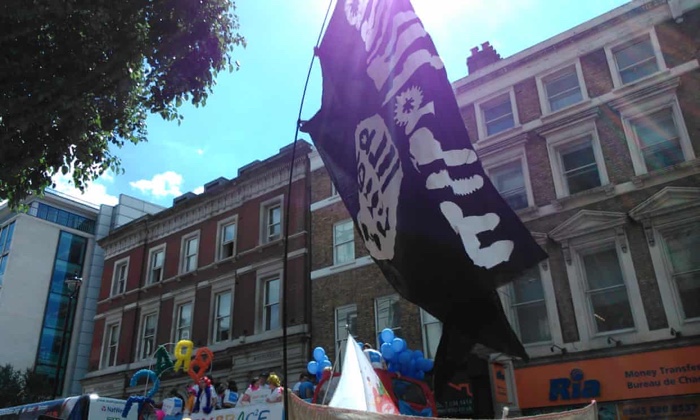 Paul Coombs, Flag of Dildosis, 2015
The ISIS flag "has become a potent symbol of brutality, fear and sexual oppression," artist Paul Coombs wrote in the guardian. Replacing the Arabic script with dildos and butt plugs was his way of denouncing the organization's interpretation of Islam. "If I wanted to try and stimulate a dialogue about the ridiculousness of this ideology, the flag was key."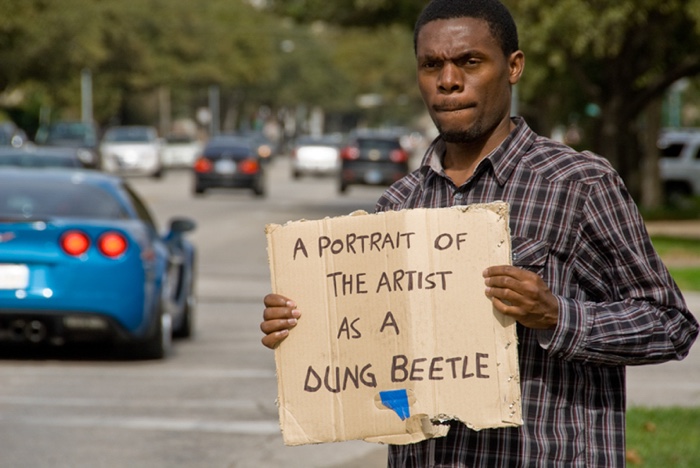 Massa Lemu, Passages for the undocumented, 2010-2012
During two years, Massa Lemu held cardboard signs on the streets of Houston, Texas. With slight grammatical alterations, misspellings, and odd word insertions, common expressions were transformed into awkward phrases and nonsensical but semantically loaded poetic statements.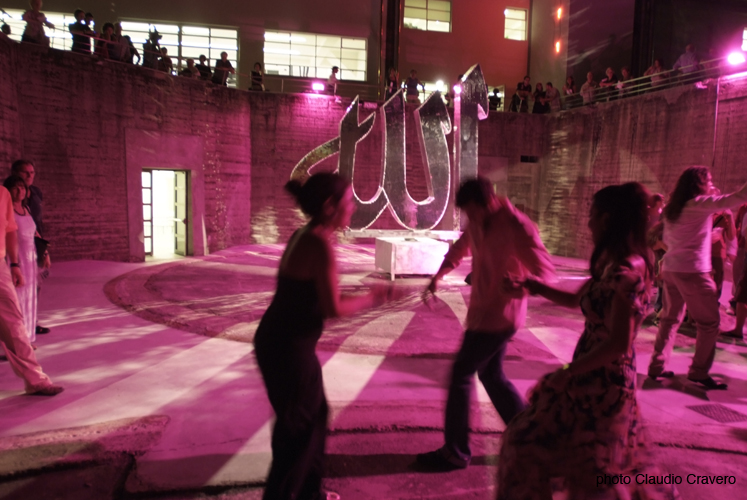 Zena el Khalil, A'Salaam Alaykum: Peace be upon you, 2009
The foreground of the installation A'Salaam Alaykum: Peace be upon you displays the word "Allah" in Arabic letters: a 3.80-meter-tall sign made of glass mirror tiles. The work also includes a dj set by Ayla Hibri, who recreates the atmosphere of the Beirut nightclubbing scene.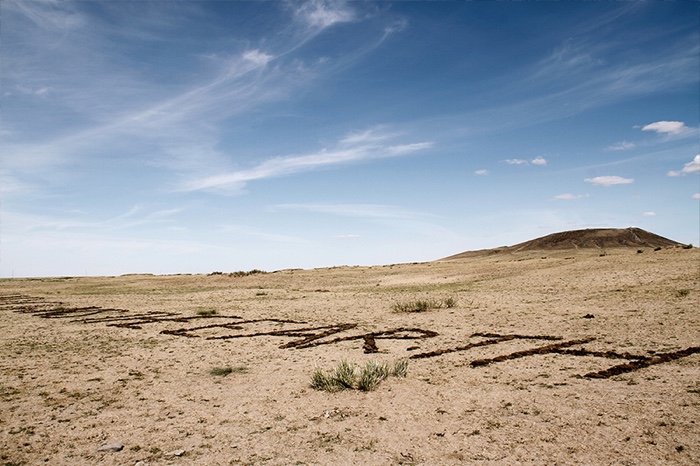 Vibha Galhotra, Who Owns the Earth, 2016
Vibha Galhotra's project "Who Owns the Earth" explored the impact of climate change on Mongolia's topography and nomadic lifestyles which relies on traditional knowledge systems and weather forecasting techniques.The artist has used the medium of cow dung to inscribe the above question in many different sites to research and understand who actually owns the commons, including air, water, earth, fire and ether.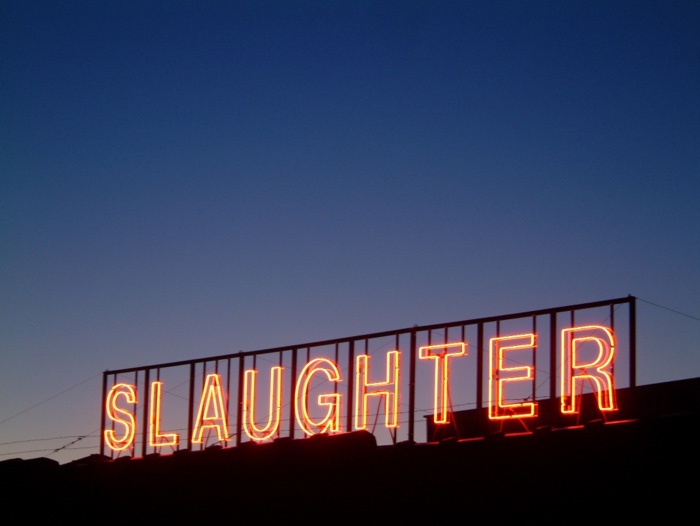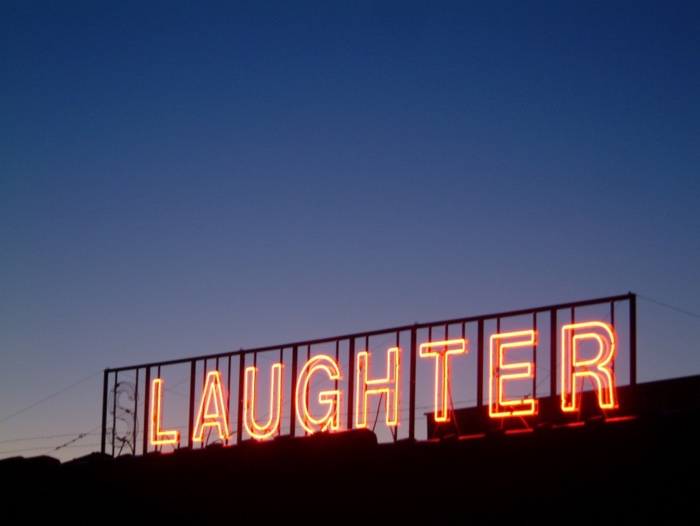 Kendell Geers, S:LAUGHTER, 2003