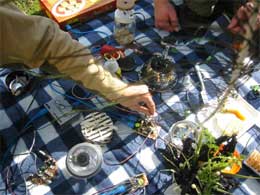 More about the open studios at Tesla that took place in Berlin last week during the Transmediale festival.
I had a small chat with Jeff Mann who is working on a very intriguing work called Equipment For Living. It's still in development phase so all there was to see in his tudio where projections of old and new industrial machines, scientific instruments and consumer electronic equipment that inspire him. He plans to mix the forms and functions of all these gadgets and equipments to come up with installation prototypes that will point to the dangers and possibilities of the increasing integration of people and technology.
The good surprise though was that several elements of LiveForm:Telekinetics, a previous work he developed together with Michelle Teran, were all over his studio. LiveForm:Telekinetics turns the objects and utensils of our everyday life into playful tools capable of transmitting over distance the physical presence and social gesture of human interaction. Furniture, decorations, cutlery, doodads, and bric-a-brac come to life as both kinetic art and telecommunication interfaces, building a complex arrangement of movement and gesture.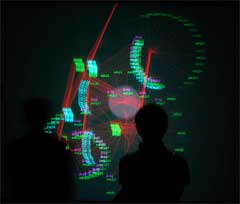 Jost Muxfeldt's Audio Kinematics piece looks very simple but managed to hypnotize me for several minutes when i first saw it (doesn't sound like much but i'm the super fast visitor kind). Audio Kinematics translates kinematic relations in the world of sound. Using the spatial relations and proportions of a mechanical structure to determine various parameters of a sound composition, it creates a kind of virtual kinetic sound sculpture.
The motions are based on the principle of a mobile. The progression over time of the sound experience is determined by the choice of the actual sound components, but also by the distance and motion of these components in relation to the listener. At the center of an sound environment, the lsitener can follow visually the mechanics of the sound visually on a big screen.
Bas van Koolwijk and Gert-Jan Prins were showing Synchronator which i failed to really grasp but the principle is that their system demonstrates the audio modulations of a video signal, which were produced by means of an audio mixer.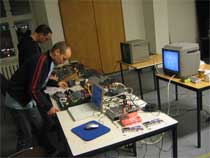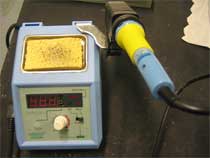 In their performances the artists manipulate sophisticated sound and video feedback-loops. Digital and analogue hardware, hand-culled from radio, TV and broadcasting circuits, are wired up as highly sensitive cybernetic systems that react to the slightest signal change, using video technology in ways counter to its intended function to yield distorted signals, which usually cannot be processed by standard video equipment and projectors. The work questions the technical limitations of sound and video signals, seeking to give machines back their natural voice.
Just a mention: Jens Brand is working together with Sukandar Kartadinata on a very cool project of which i'll tell you more in detail later.
Images from the Tesla open studio days. Image of Lifeform form the project's website.