There are countless parodies, imitations, versions of the Technoviking. The fabulous and the lame ones that you can expect Youtube to harbour. But the character has also inspired a couple of artworks: Wafaa Bilal put the head of the raver in a public park and watched it grow bigger as people were tweeting about it. And for The Marc Horowitz Signature Series, 19 performances aimed at 'improving' the lives of the citizens he encountered, Marc Horowitz reenacted the techno viking dance session in a junkyard in Walsenburg, Colorado. I saw that one a few years ago at the Espace culturel Louis Vuitton in Paris. Because technoviking knows no social boundaries. Neither does he have any mercantile limits: you can buy Technoviking action figures and Technoviking t-shirts.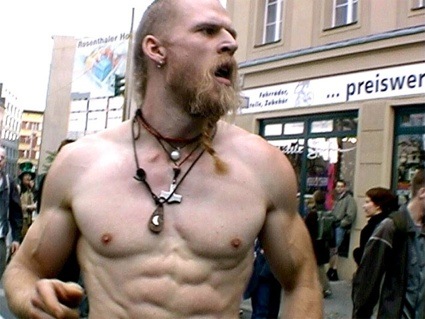 And now there might be a documentary about Technoviking. But probably not the one its many fans were expecting.
Matthias Fritsch, the artist who shot and uploaded the video has spent 3 years in a legal battle in Germany. In 2009 (2 years after 'the technoviking' became an internet hit), the raver starring in the video sued the artist for uncleared 'personality rights' and tried to remove Technoviking from the web. Not only the original video (called "Kneecam No. 1") but also all the thousands of mash-ups, copies, comics, parodies and other content uploaded online by enthusiastic users. All had to be removed. The protagonist of the video even requested that his famous fingerpointing pose be erased from the internet. At the end of last month, the judges decided that the original video would not be allowed to be shown as long as it is possible to identify the protagonist. Besides, the filmmaker has to pay the money that he had earned to the plaintiff. The earnings came mostly from YouTube ads with a few extra euros from TV-licenses and T-shirts sales.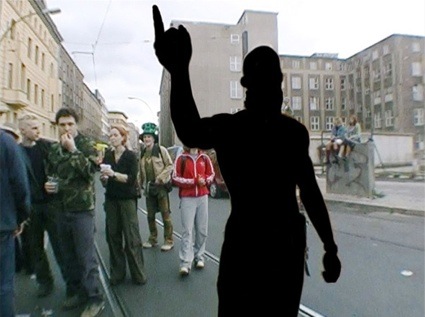 Kneecam No.1 aka Technoviking, 2001 (video still)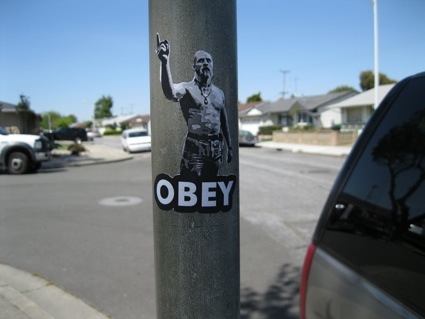 Technoviking says Obey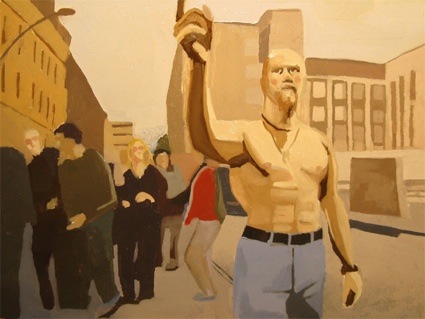 Jeremiah Palecek, painting of the Technoviking
Fritsch has started a campaign on indiegogo to raise funds for a documentary about the Technoviking story. First of all, because Fritsch has been studying and documenting the many reactions to the videos for years and the phenomenon in itself is worth discussing. But also because, as he puts it:
the documentary would be :a means to pave the way for artists and internet users around the world to be able to protect themselves against old laws that have yet to catch up to contemporary meme culture."
All this without ever being allowed to actually show the main protagonist of the story.
I caught up with Matthias online the other day…
Hi Matthias! You published the Technoviking video on YouTube in 2006 but it was not before 2009 that the mysterious man sent a legal notice asking you to stop using the video and all derivations of it. Why do you think it took him so long to write you? Was it because he wasn't aware of the phenomenon until then? Or is it because something changed in culture or laws in 2009 that made him realize that the moment had come to do something to protect his "personality"?
I can't say for sure why it took the plaintiff so long to get back to me. Already in October 2007, just a week after the video became viral, I met people in China who I had never met before and who already knew the video. Therefore I find it hard to believe that it will take somebody two years to get notice of being involved in such a big viral effect.
What happened with this trial? Is it finished? What was the decision of the law?
The trial is finished. Basic results are that I am not allowed to show the video anymore in its original form, meaning as long as it is possible to identify the plaintiff's image. If I cant show the protagonist so can't users anymore who mash up the video. According to the judgement a violation can have consequences of up to 250 000 Euro fine or up to 6 months of jail for me. Also I have to pay him all the money that I have earned since 2008 and I will need to cover 7000 Euro for my part of the fees for the trial and costs for his and my lawyers over the last 3,5 years. Since the judges didn't support him in many points of the lawsuit like the banning of user reactions like comics, re-enactments or mashups that are deemed "arty" enough (the German term is "besondere kunstgerechte Bildbearbeitung") in connection with the video's protagonist. Those should still fall under the freedom of expression. Also the judges seem to have concluded that the plaintiff is rather after the money than really trying to solve his argued personal problems in connection with the video and therefore denied him to claim further financial compensation from me. There is still a chance that the plaintiff is not happy enough with this result and files an appeal against the judgement.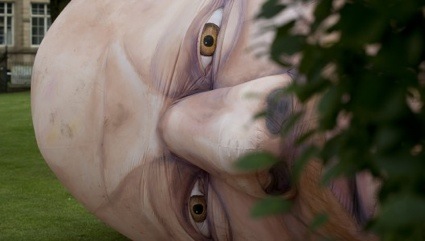 Wafaa Bilal, Meme Junkyard: Technoviking, 2012 at the AND Festival in Manchester. Photo credit: Paul Greenwood
In the indiegogo campaign you say that "The trial was not just about me and Technoviking, it pointed out the borders of free culture and user reactions and one can also conclude that we need new categories in the law how to deal with memes on a legal basis." Could you tell us what you mean by this? Where do you think the law should go? And where do you fear it might go?
I am not a specialist in law and I can just describe my "amateur" feeling after being involved in this case. Therefore I can't provide a solid legal concept yet how the law should include new forms of expression that we find in the contemporary network culture, but I realized that there is a big gap between the actual laws and how I think of this case from a perspective of logic & human spirit. What was the situation when the legal problem started and what could be changed about it by a trial? If there has been a viral Meme in the net for years, if it's been watched globally, copied, used for mash-ups, and if it got out of control – what possible result can a judgement bring in reality that by stating that it is not allowed anymore to continue with the further use? Especially since it it became a web-celebrity which is handled by users like a common piece of media that belongs to everybody?! The young generation grows up with a new understanding of how to deal with media in times of instant copy, paste and edit. And the most common effect of censoring something popular is that this makes it even more popular.
If there is no right for mash-up and fair use for cases like the Technoviking-Meme I fear that, as it is already the case in the music business, lawyers might pick up this way of easy & massive money making and start to send cease and desist letters to prosumers for violating personality rights by doing mashups or forwarding it in FB, etc.
An other interesting point is the fact that in Spain or the US the Technoviking-Claim wouldn't even have a legal basis since it all happened in public space. I would love to talk with competent people about those issues, bring them together within the film that I am planning to create and hopefully find answers and possible solutions.
But more generally, i've been wondering how your case wasn't symptomatic of what is happening more generally with internet culture nowadays, when laws seem to be crafted in retrospect and punish you now for something that wasn't illegal at all 5 or 10 years ago. With -for example- designers or artists receiving bills for copy rights of images they used online 10 years ago as part of a student project, at a time when there wasn't any law detailing what could be or shouldn't be done in terms of copyrights for online images, etc. Is this something you would like to comment on?
I think that's of course a problem and always will be one. I am not aware of those examples when a bill points back 10 years, but it points out that the images you talk about are still online. Since the web hardly forgets anything we need an awareness of what we put out there and what is still online in our own accounts. One radical way could be to cut credits completely, only focus on important content and ideas that will be published anonymous, untraceable but alive.
The Technoviking is by far my favourite meme. Yet, i do sympathize with a man who is universally ridiculed (and didn't ask for it, unlike many reality tv 'stars'). Did you try to reach some kind of arrangement with him? Some understanding which would have been less dramatic and time/money consuming than a court case?
The first thing I did was sending him a personal letter, thanking him for finally contacting me and offered that of course I'd like to share whatever I earn and that I would be open to think together about how to make both a part of living out of the meme's popularity.
What strikes me in your case is not so much that you are brought to court (i do find it sad though, don't misunderstand me!) but that you have to be held responsible for the fact that the whole technoviking meme got out of your hands (as is the case with any meme.)
Can any judge really believe that you are responsible for comics and kidrobot figurines like this one?
The judges didn't hold me responsible for user reactions and neither denied me the right of showing them in lectures or art projects as long as they don't show the plaintiff.
Matthias Fritsch, The Story of Technoviking – Indiegogo Campaign, 2013
You are planning to shoot the documentary within the legal restrictions that have been made clear by the judges. What are these legal restriction exactly?
The conditions are that the plaintiff should not be identified in the material. I also will not reveal any name, address and so on that could point out how people can find him.
You have created an archive of the different versions, creations and reactions inspired by the technoviking. It is so big that, as you write, "you would need a week to see all the versions that are out there!" So let's end on a cheerful note! If you could select 5 of these versions, which one would they be?
In the past I have created some compilations that research specific recycling strategies by fans and are real enjoyable to watch:
one is the re-enactments mash-up We Technoviking.
an other shows virtual re-enactments Technoviking Transmedia.
For the biggest part of the user-reactions, since they mash up the original video, my hands are bound at the moment because i shouldn't link directly to content that shows the plaintiff's face. So people need to find these ones themselves. But i can talk about it and it is just incredible how perfect Michael Jackson's song "Beat It" is fitting on the Technoviking clip. As if they were made for each other. There are other songs that are awesome in combination with my video but "Beat it" beats them all in terms of accidentally perfect match.
Also some collages like "the end of the vorld party" or a streetfighter like game simulation of Technoviking against Vernon Koekemoer are results of an incredible fan culture that i could have never come up with myself.
Thanks Matthias!
I do love that Beat It techno viking and Matthias might not be allowed to point directly to it, but i can!
Techno Viking, Beat It