Techno-Ecologies II. Acoustic Space #12, edited by Rasa Smite, Armin Medosch and Raitis Smits.
(available on amazon USA or by ordering directly from RIXC via e-mail: rixc @ rixc.lv.)
Publishers RIXC Center for New Media Culture and MPLab, Art Research Lab of Liepaja University write: Techno-ecological perspectives have become now one of the key directions in contemporary discourses and are part of a larger paradigm shift from new media to post-media art. A range of practices which were once subsumed under terms such as media art, digital art, art and technology or art and science, have experienced such growth and diversification that no single term can work as as a label any more. Traditionally separated domains are brought together to become contextual seedbeds for ideas and practices that aim to overcome the crisis of the present and to invent new avenues for future developments.
This is the 2nd volume in the Acoustic Space series that continues to build a 'techno-ecological' perspective whereby new artistic practices are discussed that combine ecological, social, scientific and artistic inquiries. Edited and published in the context of the exhibition Fields, it makes a perspective its own that sees art as a catalyst for change and transformations.
This 300+ page publication is a collection of papers by artists, curators and academics. The texts are mapping contemporary practices in art & technology but they also had the specific function of providing a framework to the Fields exhibition that took place in Riga last Summer. The show investigated the place of contemporary art practices in society and the role artists can take not just as generators of new aesthetics but also as catalysts of active involvement in social, scientific, and technological transformations. The publication is as deep and as wide-ranging as the Riga show was. Its content also echoes many of the current conversations that makes media art such an exciting field to follow: DIY culture vs 'black box' technology, digital archiving, continued influence of early locative art, funding models for the digital culture, reconciliation between sciences and humanities, etc.
Here's a far from exhaustive list of essays i've enjoyed reading: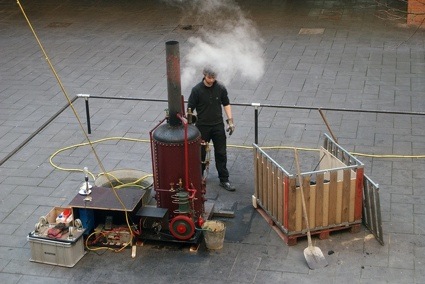 Graham Harwood and Matsuko Yokokoji, Coal Fired Computers, 2010. Photo by Marc Wathieu
In Slow Media Art – Seeing through Speed in Critiques of Modernity, Kevin Hamilton and Katja Kwastek applied the ideas of the slow food to Media Art. The slow media art works they presented share a 'deep engagement with sensation, duration, and speed.' I like the concept because it proves media art detractors that there is more to media art than the quest for innovation and sparkly spectacle. The examples of the genre selected by the authors of the paper include YoHa's magnificent coal-fired computers and Esther Polak's Milk Project.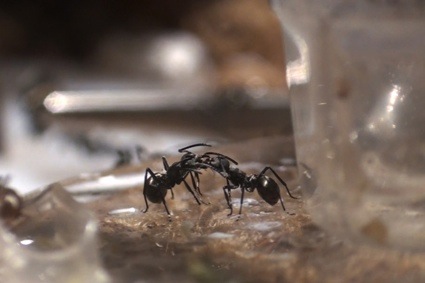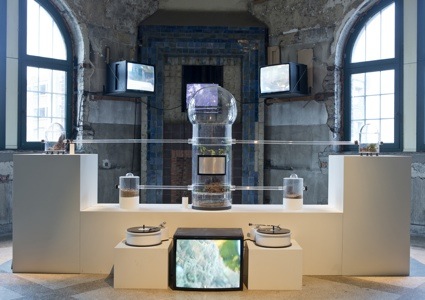 Kuai Shen Auson, 0h!m1gas
In Stridulation Amplified: An Artistic Research of the Bioacoustic Phenomena of Leaf-cutter Ants Using the Turntable, artist Kuai Shen Auson shares what he learnt from 5 years working on and exhibiting 0h!m1gas , an installation that harnesses the relentless activity of an ant colony into a DJ scratching performance.
In Ars Bioarctica. Five Years of Art & Science Work by the Finnish Society of Bioart at Kilpisjärvi Biological Station, Erich Berger and Laura Beloff draw lessons from their five years of experience organizing art&science collaborations in sub-Arctic environment
Michel Bauwens's essay Evolving Towards a Partner State in an Ethical Economy looks at the free software industry and defends the idea that society can learn something from the politics of this value creation model and that of a 'P2P' state might emerge from these social practices.
In Contestation and the Sustainability of the Digital Commons, Eric Kluitenberg reflects on the outcomes of the Economies of the Commons, a series of conferences that focused on how sustainable models could be identified for creating and maintaining public online media culture and knowledge resources. The final part of his paper charts various revenue models that can sustain commons based initiatives in the digital domain.
I learned about the existence of anticartographism in Gavin MacDonald's text Moving Bodies and the Map: Relational and Absolute Conceptions of Space in GPS-based Art in which he walks us through the short history of the use of GPS as an artistic medium.
Bug Music: David Rothenberg's Insect Choir
In Bird, Whale, Bug: The Reasons for an Interspecies Music, composer David Rothenberg tells about his experience of working with bird song neuroscientists, playing music with animals and even bugs and his findings about how a musical approach might lead to better understanding and respect for 'natural' sounds.
About the FIELDS exhibition: FIELDS, positive visions for the future, Ghostradio, the device that produces real random numbers, Sketches for an Earth Computer, POLSPRUNG (POLE SHIFT) – Devastating Experimental Set-ups, On the interplay between a snail and an algorithm.
Image on the homepage: a performance by Cécile Babiole at the FIELDS exhibition.