TatAD Inkorporated, a Vancouver based company, offers you to make some cash by tattooing your body with your favorite logo or product name.
You register and TatAD tries to match you with corporations, who can identify with each participants demographic and psychographic sectors and potential target markets.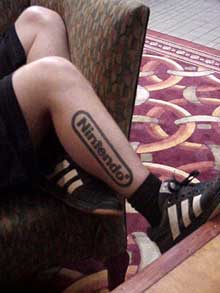 You can then choose an area of your body that you are willing to have branded with a particular corporate brand, product name or logo.
"The business idea came up when we saw a guy from South Carolina, Auction off the back of his head on eBay for $7000 to an Internet service provider, said Mark Chadwick, President of TatAD. "Since then, the Company has reported 800 new signups directly related to their walking billboard, a cost of only $9 for each new account. That's serious business!"
Via sexblo.gs agenda.
Related: tattoo your email address.