Just back from Manifesta. The seventh edition of this touring art biennale is held in Trentino-South Tyrol, in N-E Italy. The food over there is definitely Italian but with a crispy teutonic twist, so are the people and atmosphere. To make things even quirkier for visitors, the exhibition is split over several locations, most of them in derelict ex-industrial buildings (how fashionable!) at the outskirts of the small towns that host the event.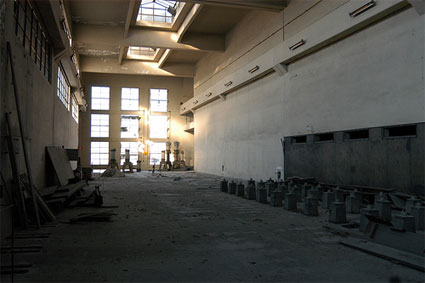 Inside the ex-Alumix factory. Photo credit: Andrea Pozza
Anyway, i'll be back in full Manifesta force later on this week but i'll kick off my reports with a project i saw at the Bolzano branch of the Biennale, more precisely in the dramatic ex-Alumix factory which used to produced aluminum.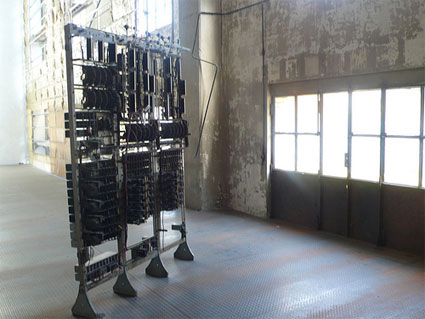 Tantalum Memorial – Residue, by England-based Graham Harwood, Richard Wright, and Matsuko Yokokoji, is a telephony-based memorial to the people who have died as a result of the coltan wars in the Congo.
Coltan is the colloquial African name for columbite-tantalite, a metallic ore which is mined for the metal tantalum – an essential component of consumer electronics products such as mobile phones and computers. The demand for tantalum makes it highly valuable. Analysts say that the international demand for coltan is one of the driving forces behind the war in the Democratic Republic of Congo, the presence of rival militias in the country and, indirectly, the disappearance of gorillas from the area.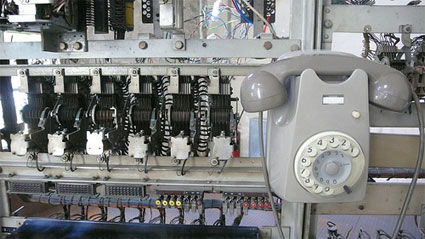 This installation is constructed out of an old electro-mechanical 1938 Strowger telephone exchange, discovered amongst the remains of the Alumix factory. Seen from afar it looked like it does belong to the ex-factory. An old telephone switch forgotten for decades. The switches are reanimated by tracking the phone calls from Telephone Trottoire – a social telephony network designed by the artists in collaboration with the Congolese radio program Nostalgie Ya Mboka in London. The TT network calls Congolese listeners, plays them a phone message and invites them to record a comment and pass it on to a friend by entering their phone number. This builds on the traditional Congolese practice of "radio trottoire" or "pavement radio", the passing around of news and gossip on street corners in order to avoid state censorship.
But back to the amazingly beautiful installation. As the catalog states: The movements and sounds of the switches create a concrete presence for this otherwise intangible network of circulating conversations, weaving together the ambiguities of globalization, transnational migration and the impact of our addiction to constant communication.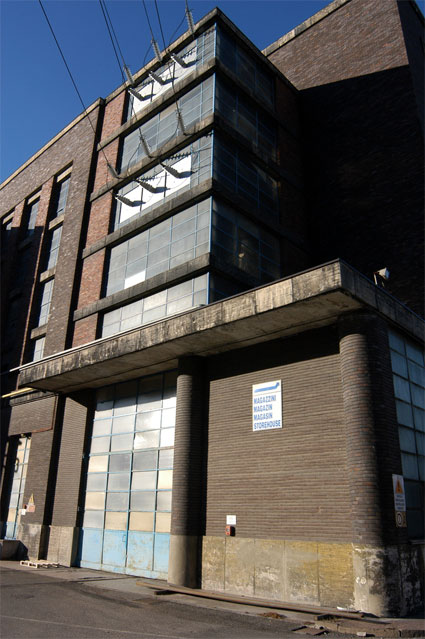 View of the facade of the ex-Alumix factory. Photo credit: Andrea Pozza
More images of the installation. Photo on the homepage: Graham Harwood, Richard Wright and Matsuko Yokokoji @ Manifesta 7, The Rest of Now, Bolzano/Bozen, Italy, 2008.
Manifesta 7 – the European Biennial of Contemporary Art runs until November 2, 2008 in Trento, Fortezza, Rovereto and Bolzano.