Hitachi has developed a touch-panel display that doubles as a tabletop.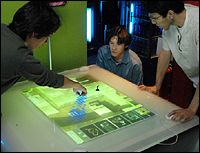 A projector built into the table shows images on the transparent acrylic top plate while an infrared camera embedded within recognizes the shape and movement of the shadow created by a hand. A simple gesture such as drawing a circle on the screen can be programmed to zoom into the section encircled by the hand movement. The display could be a useful tool for collaboration, allowing multiple users to input data during meetings.
Hitachi is working with Namco to develop a table that will be used to develop strategies for network gaming. That table should be ready in early 2005 and cost roughly $20,000.
Quite quite expensive, so I'll keep having more affordable dreams, like buying the glass coffee table Daft Punk designed for Habitat VIP range. Inspired by the dancefloor in Saturday Night Fever, the square table features a light underneath, which can flash randomly or beat in time to music. $1,500.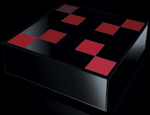 Via PSFK.
The Guardian.