I found most of the exhibitions i saw at the Arsenale, Venice's sumptuous ex-dockyard, to be quite disappointing. Especially the Italian Pavilion. God! What happened there? What have we done to deserve such an embarrassingly pompous exhibition?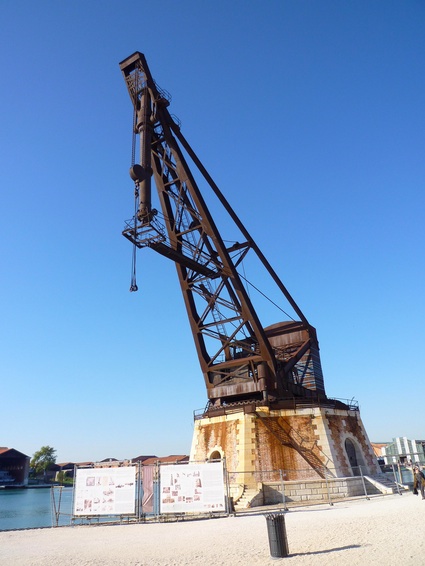 There, i've said it.
The biggest sow at the Arsenale, however, is international and takes place at the spectacular building called the Corderie, a 319 metres long space once used to make ropes and cables for the Italian navy. The theme this year is a bit of a catch-all (as it is often the case in Venice). "Fare Mondi // Making Worlds is an exhibition driven by the aspiration to explore worlds around us as well as worlds ahead. It is about possible new beginnings–this is what I would like to share with the visitors of the Biennale," explained artistic director Daniel Birnbaum in his statement.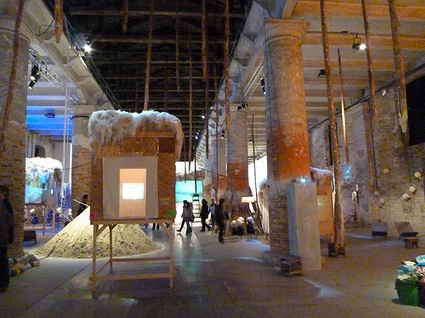 One of the most striking artworks for me was Pascale Marthine Tayou's installation Human Being which fills in a gigantic room with a bric-a-brac of objects, furniture made of recycled material, colourful figures, videos and urban noises that re-creates the activity of that small village that we call our world.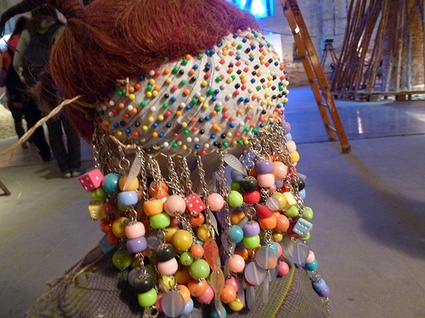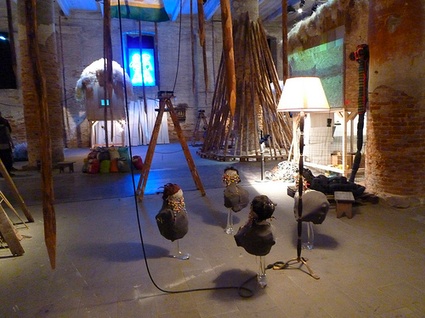 At first, the wooden huts on stilts evoke a shantytown or maybe an African village. As you come nearer, however, you realize that the windows of the dwellings act as screens that show activities taking place around the world, there are workshops, small manufactures, people walking down the street or sitting around a meal. It's both joyful and mysterious.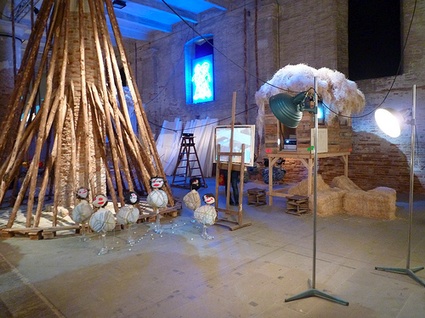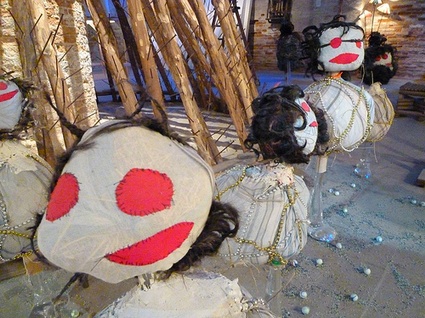 The space is inhabited by strange little figures. Their hair are masterfully entangled with lovely hairpins or feathers, their round bodies are wearing strips of old cloth or Flemish lace. Sometimes they also have bright jewellery on. They gather in little clusters. Each group following a different fashion. Some of them seem to be conversing in tight, knit clan as if they were plotting. Others seem to welcome you inside their circle.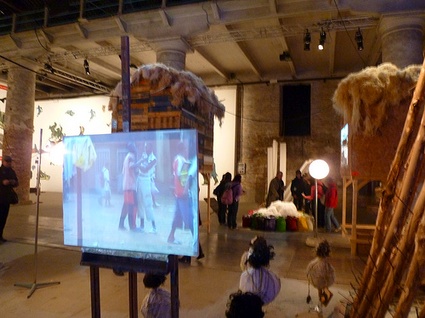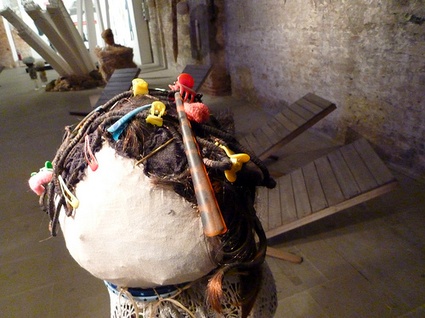 Pascale Marthine Tayou was born in Cameroon, he now lives in Belgium but travels around the world with his artworks. He trained as a lawyer, not an artist. He's a nomad, his identity is split between locations and the paths he could have or did take. That's a condition that the installation tries to reflect.