There's an exhibition featuring sci-fi, history, video games, sexuality, soap operas, censorship and a powerful sense of humour at Cornerhouse in Manchester right now. The show is called Subversion and it questions and knocks around whatever assumption you might have about an homogenous 'Arab world', whatever image politicians and the media might have given you about its culture and identity.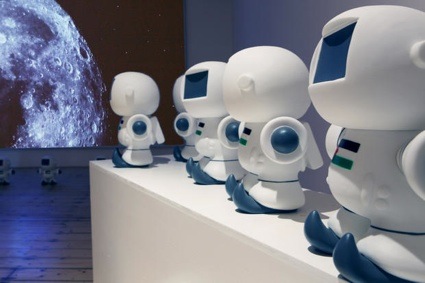 Larissa Sansour, Palestinauts. Installation shot. Photo credit WeAreTAPE.com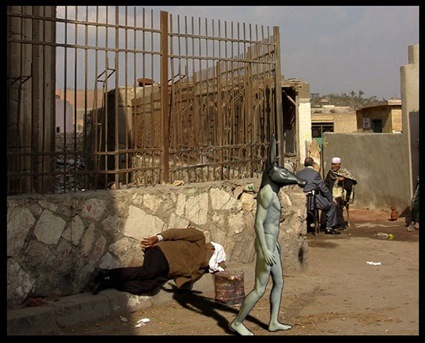 Khaled Hafez, Of Presidents and Superheroes, 2009
Curator Omar Kholeif explained in an interview with Film International: I worked with artists […] who wanted to dissent, poke fun, critique and re-define themselves as artists of the imagination, and not of any specific social or political condition. Together they reference a deep culture of subversion that traces back to the 1940s and 50s with the work of the Egyptian trickster, Ismail Yassin, whose slapstick film performances poked fun at the roles that many Arabs had to play under a militarised social condition. With Subversion we bring this narrative up to date for the good of our artists and our audiences.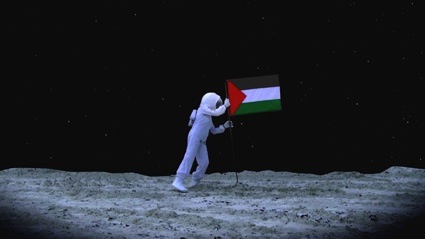 Larissa Sansour, A Space Exodus, 2009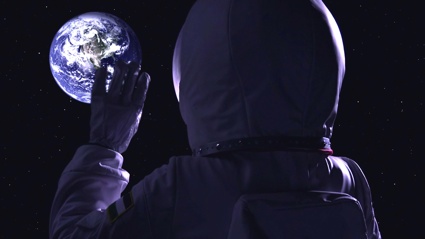 Larissa Sansour, A Space Exodus, 2009
The show opens on the video of a Palestinian astronaut landing on the moon. Given the fact that the Nakba has been going on for 64 years now, one wouldn't be surprised to hear that one day, the empty celestial body might become yet another place of refuge for the uprooted population. Larissa Sansour's A Space Exodus propels a Palestinian astronaut into an adaptation of Kubrick's 2001: A Space Odyssey. Referencing Neil Armstrong's moon landing, a voice can be heard saying that this was 'a small step for a Palestinian, a giant leap for mankind'.
Meanwhile, small Palestinauts are quietly invading the exhibition floor….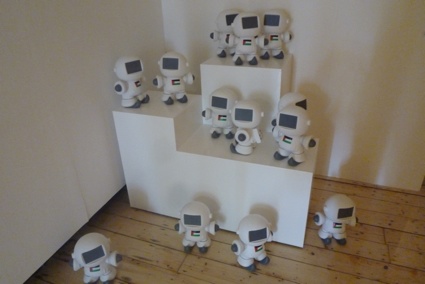 Larissa Sansour, Palestinauts, 2010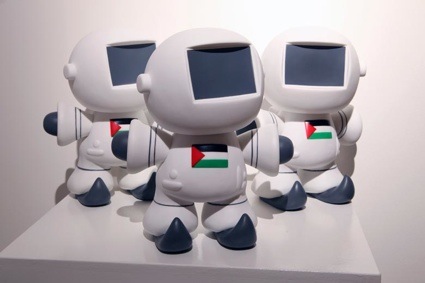 Larissa Sansour, Palestinauts, 2010. Installation shot. Photo credit WeAreTAPE.com
Upstairs, Sansour is showing another project, the preview of The Nation Estate, a work conceived in the wake of the Palestinian bid for nationhood at the UN. The Nation Estate gained fame after Lacoste attempted to censor it by withdrawing its sponsorship for a photo prize to which the young artist had been shortlisted.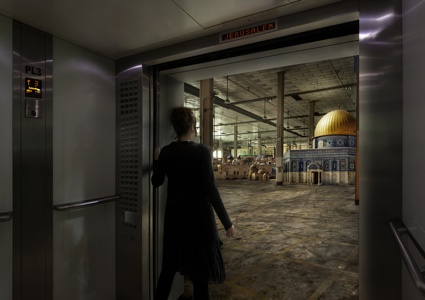 Larissa Sansour, Jerusalem Floor, part of The Nation Estate, 2012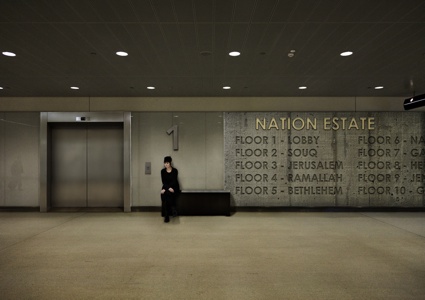 Larissa Sansour, Lobby, part of The Nation Estate, 2012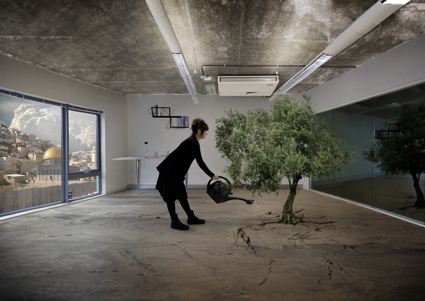 Larissa Sansour, Olive Tree, part of The Nation Estate, 2012
In this sci-fi photo series (which will later be accompanied by a video), Palestinians have finally been conceded their own state in the form of a single skyscraper. Erected outside the city of Jerusalem and unsurprisingly surrounded by concrete walls, the building of 'the Nation Estate' houses the entire Palestinian population. Each city has its own floor: Jerusalem is on the third floor; Ramallah, fourth floor; Bethleem, fifth floor; Nablus, sixth floor; Gaza, seventh floor, etc. Intercity trips previously hindered by checkpoints and soldiers are now made by elevator.
Colorful Journey, Trailer
Tarzan and Arab live in Gaza (i was going to write 'come from' but that would suppose that they are allowed to get freely in and out of the territory), a region that has not had a functioning cinema since the 1980s. The artists didn't go to a film school either. Everything they learnt about cinema, they learnt through practice and by watching movies on satellite TV and illegal DVD copies. In 2003, they founded a media production company: Gazawood. Since then, their works have won awards, been banned by Hamas and shown in Europe and the U.S.
Cornerhouse is showing Colourful Journey, a short film set in a bombed-out Gaza building, and a series of posters that pastiche the Hollywood war movie genre. The title of each film sounds as action movie as it is possible: Summer Rain, Autumn Clouds, Defensive Shield, Sea Breeze, Cast Lead, etc. The cruel irony is that each of them is also the name of a Israeli military operation against Palestinians.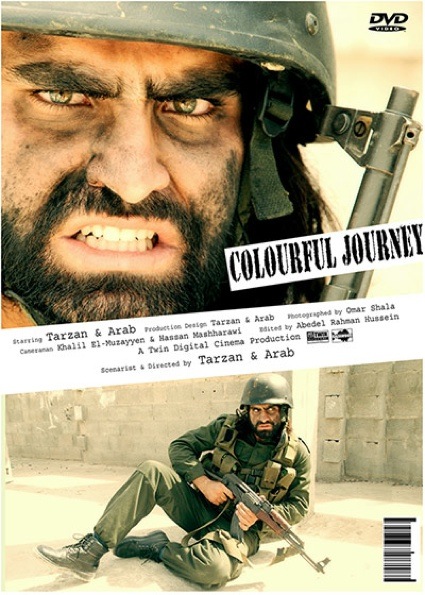 Tarzan and Arab, Colourful Journey poster from the Gazawood Project, 2010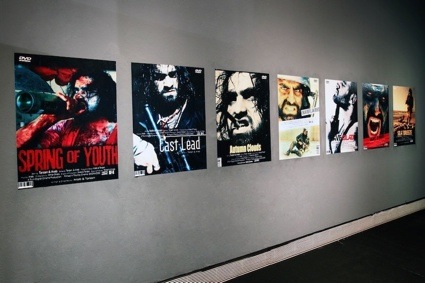 Tarzan & Arab Posters from the Gazawood Project, 2010. Installation shot. Photo credit WeAreTAPE.com
Wafaa Bilal is showing a video documenting the furore that surrounded the exhibition of Virtual Jihadi. The video is mounted on the wall of a rundown internet café where visitors are also invited to sit down and play the game.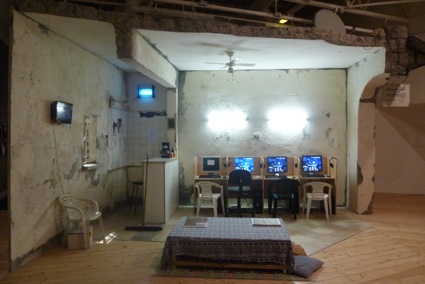 Wafaa Bilal, Virtual Jihadi, 2008. Installation shot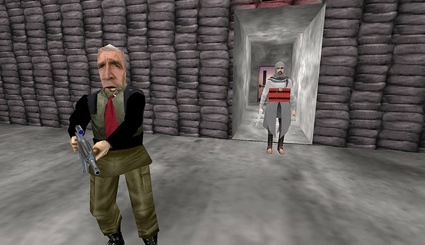 Wafaa Bilal, Virtual Jihadi, 2008
Wafaa is from Iraq and, as is sometimes the case in his work, he plays with the way Western media portrays people from his home country.
Virtual Jihadi can be traced back to a military computer game called The Quest for Saddam that involved players fighting stereotypical Iraqi enemies and trying to kill the ex-Iraqi leader. The game in turn inspired an al-Qaida-produced spin-off called The Night of Bush Capturing with the ex- U.S. president as the target. For his piece, Bilal hacked into the al-Qaida game and inserted himself as a converted suicide bomber, who joins al-Qaida after learning that his brother has been murdered by US forces.
Bilal's version brings the attention to the personal sories and dilemmas experienced by civilians caught in a conflict zone. It also demonstrates that games of this kind, no matter who is writing them, leave little space for moral choices and subtlety. In fact, both were made to teach hate.
In March 2008, as he had just released Virtual Jihadi, Bilal gave a talk at the Rensselaer Polytechnical Institute (the video is available online) and an exhibition of Virtual Jihadi opened the same night… to be closed the day after.
Wafaa Bilal's installation re-opened a few days later in another gallery. Unfortunately, one day after the second opening the City of Troy censored the work again and closed the gallery due to "code volition."
Art ≠ Terrorism
In I've heard stories – part 1, Marwa Arsanios attempts to piece together rumors surrounding the now demolished Hotel Carlton. The hotel was a popular meeting place for gay men living in Beirut, Lebanon where homosexual acts are considered illegal. In its time (1973 to 1993), the hotel was also the setting of three murders that might or might not have been related to the sexual encounters. Among the victim of these (probably) passionate crimes was Lebanese politician and businessman Henri Pharaoun. The nature of the murders went unreported and Arsanios' reconstruction of the event blends drawings and videos, gossips and facts, in an effort to give the crime a place in the history of the city.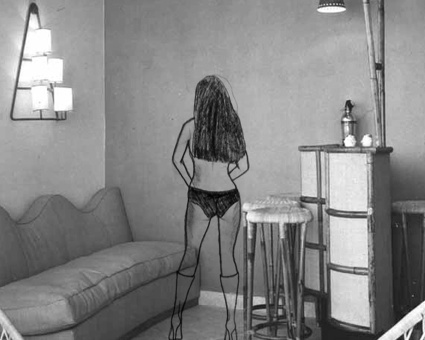 Marwa Arsanios, I've heard 3 stories, 2009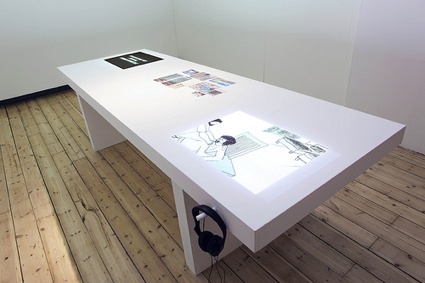 Marwa Arsanios, I've heard 3 stories, 2009. Installation shot. Photo credit: WeAreTape.com
Subversion is on show in Galleries 1, 2 & 3 until Tue 5 June.
They have a fantastic set of images from the show on flickr (i still need to upload mine.) I wish more art centers would be as generous as Cornerhouse is with the online documentation of their events. Also check Creative Tourist next time you travel to Manchester and wonder what you can do/see in town.
Previously: A few words with Wafaa Bilal.