SoundAds is a Dutch ad campaign combining mobile phones with prints.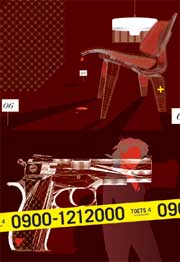 Intriguing images are tagged with a 0900 number, meaning that people have to pay via your phone bill to get full access to the ad.
The images are designed by renowned photographers and illustrators and printed on posters, postcards and in publications. The audio-layer that comes with each ad, offers a short narrative story and/or sound composition that compliments the image.
The campaign was running in various Dutch media during March 2005 and apparently the campaign got quite successful as many people called. Get an idea of it at website.
Via Armchair Media and Guerilla Innovation.