SIMVeillance: San Jose, by Katherine Isbister and Rainey Straus in collaboration with SIM consultant Chelsea Hash, uses surveillance cameras and the video game The Sims 2â"¢ to re-present passersby within a game environment that mirrors a "real life" public space: the Fairmont Plaza in downtown San Jose. The SIMveillance game is inhabited by avatars of the people passing through the plaza who've been caught on camera. The virtual population grows throughout the duration of the exhibition.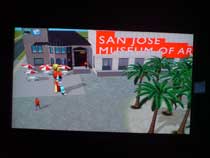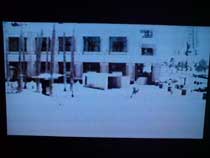 Side-by-side monitors within the museum display contrasting images of the same scene: One shows passersby on the Fairmont Plaza as seen on surveillance cameras; the other shows the area using the computer game, with the strolling characters modeled from some of the people recorded by the cameras.
Straus conceded in an interview, "I think there's the potential for people to feel invaded." From the creators' standpoint, the uncertainty about how people will react is essential to the project's artistic value. "Part of what we're doing," Straus added, "is seeing what questions we raise and what people's answers are."
The work also explores the territory in which simulated-avatars co-mingle in the landscape with "the real� to produce a hybrid community with potentially unexpected results.
Further information in MercuryNews and Campus News.