I've been covering a few editions of the Interactivos? workshops so far and have usually focused on a couple of my favourite projects. Today however, i thought i'd ask two of the workshop leaders/teachers to give us a broader overview of the workshops, how they evolve, why certain directions are being taken, what the mood is like over these two intense weeks of work, etc.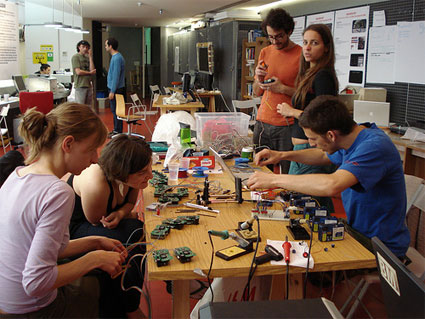 Image Medialab Prado
The teachers tend to change according to the theme of the workshop. This time i met Simone Jones and Alvaro Cassinelli.
Simone Jones is currently an Assistant Dean and Associate Professor of Art at the Ontario College of Art and Design, Toronto where she teaches in the Integrated Media Department. Her work includes kinetic sculpture, film, video and performance.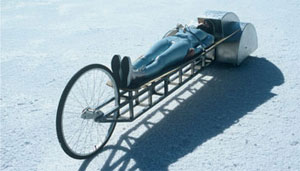 One of her recent works, Perfect Vehicle is a three wheeled vehicle that is approximately 11 feet long. The machine has sensors that monitor her breathing. Breathing (the rate of the rise and fall of her chest) controls the speed of the vehicle. This machine and the driving performance were filmed on the Bonneville Salt Flats (near Salt Lake City, Utah) in 2006. 'The idea is to create a "science fiction" type of environment where the body is displayed tethered to a vehicle against the surreal backdrop of the Salt Flats;' explained Simone. 'This is the third machine that I have built that is made specifically for my body and is worn in a performance that is filmed.'
Alvaro Cassinelli is Assistant Professor at the University of Tokyo, where he is involved in the development of the Meta-Perception Group. Alvaro gained fame with the Khronos Projector and when i saw him at the Medialab Prado in Madrid, he was not only co-heading the workshop but also developing a new project for Sonarmatica in Barcelona. The theme of the exhibition this year, Future Past Cinema, attempted to create links between the past and the future of Cinema under a single vision. boxedEgo embodied perfectly that concept by the way the installation combine several pre-cinematographic techniques in order to create a new magical, "out-of-body" experience (stereoscope, diorama, peep-show box and pepper ghost effect).
Video:
Here we go now:
The Interactivos?'08: Vision Play workshop took place from May 30 to June
14. That is just 2 weeks and i found the projects quite ambitious. Such a
short period of work has its advantages and downsides. But how do you cope
with the stress of having everything ready and working in just 15 days? What
are the trick to get the work done in such a limited period of time?
Simone Jones:
I believe that one of the reasons that the projects get developed successfully in such a short amount of time is because Interactivos attracts such a talented and diverse group of collaborators. Everyone is aware of the two week deadline and this seems to push people to donate their time in a concentrated way – the stakes are high and the time is short so people cluster together in intense working groups to get the job done. We also relax together at the end of each work day – this gives us the time to get to know one another and build strong relationships (share ideas; brainstorm solutions to problems). Another aspect that contributes to the success of the workshop is the lack of ego among the participants. Because the teachers are flexible with what they "deliver" to the students (the teachers really "respond" to the needs of the group) there is no real agenda. This helps people feel that there is no "hierarchy" of knowledge. All of us are respected as individuals whose strengths emerge from participating in a diverse group. Of course, it is no secret that the work gets done because people work really, really hard too!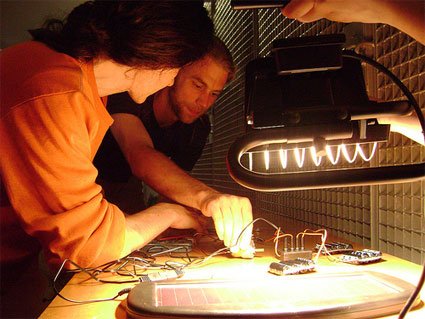 Image Medialab Prado
Alvaro Cassinelli:
I think the "trick" may be three-fold: first, the selection process was quite serious: a lot of effort was put into selecting projects that were enough original and at the same time somehow overlapping, so the skills and resources could be shared. That worked pretty well.
Then, I'd like to stress the fundamental role of the contributors. This is a great formula. Everybody is motivated from the start (artists want of course their projects to succeed, and contributors come to the Medialab willing to learn, but also with a very generous, selfless attitude. With a little bit of luck the teams work quite autonomously. Now, of course, now and then there were some problems: one has to consider for instance that many contributors are also artists in real life, and that the leading role of the "artist" during the workshop may be a little artificial; Plus, individual approaches and interests may conflict: some contributors may push the technical side (because they want to try and improve their skills), while others may rather enjoy doing the concept/artistic critique.
Interesting as those approaches may be, the problem is that there is a very limited time for developing the project, so it is important that somehow the roles stabilize at a certain point, and people choose very concrete responsibilities. To ensure that this would happens, this is perhaps the role that was given to Simone and me, but I have to say that we were quite lucky because most teams worked very efficiently from the start. That being said, Simone and me put a lot of accent on the "critique sessions" (at least one serious meeting with the artists and collaborators for each project), which not only helped clarify the ideas but sometimes threw a completely new light on the project.
The third reason I can think of that may explain the "trick" is of course the Medialab people! there were there for us all the time, always available and with a very positive attitude.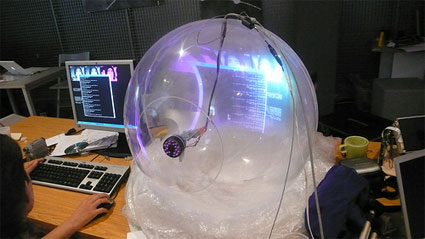 Expanded Eye, work in progress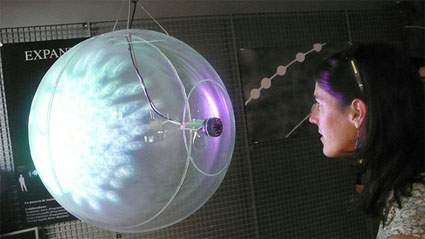 Expanded Eye, by Anaísa Franco
How do you work as a teaching team? Do you divide projects between Simone, Alvaro, Julian and the rest of the Medialab team? Or are your skill so complementary that everyone has to be everywhere?
Simone:
I found that we had similar yet diverse skill sets so that we could separate from one another and work on projects that needed our individual skills. This worked really well and allowed participants the freedom to move between the teachers when they needed something specific (technically speaking). We all contributed to the conceptual development of the projects (this is a great time for the teachers to work together in the critiques without having to focus on the technical problems of the work). I assisted participants with electronic and mechanical problems; Alvaro was great with his knowledge of physics, vision and programming; Julian helped a lot with augmented reality and 3D software. We didn't formally work this out beforehand – we simply responded to the individual projects as they were being developed.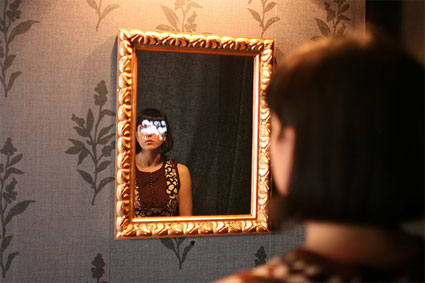 M.A.S.K. (My Alter Self Konciousness), by Jordi Puig
Alvaro:
No, we didn't divide the projects between the teachers, although of course we naturally got more involved in some projects and less in others. But we tried to constantly monitor the advancement of each project. That was not coordinated at all. Instead, we would discuss from time to time about the problems that were arising and think about how to solve them (directly, or by trying to recruit for a moment a contributor from another project). As for me, that meant that my contribution was "interrupt-driven", which was extremely tiring but exciting at the same time.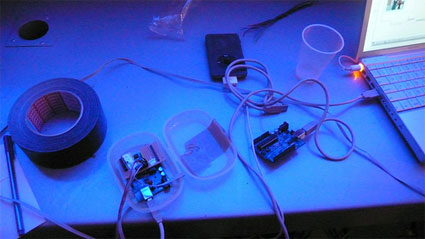 Why this focus on "Vision play" when, as Alvaro puts it "The "magic of the cinema" no longer amazes us because we have become totally accustomed to it." What are the paths which should still be explored? Beyond higher resolution? Flatter screen? or more realistic 3D experience?
Simone:
This is an interesting question. I think "Vision Play" refers to perception, which is a huge topic that an artist can explore from a variety of positions and with a variety of media. A friend of mine says that "there are always more ways to see" – I love this idea because it points to the complexity of perception and I think this is even more relevant today because of the ways that technology challenges and mediates our experience of the world. Presence (live and virtual) is completely related to perception. We navigate between live and virtual experiences without thinking about it; "vision play" challenges artists to create artworks that engage with this "shifting ground" that characterizes our perceptual connection to the world.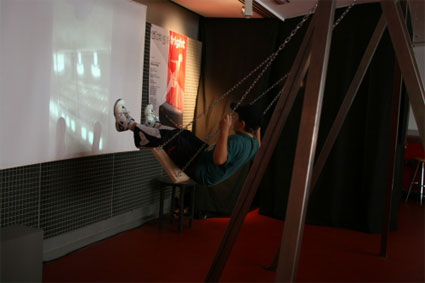 Stage Fright, by Nova Jiang
Alvaro:
Ah! that question again ;) In fact, I loved the theme from the start, precisely because it was an opportunity to depart from the mainstream computer graphics technology and aesthetics. An opportunity to play with light, mirrors, motion and reflections in search of "illusions" – as we all did when little, when one's fascination could easily be caught by the patterns of light at the bottom of a cup of tea (a "catacaustic": a fascinating name too!). There were some projects like that, and although I secretly wished there were more of this kind (and less projects involving computers and displays – as my own by the way!), what we got was really interesting and original in its own way.
In any case, "vision play" was clearly not imagined as a workshop to develop "flatter screens" or "more realistic 3D experiences"; among the project proposals (totaling 98!), there were some that pointed in that direction and I think we consensually rejected them easily on the basis that this workshop was for exploring unknown territories, not an R&D laboratory…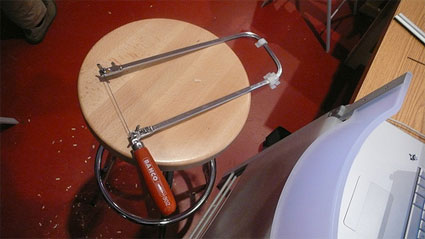 I find the dynamics, open-ness and spirit of the Interactivos? workshops very unique. What is your opinion about it?
Simone:
I agree completely. The environment at Interactivos is like no other experience that I have had. All "residency programs" are intense but Interactivos is different because you participate as a contributer to the group and the overall spirit of the projects rather than as simply an individual artist. Also, the people at the MediaLab are AMAZING! They really set the stage for the spirit of the workshops (and Madrid is a magical city!).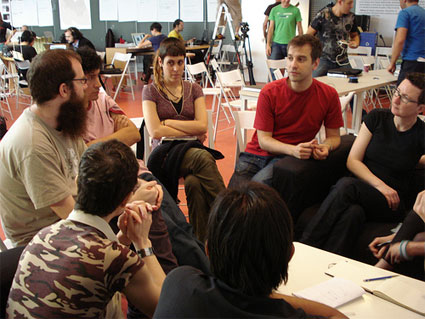 Image Medialab Prado
Alvaro:
Well, for me it was very unique of course!!. A fantastic experience. And I was very lucky to share this teaching experience with Simone, with which we had a very good communication (I hope she shares this opinion with me too! ;) I just think the workshop should be a little longer – but this may be a feeling we all shared at the end, and that
we all would have shared even if the workshop was made a little longer. Most of us just wanted more of the same. Anyway, I think this is how it works, this is the very essence of the workshop: a fleeting moment that reunites capable and imaginative people for a few days in order to try some magic formulas – the actual magic will crystallize in the future. (Another remark: I think the Medialab need to have the mechanical workshop – now in Matadero – in the the same building as the electronic/computer workshop, this may increase the efficiency of the work being done. It seems that this will happen very soon, when the new space will open.)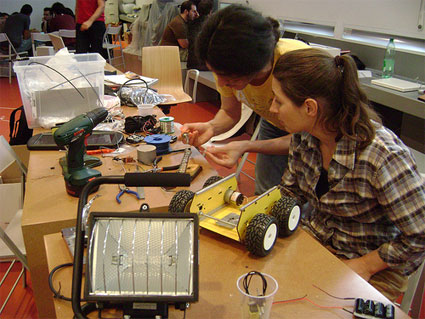 Esther Polak and Pablo Ripollés
The participants of the workshop are asked to use open hardware and open code tools. Apart from the lower cost factor, what makes these open tools really worth working with? Are they already as sophisticated, efficient and reliable as other tools?
Simone:
I find that Open Source software and hardware allows for a completely different approach to learning (specifically learning within a technological framework). For example, when I first began learning electronics (in 1989), the information that I was taught was cumulative and came from a localized environment (within a school). This environment was specific to Toronto and grew slightly once I had graduated and met more people within my local artist community. As I got older and became more experienced and had more exhibitions, my community grew but this was completely contingent on my ability to "physically network". Today people can access vast amounts of information via the internet. Online communities have extended and sometimes surpassed local communities in ways that I could never have imagined in 1989. I buy and download information from the web instead of going to "specialized" bookstores. Open Source communities post code online. "How to" books proliferate. I have observed people adapting code and hardware solutions to their own projects. Learning is more of a "cut and paste" experience than a cumulative one. This is extremely interesting and challenging for educators who design curriculum with specific "learning outcomes" that are derived from a cumulative process of knowledge acquisition. Knowledge is shared at Interactivos in the same way that knowledge is shared and acquired from the internet and open source communities – an individual has a specific problem that needs to be solved – the approach to solving the problem is directed outwards to a "community" that responds to the question at hand. I think this is a wonderful way to learn – a person is able to build a "toolkit" of knowledge. However, I also think it is still important for people to be able to contextualize what they have learned. This often occurs slowly and cumulatively. Time is a key factor in the overall learning process.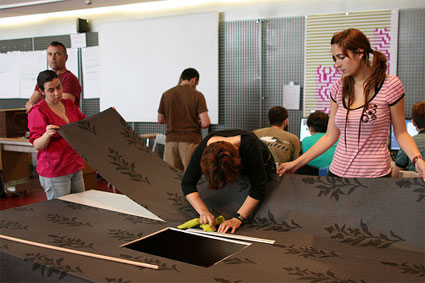 Image Medialab Prado
Alvaro:
This is a very general question, I mean this attitude towards open source tools is not particular to the Medialab-Prado workshop. I do use such tools even at my work at the University. There is some controversy here of course, but as for me, I like to use such open tools in particular because I can be sure there is a community using them, a community that is precisely open to any newcomer (just click here, download, and find some fanatic in your immediate surroundings wishing to "convert" you and explain the mysteries of the hardware/software to you – and all that for free!). As for how efficient and reliable these tools are: this depends, but in the field we are now discussing – I mean, interactive media arts, right? – I think these tools definitely have their place. In the worst case, at least for prototyping. I am thinking in particular about Processing, but if you think about openFrameworks, it potentially enables the fastest processing a particular computer can give you (but the initiative is yet not nearly as developed as Processing is).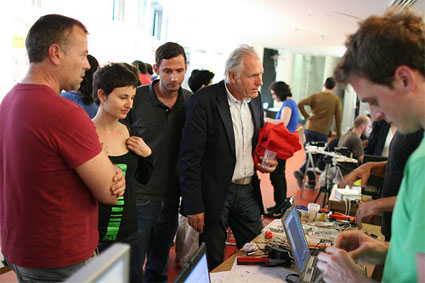 Theo Jansen visiting Medialab Prado
Thanks Simone and Alvaro!