President's plenipotentiary in Siberian region Anatoly Kvashnin suggested chief of Russian Armed Forces to use the new self-heating shoe insoles.
Siberian scientists (they should know, shouldn't they?) developed a new material that absorbs moisture and generates heat at once. Once the temperature drops below +35C, the new material activates and starts absorbing moisture and generates heat. They can keep the temperature of about 18-20 C (70F) for approximately 5-6 hours and "have successfully passed special tests in Chechnya."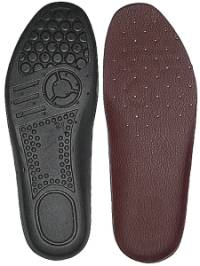 In addition, the insoles are capable of neutralizing unpleasant odor.
From The Pravda.
About army and shoes: PT-03, a running shoe that is named after its "physical training" and proudly bears the insignia of the British army on its tongue.