Textron, by IAMAS student Yosuke Kawamura, is a sewing machine that generates sound and images when the user presses the pedal.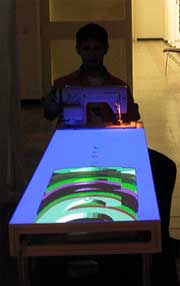 Using the movements of the needle and of the machine itself as feedback, the image and sounds are woven. Although these are mechanical and continuous, because of the repetitive work of the machine, slight differences and errors occur due to the fact that people are operating it.
Related the Bernina Artista sewing machine, via Gizmodo.
More on making music with home appliance: music from the kitchen and fun with fans.