Groovetube is a translucent plastic box that you stick to the screen of your television. Inside it, a grid of dividers channels the light from any program you're watching and turns it into an active matrix of moving colored squares of light. As the imagery on the television screen moves and changes, so does the grid of colored squares on the Groovetube.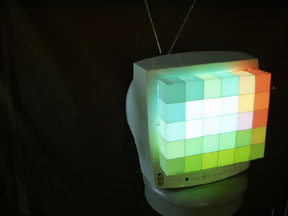 The SHINE BOX is less stylish but amusing too. Russian artist Aristarkh Chernyshev created this TV attachment to watch TV programms both in a usual mode and in selection of 12 distorted modes.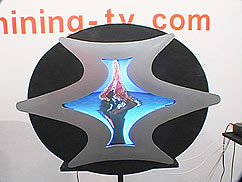 On customer's request, Shine Box can be enhanced with a set of special covering masks that accentuate the form of the distortion, or with a single universal covering mask made of obscured glass.
Via Marco Antonio.