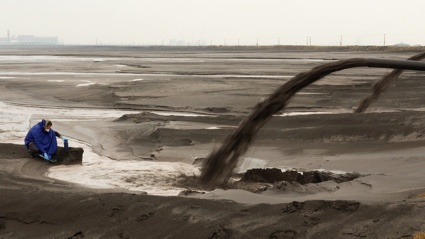 Liam Young collecting radioactive tailings material from the world's Largest Rare Earth minerals refinery in Mongolia. Film Still © Toby Smith/Unknown Fields
Last year, the Unknown Fields Division, a nomadic design studio that explores peripheral landscapes, industrial ecologies and precarious wilderness, travelled to Asia to follow the path of the symbol of globalization: the massive container ship. The group came back with amazing stories, images, videos and with a set of radioactive Ming vases made from the toxic waste of our electronic gadgets.
Along their journey, Unknown Fields investigated Rare earth element, a set of seventeen chemical elements which are all metals that are often found together in geologic deposits. What makes REE important to our times is that they are used for computer memory, rechargeable batteries, night-vision goggles, precision-guided weapons, phones, energy-efficient lighting, solar panels, and many other electronics and green technologies.
China is the number one consumer of rare earths, they use it mainly in the manufacture of electronics products for domestic use as well as export. Since the 1990s, China is also one of the world's main producer of rare earths. A large proportion of the country's rare earth production is located in the west of Inner Mongolia where the Bayan Obo Mining District oversees the largest deposits of rare earth metals yet found.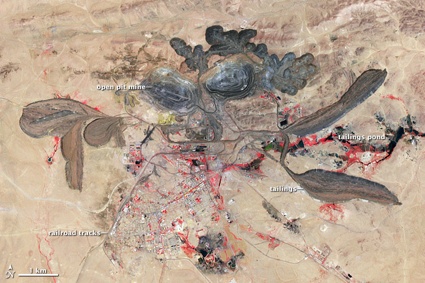 Aerial view of Bayan Obo, on June 30, 2006. Image Earth Observatory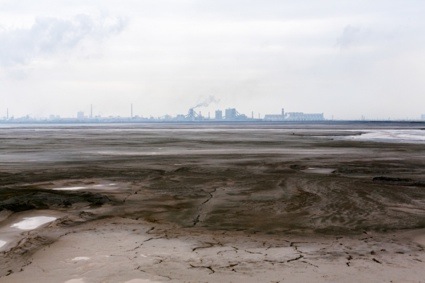 A toxic lake of mine and refinery tailings stretches for over 6km from Baogang Iron and Steel Corporation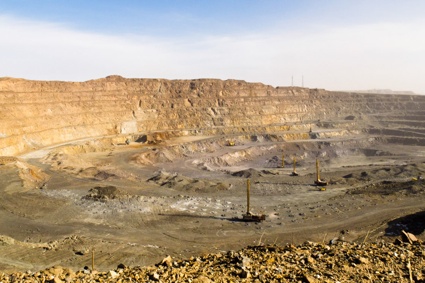 The highly restricted Bayan Obo Rare Earth mine © Toby Smith/Unknown Fields
The giant industrial complex is one of the most polluted regions on the planet. It processes 100 thousand tons of rare earth concentrate per year using the sulphuric acid-roasting method and for every ton of rare earth concentrate produced 10,000 cubic metres of waste gas, 75 cubic metres of acid-washing waste water, and one ton of radioactive residues are generated.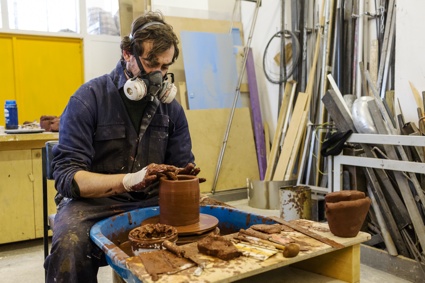 The amount of toxic clay produced in the manufacture of a single smart phone is moulded into a Ming vase form. Film Still © Toby Smith/Unknown Fields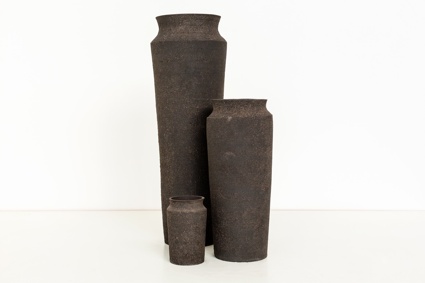 The vases are made from the exact amount of toxic waste produced in the manufacture of a smartphone, a laptop and an electric car battery cell. Film Still © Toby Smith/Unknown Fields
To accompany the film that documents their adventures, Unknown Fields Division crafted a set of three ceramic Ming vases, using mud extracted from one of Bayan Obo's gigantic radioactive tailing ponds. The toxic sludge, which contains acids, heavy metals, carcinogens and radioactive material, was transported it to London where it was tested for radioactivity. After that, the mud was given to sculptor Kevin Callaghan who turned it into elegant vases which silhouette evokes the Ming dynasty porcelain Tongping Vases. Once a family global superpower, the Ming dynasty presided over an international network of connections, trade and diplomacy that stretched across Asia to Africa, the Middle East and Europe, built on the trade of commodities such as imperial porcelain.
Each object is made from the amount of toxic waste created in the production of three items of technology – a smartphone, a featherweight laptop and the cell of a smart car battery. Besides, the vases are sized in relation to the amount of waste created in the production of each item.
The three Rare Earthernware vases embody the contemporary global supply network but also the long-lasting impact that our thirst for technological goods has on the environment. They will soon be shown at the What is Luxury exhibition in London:
These three vessels are artifacts of a contemporary global supply network that weaves matter and displaces earth across the planet. They are presented as objects of desire, but their elevated radiation levels and toxicity make them objects we would not want to possess and in this case the museum vitrine serves to protect us from the exhibit on display rather than the other way round. They are the undesirable consequences of our material desires.
Rare Earthenware, video by Toby Smith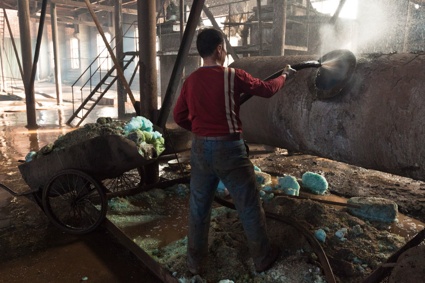 A worker steams cyrstals from a precipitator in a stage 1 rare earth refinery. The cyrstals contain an elevated concentration of rare earth oxides. © Toby Smith/Unknown Fields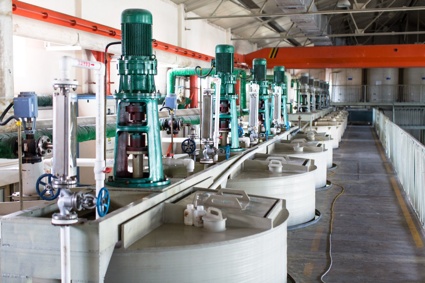 A rare-earth refinery with centrifuges concentrates Rare Earth ore into industrial application before it is force dried into powder form. 76% of the world's rare-earth magnets are produced in China. © Toby Smith/Unknown Fields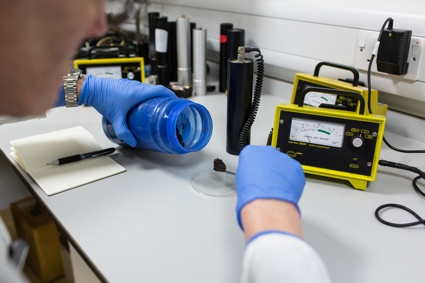 Radiation scientists test the toxic clay collected from the tailings lake and find it to be 3 times background radiation. Film Still © Toby Smith/Unknown Fields
Rare Earthenware is a work by Kate Davies and Liam Young of The Unknown Fields Division in partnership with the Architectural Association. Photography by Toby Smith. Ceramics by Kevin Callaghan and the London Sculpture workshop.
Rare Earthernware will premiere this April 22nd at the Victoria and Albert Museum as part of the What is Luxury exhibition. The show will be open until the 27th of September 2015.