In 2001, on the request of Temporary Services , Angelo, an American incarcerated artist, wrote "Prisoners' Inventions", some 110 pages of drawings and writings about the many ingenious, necessary, and sometimes bizarre things prisoners have to invent to soothe their daily life.
He collected everything from Papier Mache Dice, Tattoo Gun (pictured below), Sanctuary (lighter hidden in a bible), Muff Bag (Homemade sex doll), to cooking methods for making a sausage sauce with light fixtures.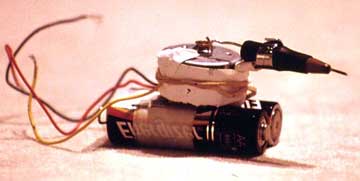 During the Transmediale festival in Berlin, an exhibition will show enlarged type-set facsimiles of Angelo's illustrations and a selection of copies of the objects. Temporary Service will also talk about the lack of access prisoners have to computers, the internet or most things digital. Angelo has never seen the internet.