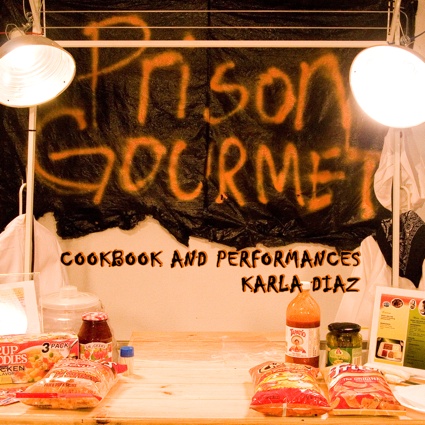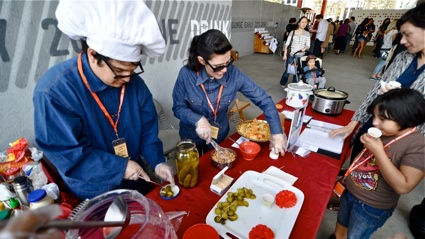 Karla Diaz is an activist, artist, writer and one of the founders of the artist group Slanguage Studio. A couple of years ago, she got interested in the prison food system in California and in particular in the prisoners' ingenious strategies to overcome the culinary flaws of the CDCR cafeterias.
It turns out that prisoners create their own recipes using the limited list of ingredients they can buy either from the jail commissary or the vending machines. The men also design kitchen tools using whatever is available to them and make some unconventional mixtures of ingredients to create their own unique flavours.
Diaz asked friends serving time in prisons in California to send her their own food recipes and collected them for a print on demand book called Prison Gourmet.
On a documentary and curiosity level, Prison Gourmet is a kind of culinary version of Prisoners Inventions. But Prison Gourmet is also a performance in which the artist addresses the politics of food and incarceration by reproducing prison recipes devised by inmates.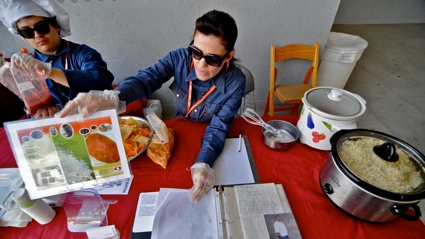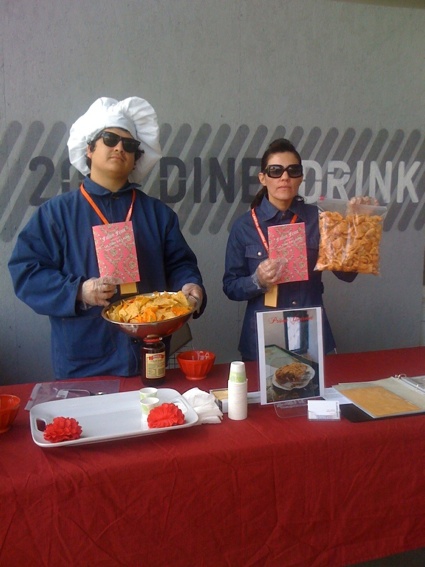 I contacted Karla Diaz and she kindly accepted to answer my questions about Prison Gourmet:
Hi Karla! How did you get the idea to make prison recipes?
This idea first came in a meeting I had with my mentor, Manuel "Manazar" Gamboa who was an L.A. poet and playwright. He died in 2001. Manazar spent 17 years of his life in a California prison and after being released from prison, he dedicated the rest of his life writing and teaching writing to others. One day, he shared with me one of his favorite prison recipes– a tuna casserole with potato chips and dipped pickles. I was so intrigued by the taste of this recipe, the combination of flavors, the process, and Manazar's story. I wanted to recreate this recipe and share it with others. It was not until 2010, that I had the opportunity to do so. My brother had gone to prison and I became more actively involved in the prison food system. I was amazed on the limited choices of food-packages that prisoners could eat. They are saturated with salt, oil and high cholesterol. There had been a few food strikes by prisoners demanding better food conditions. At the same time, I became aware of alternative food recipes that prisoners were eating. These recipes are made from food items that prisoners get to choose from their commissary food items. It's not the cafeteria food. They choose these food items and combine them to make their own recipes. I also learned that some of these recipes are done collaboratively. In a prison system, that tends to isolate and segregate people by race. I was so intrigued by the idea that food recipes were a means of unity. I decided to make this performance called prison gourmet, emphasizing the term "gourmet" and giving value to the prisoners as self-taught chefs.
What does (or did) the Prison Gourmet performance look like exactly?
In 2010, I was asked to participate in "Let Them Eat LACMA" a one-day event of collective performances organized by the art collective Fallen Fruit, that happened at Los Angeles County Museum of Art (LACMA). Prison Gourmet was originally a three-hour, one-day performance recreating recipes from California prisoners. The performance not only gave audiences free-samples of the recipes but also guided audiences through the process of which the food was made. This process is very important because prisoners make these recipes with limited cooking tools for instance, some prisoners use plastic bags, towels and t-shirts instead of pots and pans. The original Prison Gourmet also included a notebook with some of the letters with the recipes and general information on the California prison food. In 2014, Prison Gourmet was part of the exhibition "Around the Table: Food, Creativity, Community " at the San Jose museum of Art. I was glad to expand on the performance and make a full-length video of the recipes, a book documenting some of the recipes, a performance recreating one of the recipes and answering audience questions, and an installation.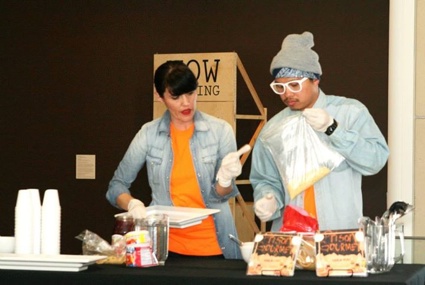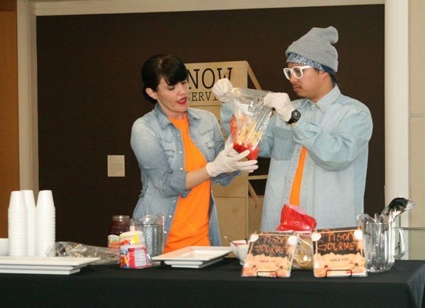 Karla Diaz, Prison Gourmet. Around the Table, San Jose Museum of Art, November 9, 2013 – April 20 2014. Photo Aperture Priority
How did you get prisoners to share these recipes with you?
I asked prisoners that I had a relationship with or friends that had a loved one in prison. Looking back, I don't think I would have gotten much response if I approached the prison institution officials. I've tried that approach before and have gotten a lot of paperwork, delay, red tape, censorship and no response. Also, you have to understand that prisoners have a different relationship to the police authorities and the amount of information they share with police. From what prisoners have told me, sometimes information whether it be written or in images can be used against them. It could be a simple letter or phone number, or an image that can be used against them. Prisoners had to trust me. And that is a very big responsibility as an artist. To keep that trust. Working with many different communities in my work, I've learned that this is one of the first most important things to build.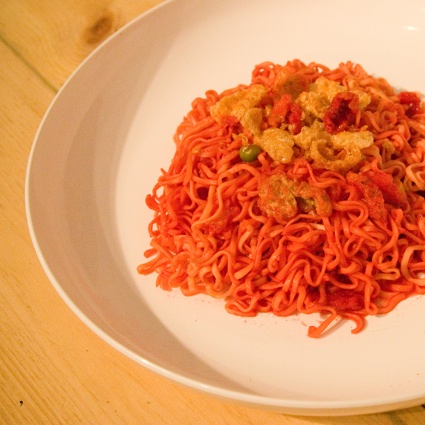 Prison Gourmet, Sweet & Sour Chicken. Image courtesy of Karla Diaz
I'm also curious to know more about prisoners' cooking experiences: what kind of ingredients and cooking tools do they have at their disposal? And do you know where they cook? In their cell or do they have access to a kitchen?
I think I answered this a little bit earlier. The prisoners use limited tools at their disposal–essentially what they have available to them in their cell or what they can trade or access without permission from the kitchen. Cooling pans and pots take the place of trash bags and bath towels or t-shirts.
Could you give us some examples of creative uses of prison ingredients?
Yes, of course. One example of an interesting creative use of an ingredient is strawberry jelly. For example, in a recipe for orange chicken, a prisoner uses strawberry jelly with sugar, water and the powder drink Kool-Aid to make the orange sauce. Prisoners use pork rinds as a substitute for chicken. It's incredible how visually the strawberry jelly looks the same as the orange chicken sauce.
I suspect that Prison Gourmet is about more than just food. So which kind of issues are you exploring during the performance, how do you manage to engage the public into the discussion?
Yes, Prison Gourmet is more than just about food politics. Its about human creativity, even in the most limited of conditions. It's also about freedom. What I mean by this is that for prisoners, food consumption is not about taste. One day, I wrote to a prisoner asking him why he had made this recipe for orange chicken. I thought he really liked the taste of it. He replied that it wasn't so much the taste of these ingredients put together but that it was the memory that this created for him. Every time he made it, he remembered being home with his daughter. It meant freedom. It meant being home with his family. I also think about the impact this has on food culture, health and its context. You look at the prisons in the united states and there is a high rate and disproportionate rate of people of color (young men in particular) that are currently incarcerated…they are making alternative food practices that they learned from their culture from their memories living in their neighborhoods.
What now seems like a hipster food to eat like Korean-tacos, prisoners have already invented long ago. Taste is about remixing and remembering who they are on the outside world. It means tasting that bit of freedom….
By no means is my intention to comment on prisoners' crime or punishment. I am no one to judge this or is interested in that. I say this because there have been many audiences that have made comments that prisoners deserve to eat bad food. I try to engage audiences throughout the performance by allowing them to ask questions. To facilitate dialogue and exchange, I also keep a journal for audiences who want to comment on the recipes directly to the prisoners.
Prison Gourmet is also a book. Do you sell it? Where?
Yes, Prison Gourmet is also a book. I have self-published a limited edition of these and they are published on demand by emailing my studio website at [email protected]. Please make sure you write Prison Gourmet on the subject line. The first edition was published with the help of the Mexican consulate via the facilitation of the San Jose Museum of Art.
Thanks Karla!