I got a pleasant and at the same time painful wave of nostalgia last night when i read Bryan's overview of Postopolis on his blog Subtopia. It has been such an amazing adventure for us all.
Day 4 of Postopolis was quite a day. It kicked off with a presentation by Michael Downing, Deputy Chief at LAPD and i missed it, i arrived just after it ended, that was not my intention, sorry Deputy Chief. Let's move on to bits and pieces i grabbed that day: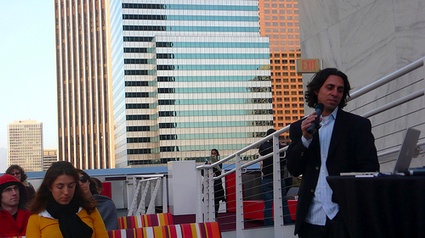 One talk i very much enjoyed was the one by Ari Kletzky, Founder, Islands of LA. Since September 2007, the artist has been exploring the possibility to use traffic islands as public space for discussion and interaction. The project is an art-research experiment and responds to the narrative of loss about public space with a narrative of possibility around interstitial public property that verges on the absurd.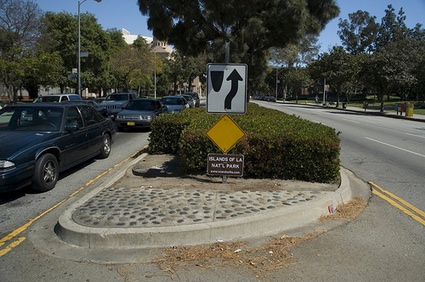 Jefferson Blvd and Hoover, 90007, South Central LA
Kletzky defined the traffic islands his project investigates: they are accessible to pedestrians + pieces of land surrounded by roadways + interstitial (on multiple levels, even on a legal level) + they are quite small and can only welcome the activity of one to fifty people + no one really knows who owns them + highly visible, ubiquitous yet overlooked + in the middle of everyday happening + no permanent building on traffic island (except sometimes war memorials and placemarkers + most likely protected under the first amendment for assembly and expression.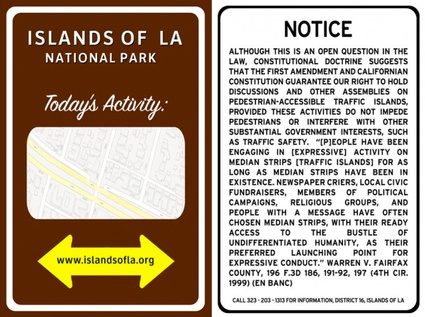 Kletzky would thus organize small gatherings or performances, invite people for a picnics, plant tomatoes, all kinds of activities that are not likely to interfere with traffic or public safety.
Images Islands of LA.
Next came Eric Rodenbeck from Stamen Design (vote for them! well… you also have the right to give your vote to Oron Catts & Ionatt Zurr, Gareth Pugh or Frey & Reas), as brilliantly eloquent as ever, but less smartly dressed as usual, it was so cold up there on the roof top that he had to wear someone else's jacket during his talk.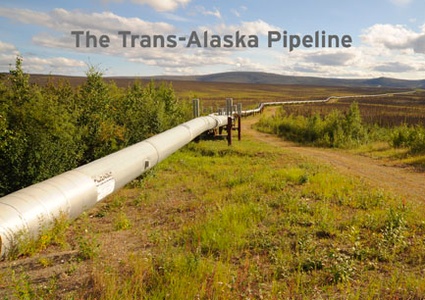 Matthew Coolidge, the Director of Center for Land Use Interpretation, showed some spectacular photos and a video of oil extraction and refining plants in Texas. Their LA space is currently exhibiting photos of the Trans-Alaska Pipeline, one of the longest oil pipelines in the world. I wish i had seen that show.
David Burns and Matias Viegener from Fallen Fruit have charmed and rocked the crowd.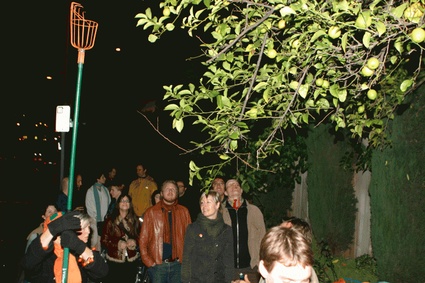 Their project reminds inhabitants of Los Angeles of a city law that makes all fruit and vegetables growing over sidewalks "public," even if the trees are rooted in private yards. They organize tours (including night time fruit forage) to pick fruit and map public fruit trees in the L.A. urban area. They also hold jam-making parties using fruit collected from the public portions of the trees and now produce liquor. These products, like their ingredients, are distributed to the public, like the fruit they are made of, they belong to them.
At some point they posted on youtube a video showing a public fruit picking tour. The comments of youtube users were so distressingly negative they became hilarious: homophobic, racists, unsympathetic ("only white people would try to not to pay for fruit", "Dipshit liberals. Always looking for a handout," etc.) Fallen Fruit made a short video of it, superposing images of the fruit tour with the youtube comments.

Fallen Fruit, Double Standard, video still*
Ken Ehrlich, an artist i realized recently i was following the blog ended the evening by presenting some of his projects. One of the most fascinating for me was Audio Response Mirror in the Scaniaparken location (Malmö).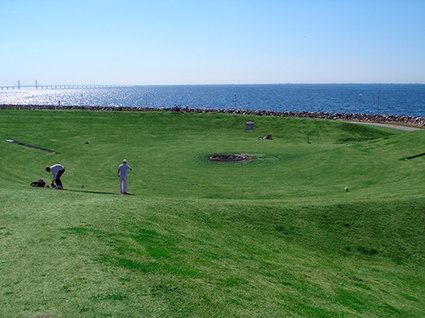 See you tomorrow for a report of the last day at Postopolis!
*The text reads:
cheekyfumes (4 hours ago) -2
Reply / Spam
Dipshit liberals,
Always looking for a handout.
That fruit will sustain more rats
than you left wing wack-jobs.