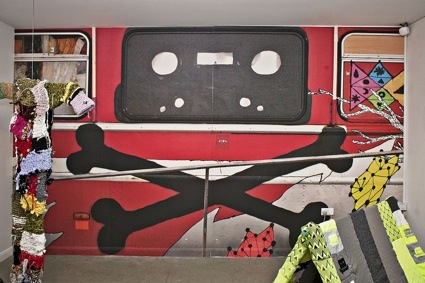 Manifesta Bus Trip installation. Part of the Piratbyrån and Friends exhibition at Furtherfield Gallery. Photo Furtherfield
Now that I'm back from a series of trips, i might finally be able to catch up on the many conferences, festivals and exhibitions i've attended over the past few weeks. Starting with Piratbyrån and Friends, an exhibition at Furtherfield that presents screenings, installations and artworks by founding and more recent members of Piratbyrån (The Bureau for Piracy), keen to tell the story of the group on their own terms.
Piratbyrån was created in 2003 to support the free sharing of information, culture, and question intellectual property. In clear contrast with the 'values' of Antipiratbyrån, Hollywood's lobby group in Sweden. Until i saw this exhibition, i didn't realize how much contemporary culture owes to the trailblazing thinking and acting of Piratbyrån. Piratbyran is often reduced to file-sharing and The Pirate Bay. In reality, the group looked more broadly at the potential of copying in technical, artistic and philosophical contexts. As Geraldine Juarez wrote me "I don't know how whisteblowing would work today without someone knowing that you can copy files in a USB and send it to journalists. Leaking is fundamentaly file-sharing. Leaking an album or secret documents go through the same process of *copying*. And as the exhibition efficiently demonstrates, Piratbyrån is also about more egalitarian models of networked culture, about collaboration, about not being an artist but using art as a strategy to spread values.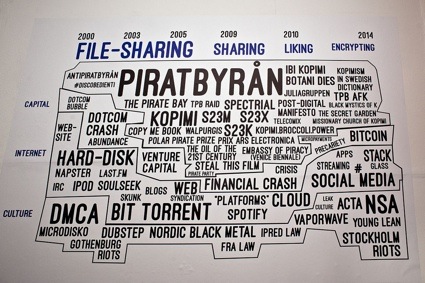 Piratbyrån Timeline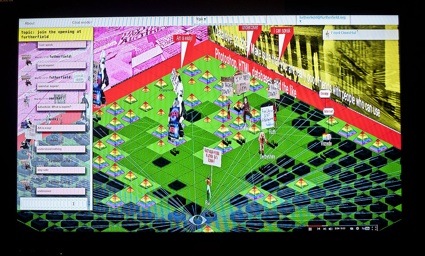 Palle Torsson, Riot Chat. Part of the Piratbyrån and Friends exhibition at Furtherfield Gallery
In 2007 – after having kickstarted the Swedish debate over file-sharing, which by the time had become a major issue in the previous years national election and after having created The Pirate Bay as a side-project that became the world largest file-sharing system – the people from Piratbyrån had grown tired of the file-sharing debate and its endless repetitions of for-or-against, legal-or-illegal, payment-or-gratis. At the last day of April in a Walpurgis fire on the top of the highest mountain in Stockholm the masked members burned the remaining copies of a book on file-sharing they had published some years earlier and declared the debate dead. The video documentation of this ritual, set to the soundtrack of KLF's What Time is Love, found its way to the Indian Raqs Media Collective group who was just about to curate the next Manifesta biennial in Bolzano, Italy.
Piratbyrån closed in 2009 and the Furtherfield show tells the story of this group of friends through videos, a timeline, archive material and newly commissioned work by artists Geraldine Juarez and Evan Roth.
Quick and partial walk-though:
Appropriated police riot shields: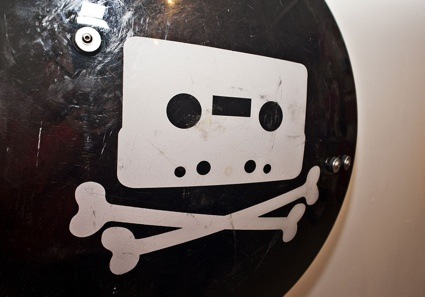 James Cauty, PB2. Part of the Piratbyrån and Friends exhibition at Furtherfield Gallery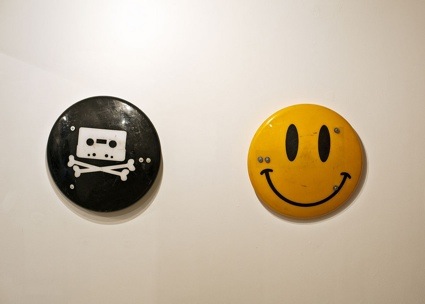 James Cauty. PB2 & Smiley Riot Shield 2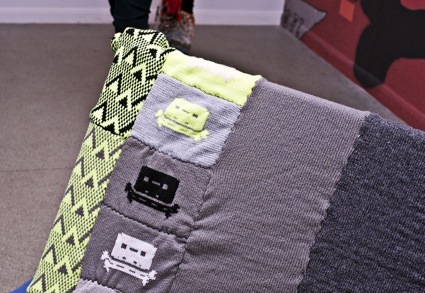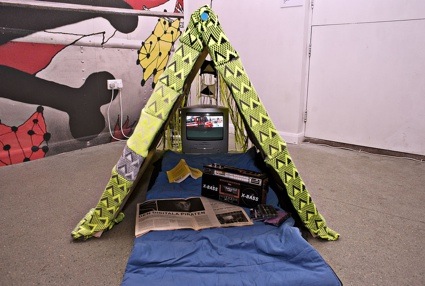 Geraldine Juárez, Torrent Tent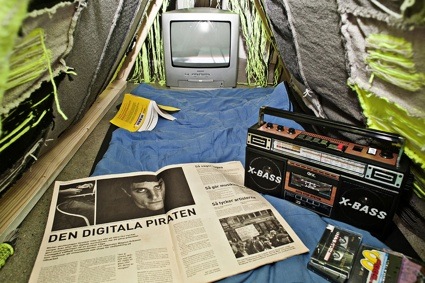 Inside The Tent: Piratbyrån and Friends, Tapecasts. Geraldine Juárez / Simon Klose / Piratbyrån, S23m (System 23 Modified). John Higgs, KLF: Chaos, Magic and the Band Who Burned a Million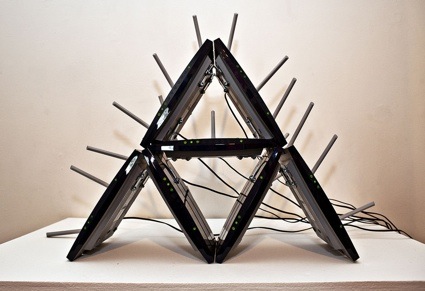 Kopimi Totem by Evan Roth
The seven open wireless routers of Evan Roth's Kopimi Totem are arranged in the iconic Kopimi pyramid. Visitors can connect to each of the routers and download archival media (text, images, video, etc) from the 10 year history of the Piratbyrån organization. Visitors can also upload their own files, thus contributing to the harmony of the data life cycle of copy (yin) and paste (yang).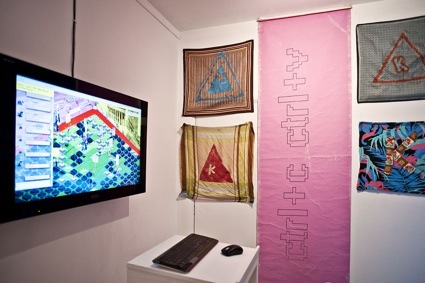 Piratbyrån and Friends installation
From the dotcom bubble to the Embassy of Piracy at the Venice Biennale. Magnus Eriksson showed us snippets from the Piratbyrån archives.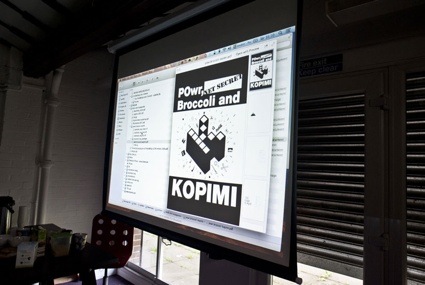 Magnus Eriksson presents Piratbyrån digital archive at Furtherfield Commons
Magnus Eriksson presents Piratbyrån digital archive at Furtherfield Commons
Exhibition trailer: Piracy as Friendship @Furtherfield
More photos at Furtherfield and Paul Ros.
Piratbyrån and Friends, was curated by Rachel Falconer & Furtherfield. The exhibition remains open at Furtherfield in Finsbury Park, London, until Sunday 08 June 2014.