The New York edition of Pictoplasma was as successful as possible: great programme, fantastic speakers and performances and audience getting jaw-ache from constant grinning.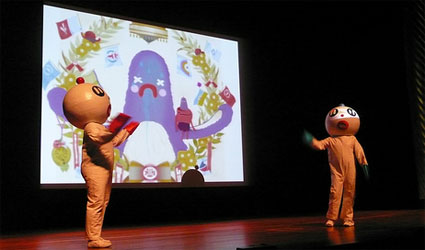 Performance by Friends With You
Peter Thaler & Lars Denicke started to get interested in characters ten years ago. They were fascinated by the very anti-Pixar essence of these characters: they have no background, no purpose nor story to tell. Yet, they have a soul and a clear personality, they manage to communicate no matter the country where they are shown.
My favourite screening session was Characters in Rhythm, a series of music promos and films relying on music. That's probably the trickiest bunch of clips to judge and comment on as the fusion between the music and the animation is usually so strong that a music you loathe might prevent you from enjoying the animation.
A quick selection:
The screening kicked off with the eerie, subtle and gorgeous Sloup by Imery Watson (music Susumu Yokota, Red Swan)
Totally different is Wamono. Character Design: Solobongnu-Sensei, Woog, Maharo. Music: Hifana.
I pasted the youtube version below but this one does more justice to the beauty of the clip.
Lollipop, starring the Lollipop Girl. Production: Passion Pictures. Animation by Bonzom. Music by Mika.
Visit from the Dead Dog was by far my favourite. Designed by Tom Gauld, Chris Debney, Pete Stenhouse. Production: Dirty UK / Draw Pictures. Music by Ed Harcourt.
stay'in alive is one awesomeness. Soandsau. Production: Wizzdesign. Music: La Chose + Mirwais.
Over Time is a tribute to Jim Henson designed by students Oury Atlan, Thibaut Berland and Damien Ferrié. Students? can you believe that?
Production: Supinfocom Valenciennes. Yellow House
And of course, there was a video by Motomichi Nakamura. This time he designed the animation for Temposhark's song 'Blame'.
The festival is over but you can still get your hands on their DVD/books.