After yesterday's first part of my report on Parrworld. The Collection of Martin Parr, here's a quick (and very sloppy i'm afraid) focus on his private collection of photographs. The artist's interest in social themes finds an echo in these documentary photographs. I'm going to leave aside the international part of this collection and concentrate only on the images from Great Britain.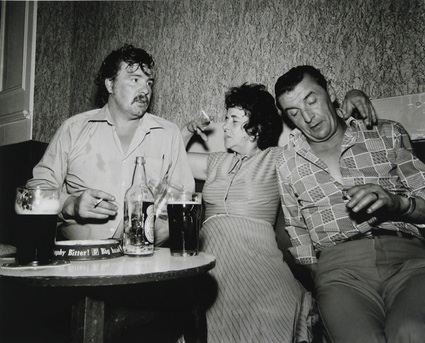 Graham Smith, I thought I saw Liz Taylor, Bob Mitchum in the Backroom of the Commercial South Bank, 1984
Most of the works exhibited at the Jeu de Paume date from the 70s and 80s, an era dominated in England by the rule of Margaret Thatcher. Parr doesn't have fond memories of her reign and the photos he collects attest of the social decline and malaise the working class went through at the time.
And without further ado – but also without any order nor detail, let me introduce you to: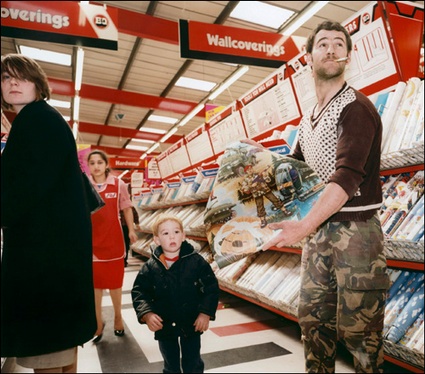 Paul Reas, Military Wallpaper
Paul Reas's photo illustrate the arrival of retail culture in Britain, with American-style shopping malls and out-of-town stores (see in particular Portfolio 1 on his website.)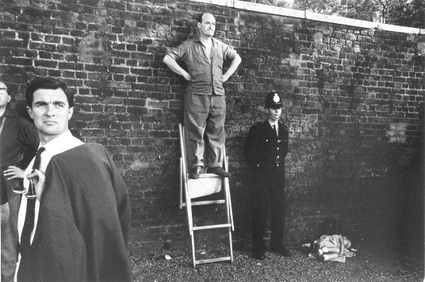 Tony Ray-Jones, Trooping the Colour, London, 1968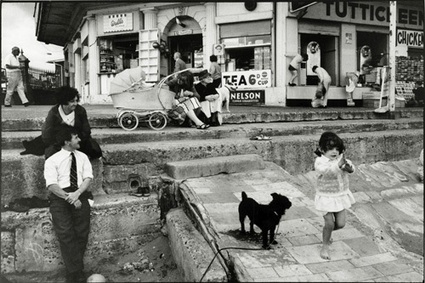 Tony Ray-Jones, Ramsgate, Kent, 1968
The work of Tony Ray Jones has been a great influence on Parr who first saw Ray-Jones's photographs of the British at work and leisure when he was still a student, back in 1970: "His pictures were about England. They had that contrast, that seedy eccentricity, but they showed it in a very subtle way. They have an ambiguity, a visual anarchy. They showed me what was possible." (via)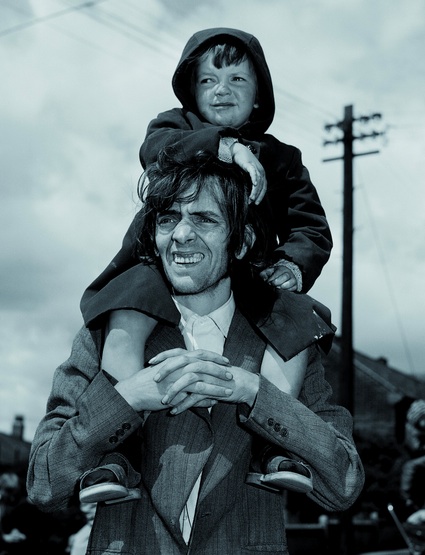 Chris Killip, Father & son, Westend of Newcastle, Tyneside, 1980. © Chris Killip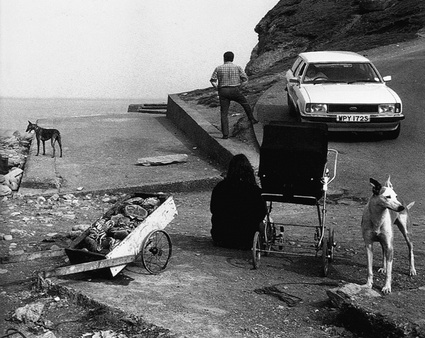 Crabs and People, Skinningrove, North Yorkshire © Chris Killip, 1981
Chris Killip's black and white images captured people and places stricken by Thatcherism.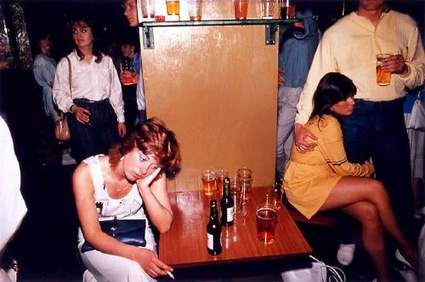 Tom Wood, Untitled (Looking for Love), 1982-85
Tom Wood's Looking for Love series was taken in 1982-85 in a North England disco pub. The photos not only offer a crash course in that glam rock '80s fashion that's been back in favour on the catwalks for a couple of seasons, it's also an anthropological and o-so-crude glimpse into the insecurities and aspirations of young people.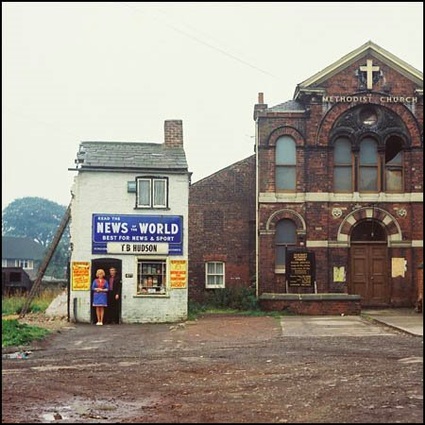 Peter Mitchell, Hudsons Newsagents, Seacroft Green, Leeds, 1978
Peter Mitchell has used early colour photography since the '70s to record the transformation of Leeds and its working-class. He immortalized chip shops, fun fairs, power stations, young bikers, Saturday afternoon and mills.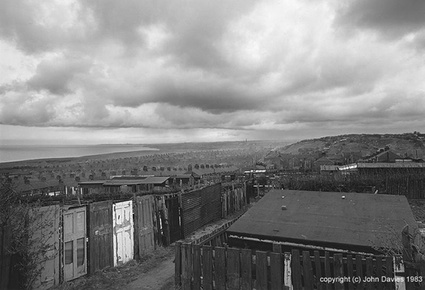 Allotments, Easington Colliery, County Durham © John Davies, 1983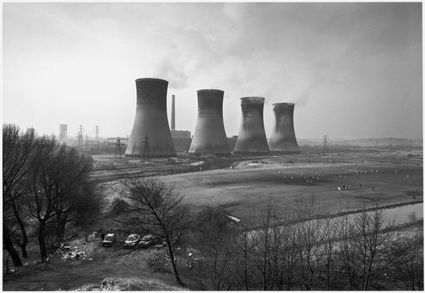 Agecroft Power Station, Salford © John Davies, 1983
John Davies has been photographing the raw industrial wilderness and suburban sprawl of the Midlands and northern England since 1981.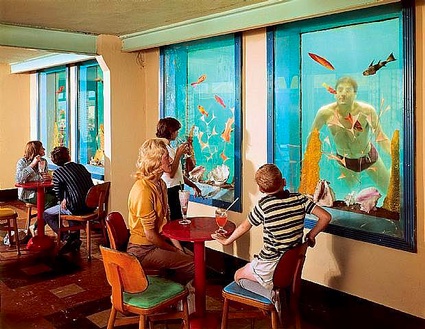 John Hinde, Butlin's Ayr: Lounge Bar and Indoor Heated Pool (Ground Level), circa 1970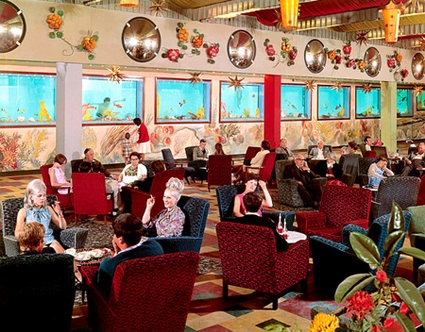 © John Hinde Ltd/ Chris Boot Ltd
All this grittiness is almost forgotten with John Hinde's photos of Butlins resorts, the affordable holiday destination for the British working classes. In the late 1960s and early 1970s, Billy Butlin commissioned Hinde and his team of photographers to immortalise his holiday camps in technicolor postcards that were sold at Butlin's camps throughout the British Isles.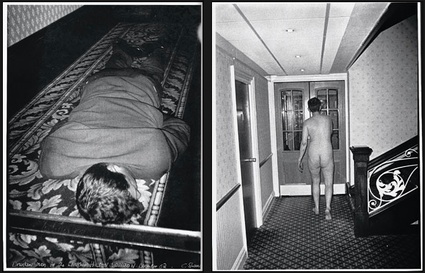 Chris Shaw, Life as a Night Porter
The series Life as a Night Porter document 10 years that Chris Shaw spent working as a night porter in London hotels.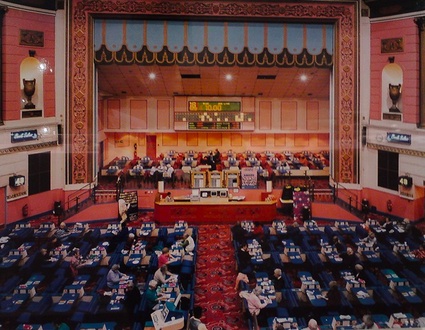 Chris Howgate, Mecca, 2001
Chris Howgate's Mecca, a series of photographs taken in bingo halls throughout the UK.
You can catch Parrworld – the Collection of Martin Parr until 27 September 2009 at the Jeu de Paume in Paris.
Previously: Parrworld. The Collection of Martin Parr (Part 1), Martin Parr retrospective: from fish & chips to mass tourism, Party of the day.