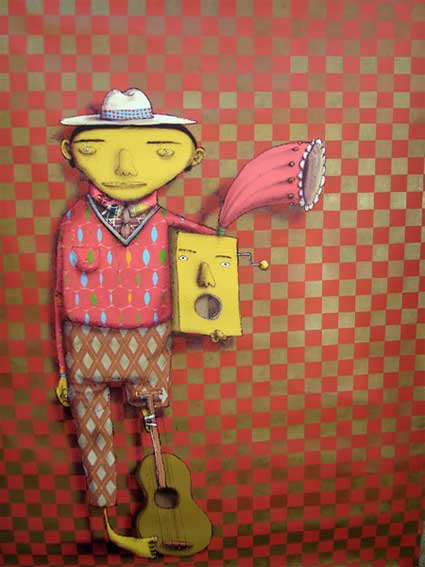 Cantar ciranda è como se aventurar à viver em alto mar pescando em una jungada, 2007
When i read that Os Gêmeos were having a solo show in Milan, i nearly fell off the chair. I wasn't expecting it. Not that the guys aren't everywhere, they were part of the The Graffiti Project which invited Brazilian artists to paint the walls and turrets of the south side of Kelburn Castle in Glasgow, i discovered their huge mural in Berlin, they've exhibited at Art Basel Miami in 2005, etc. but while looking for exhibitions to check out this week in Milan and Turin, i found so many "recycling": yesterday i saw the Gilbert & George retrospective at the gorgeous Castello di Rivoli, yes that's the same show which took place at the Tate Modern in Spring. Last week i had a look at David Lynch's The Air is On Fire at the Triennale di Milano which had previously been shown at the Fondation Cartier in Paris. And the next one on my list is Vivienne Westwood at Palazzo Reale in Milan, the very retrospective set up at the London Victoria & Albert Museum in 2004. Although i'm quite happy to catch up with exhibitions i had missed, i can't help but be disappointed to see that independent galleries are not taking much risk either… Except the freshly opened Patricia Armocida. The gallerist actually told me that she jumped into the fire and opened her own gallery because the city of Milan was in need of a space dedicated to the independent underground art scene.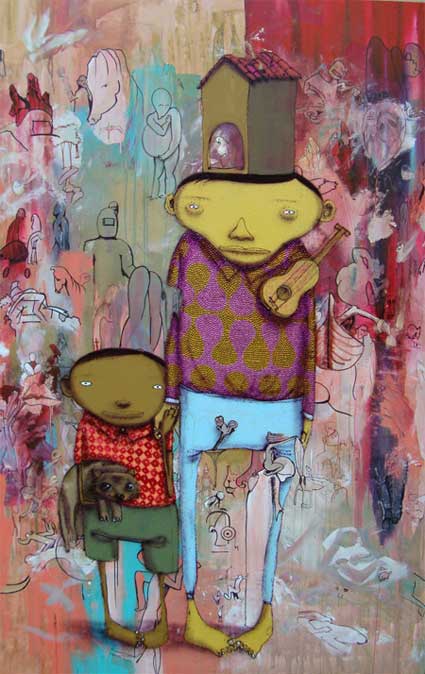 OsGemeos e Arnaldo Pandolfo, Dançando Conforma Mùsica, 2007
To launch the exhibition space, she turned to identical twin brothers, Otavio and Gustavo Pandolfo, AKA Os Gemeos.
In this show called Assum Preto (Blue-Black Grassquit), Os Gemeos are exposing six previously unreleased canvases paintings and two installations, in addition to new works painted directly on the walls of the gallery.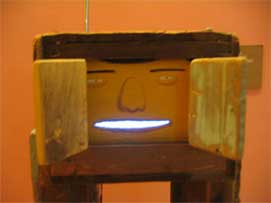 El mentiroso, 2007
I particularly liked the noisy and lovely El Mentiroso. While wandering on a flea market in Italy Os Gemeos found an old tiny b&w television set, they zapped from one channel to the other until they discovered a telemarketing channel which fascinated them so much that it inspired a sculpture exhibited in the Milan gallery: El Mentiroso (The Liar.) Permanently set on the telemarketing channel the tv has most of its screen covered by a wooden portrait, so all you get is the sale pitch without the image.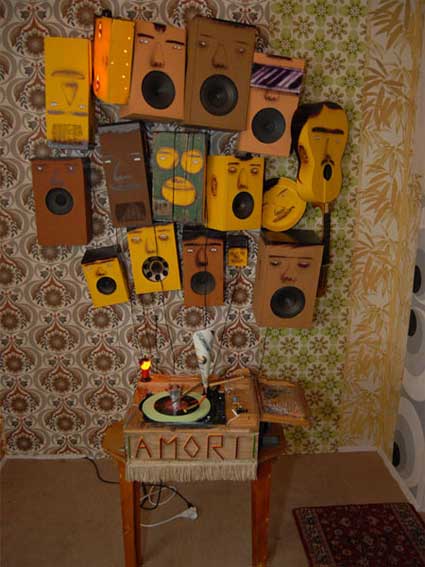 Assum Preto, 2007
If you're living in or around Milan, keep an eye on Galleria Patricia Armocida, they have some goodness coming up next such as shows with Dash Snow, Nico Dios and Ari Marcopoulos.
My pics.
Os Gemeos – Assum Preto runs until November 3, 2007.