One of my favourite pavilions at the Venice Biennale was the Danish one. Its design is all pop, flashy and fun (just as i like them), its central themes (China and sustainability) are certainly very trendy these days but its approach is everything but superficial.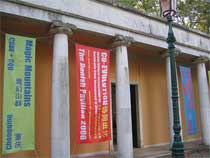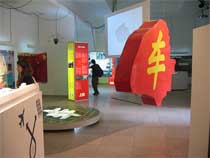 The Danish Pavilion, called CO-EVOLUTION, is a joint project between Danish architects and university students and professors in China who reflected on the question: How to improve people's living conditions without exhausting the very resources needed to sustain a better life?
Within the next 20 years, some 400 million Chinese citizens are expected to join the global urbanization race and the Chinese government plans to create better living conditions for its 1.3 billion-strong population. The rapid urbanization processes currently underway in China are increasing consumption of natural resources, putting tremendous pressure on the environment.
The teams came up with four ideas for dealing with sustainability issues in four major chinese cities. My favourites:
1. Chongqing, the biggest municipality in the world, is undergoing high-speed urban development with 1,200,000 people relocating to the city every year.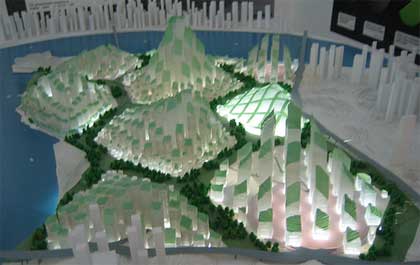 COBE and Chongqing University proposed a "Green� Central Business District that features inhabited "magic" mountains. The mountain-peaks match the high density centres, while the mountains lower reaches resemble traditional Chinese neighbourhoods. The valleys are green open spaces accommodating a system treating wastewater and generating renewable energy.
The inhabited mountains will reduce energy consumption by supporting passive cooling in summer and passive heating in winter. They are interconnected by bicycle and pedestrian paths, and an efficient public transport system.
2. In order to ease the pressure on the city of Shanghai, the local government is planning a number of sub-cities around its periphery.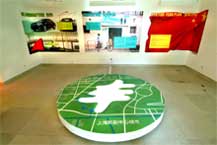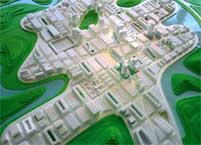 Shanghai SubCity, by EFFEKT and Tongji University, is a proposal for the suburban district Jiading, next to Shanghai's brand new Formula 1-track. The project suggests a dense SubCity cluster combining urban and natural qualities. It would be shaped to resemble a giant 'Che', the Chinese word for car. The green eco-park surrounding the city serves both as a leisure park and an eco-system providing the inhabitants with renewable energy, water and recreational areas. At the same time the park works like a vast geo-thermal energy plant heating the city during winter and cooling it in the summer. This will cover the 75% of total energy consumption in buildings which is currently used on heating and cooling.
Curator and architect Henrik Valeur.
You can download parts of the exhibition catalogue. My pictures from the pavilion. Official pictures.