I wonder if the rest of the world fantasizes as much about the French Foreign Legion as they do in France. Marie Dubas's song Mon légionnaire (made popular by Edith Piaff) tells the story of a woman longing for the return of a handsome Légionnaire. He is bitter, bad-mannered and disappears after a one night stand. Yet, she keeps hoping she'll see her blond lover again. Alas, he is found dead in the desert before she can tell him she loves him. Serge Gainsbourg covered Mon Légionnaire in the 1980s:
The exhibition Portraits and Power currently on view at CCC Strozzina in Florence (more on the show soon) features a spectacular series of portraits of a young, blond légionnaire.
Rineke Dijkstra photographed a 18-year-old legionnaire named Olivier Silva, minutes after he had been accepted into the elite military unit. She portrayed him six more times over the course of thirty-six months while he was following the Foreign Legion stern training in Aubagne, near Marseille, when he was stationed at Castelnaudary and in the Pyrenees and right up to the moment when he is sent out to Gabon, the Ivory Coast, and Djibouti. "The idea was to follow a soldier, someone who comes in soft and young, then turns tough," the photographer explained, "but I'm really talking about a mental change, not a physical one." It's not so much the change of uniform, the chest hairs or the stronger biceps that matter. It's the hardening of Olivier's look, the realization that he has acquired authority, assurance and control.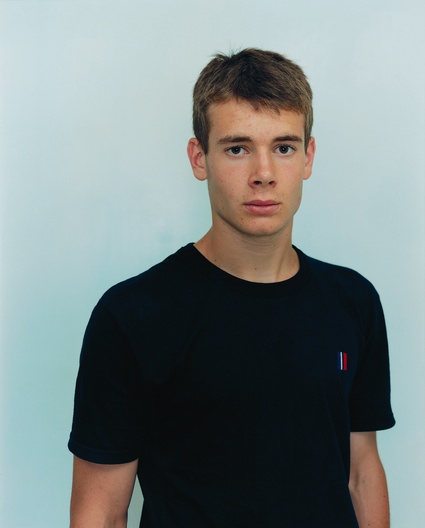 Olivier, Quartier Vienot, Marseille, France, July 21, 2000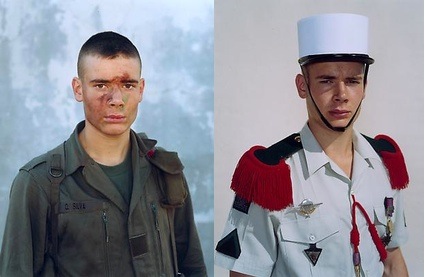 Olivier, Les Guerses, France, November 1, 2000 and Olivier, Camp Rafalli Calvi, Corsica, June 18, 2001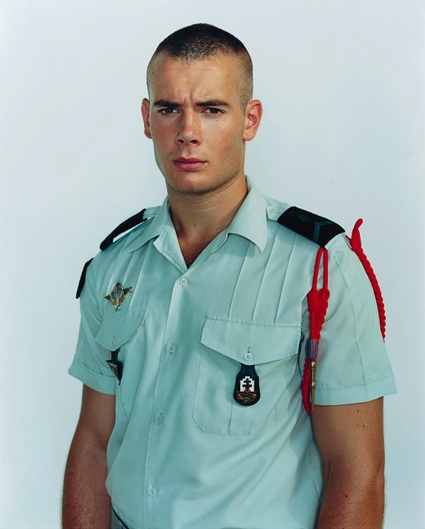 Olivier, Quartier Monclar,, Djibouti, July 13, 2003
The pictures might expose what Olivier has endured and achieved during his stay at the Légion but he won't allow them to reveal anything else. As Dijkstra tells the NYT: "Olivier always looks like he has everything under control. I wanted to photograph him right after exercise, hoping he might be less concentrated on the fact that he was posing, to catch him less composed. But he seems never to let down his guard — not that he is hiding anything, just that he reveals so little." Exactly like in the song Mon Légionnaire.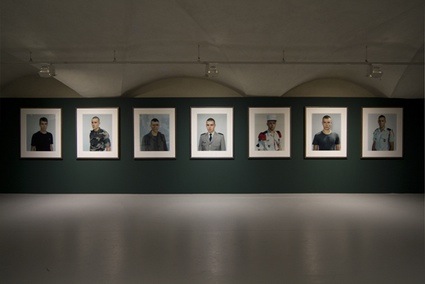 Rineke Dijkstra, Installation view, Centro di Cultura Contemporanea Strozzina. Photo: Valentina Muscedra
A relative anonymity is part and parcel of the légion. Legionnaires can enlist under a pseudonym and new nationality, a disposition which enables people to start their lives over. After one year's service, Legionnaires can resume their true identity.
Portraits and Power is on view at CCC Strozzina in Florence through 23 January 2011.