The Nordic Pavilion hosts the work of artists from Finland, Norway and Sweden. This year, the focus is on the performative character of the exhibits. Starting right at the entrance with It would be nice to do something political by Toril Goksøyr and Camilla Martens, where a black man is cleaning non-stop the glass window of the pavilion throughout the biennial. An "ironic commentary on the correctness in acting politically as an artist."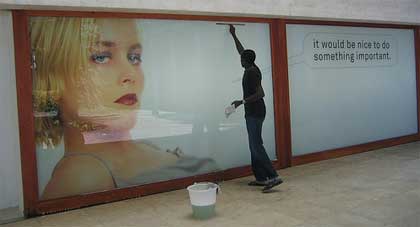 Inside, the visitor becomes the performer. With his interactive dart board installation —I, the world, things, life, Swedish artist Jacob Dahlgren invites the audience to grab plastic arrows and throw them at the black and yellow dartboard. By doing so, the public is constantly modifying the artist's work.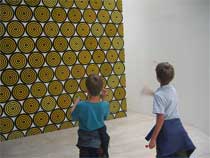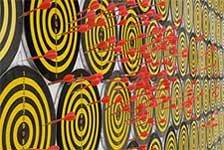 Helsinki-based artist Adel Abidin has set up a little travel agency ABIDIN TRAVELS that caters for those who'd fancy vacation trips to Baghdad.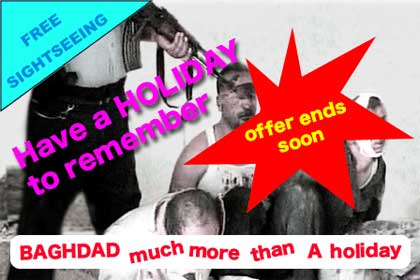 You are greeted by a sarcastic animated commercial, advertising a special offer for a holiday in Baghdad. The video gives you all the information you need to make the most of your hols: the cars you can rent tend to be of the military types; museums are closed, but that doesn't really matter as most of their content was looted anyway; you're advised to carry around candles or a torch with extra batteries, for the times when electricity is unavailable; you are advised to stay at a hotel of the lowest possible quality (the posh ones are targeted by Fundamentalist Muslims, or the National Forces), etc.
If the adventure tempts you, a computer is at hand to book your fly (you can also do it online.)
In a darker tiny room, another video monitor shows real images of the life that Iraqis are living in Iraq. The sound is covered by the voice of an American woman welcoming visitors, and American soldiers singing and playing instruments in one of Saddam's palaces during Fourth of July. There are also brochures and posters to take away with you.
Just outside the pavilion, Liberté, by Lars Ramberg, functions both as a piece of art and public toilets. 3 unisex and self-cleaning toilets coming from the streets of Paris were painted in red, white and blue with the inscriptions «Liberté, Egalité, Fraternité».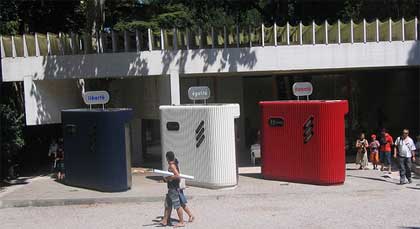 They didn't work when i was there but here's what is supposed to happen: Inside the toilets, three different radio programs broadcast historical speeches; Charles De Gaulle, King Haakon VII, Franklin Roosevelt, etc accompanied by national hymns from Norway, France and USA.
More Baghdad: Cherry Blossoms, Shadows From Another Place – Baghdad San Francisco, Baghdad in Brooklyn, What I Did Last Summer, Vantage, a game about war causalities.