Third project i discovered at the RCA Summer Show. This one was developed at Platform 13, part of the Design Products Department and mentored by Onkar Kular and Sebastien Noel.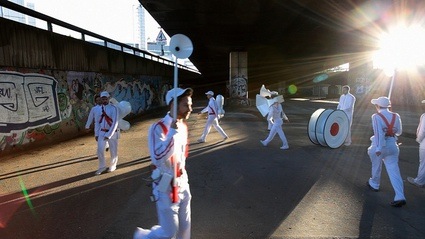 Platform 13 is by far the most interesting of all Design Products platforms for me. Hopefully, the projects i'm going to blog in the next few days will demonstrate why i find their work so relevant and surprising. Here's the blurb from their website: Platform 13 starts from the premise that our current global society, with its prevailing techno-political system, faces challenges of an unprecedented scale. We are asking ourselves how Design can contribute to alternative models of living and production by engaging with, commenting on, and addressing issues currently beyond the usual scope of design – political, social, technological or ecological.
Before i proceed with the text about Benjamin Newland's Nomadic Sound Systems, i'll invite you to watch the video of the performance:
The wireless wearable sound system frees electronic music from the restraints of immovable equipment, opening up possibilities for mobile performance and new forms of audience participation.
The NSS enables musicians to fully engage with the space and experiment with human analogue surround sound, moving speakers around the audience, setting up surprises in the halls and corridors and creating site specific musical journeys in the process.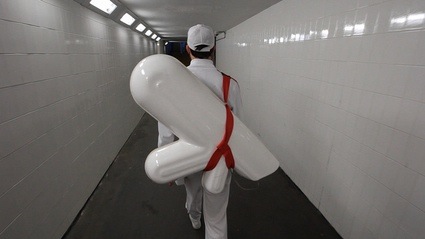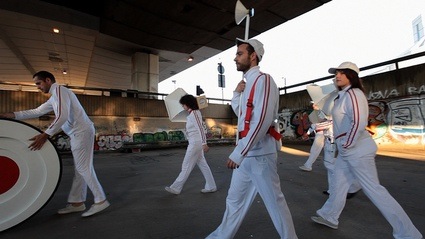 What i found most generous and smart in Benjamin's approach is that he doesn't see himself as the ultimate performer and controller of the NSS. He's rather put it in the hands of talented and creative musicians who would make the most of the possibilities offered by his project.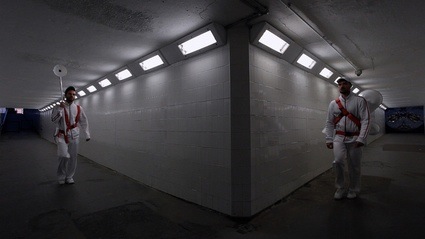 Benjamin gave me more details about his plans when we met at RCA and during a more recent online conversation:
I see the project as having 3 key directions which can be pushed it further.
The first is in terms of performance. I would like to work with musicians and DJs who can make use of the new set of possibilities provided by the system, to make specific music and performances. The NSS puts a human in control of each element of the sound system and allows them to move individually or as a group so you can use choreography to mix sound spatially and travel through space. Currently, sound is broadcast from a single band leader and participants have control over their location and volume, but in future we will be able to let them shape the sound they are producing, and if we can network the system with MIDI control, they could play each component like an instrument.
The second direction is about spontaneity and flexibility. The NSS can be used for unplanned and impromptu events which opens up the possibility to use the psychological and emotional influence of sound and music, to change behaviour.
Lastly, I think the wireless speakers can be used informally to socialise the consumption of music, outside ipods and club culture. Several of designs are suitable as open source designs where people can download them, adapt, and make them for themselves. It would be great to create a culture of sound system modification and display, much like modified car culture.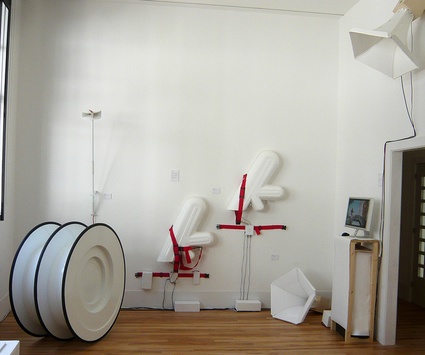 View of the exhibition space
Are you planning to do more performances in London or elsewhere? Are there places where you would dream to see the NSS perform?
As for forthcoming events, I haven't yet confirmed any, but I would really like to see it at community events and celebrations. My favourite events are Lewes bonfire night which has an amazing archaic anarchy about it it, and and the joyous Hanover day in Brighton. I would like to see the project become a set of tools for for people to create events like those, but relating to their own unique contemporary street cultures, formalising them with pageantry and social display. Obviously this already happens at events like Notting Hill carnival but I think it is good to enable more people to do it in more ways.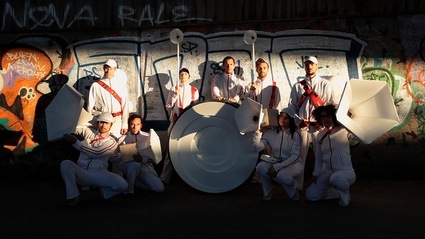 The track used on the video is I.R.L. by Girl Unit (real name Philip Gamble), who has kindly given his permission for it to be uploaded online.
The video was shot in a void space under the Westway (M40), on Wood Lane, White City, in London.
Thanks for your time and answers Benjamin!
All images courtesy of the designer.