The most playful installation at Designmai Youngsters was Enis Selmanagic' Vps fuck & Tür Stehn im Bild which uses light scanners and transfers visitor movements into unique digital pictures and panorama prints. The movements modify prefabricated fragments of video animations and sounds. Each animation fragment represents a different information which can form new knowledge when put in connection to the others.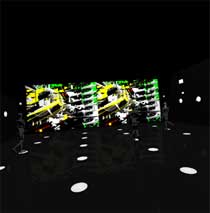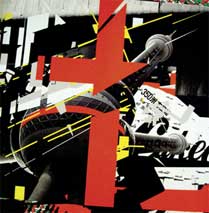 With the repeating passing of the light scanners, new picture animations are added. A panarama of the screenshots is printed on a 10m roll of glossy photo paper.
Besides, another light sensor controls a shredder. Whenever it is activated, the shredder destroys parts of the printed picture.
My flickr images.
More printer stories: Endnode, a.k.a. the printer tree, The Universal Digest Machine, Human skin printer, the PanCam.