Mutual Telexistence robot Â?gTELESAR 2Â?h is a master-slave robot composed of the slave humanoid robot (Figure 1, video) that has the same size and structure as the human body and the exoskeleton type master cockpit (Figure 2, video) that controls the slave humanoid robot.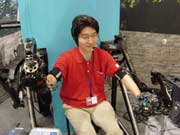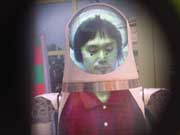 The distribution of the joints of the arm replicates the human arm's structure in order to make it easy to be operated by telexistence using kinaesthetic sensation. This structure is also useful for interaction with people without a sense of incongruity.
The operator can feel the external power applied to the slave arm. The force feedback is achieved by the means of actuators distributed to each joint of the master arm.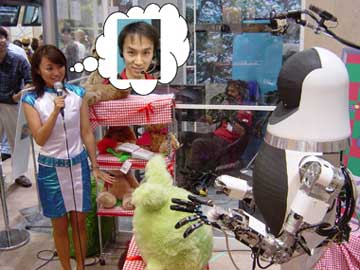 According to its developer Dr. Riichiro Tadakuma (Tachi Lab, University of Tokyo), by using a small glass-size Retro-reflective projector for Mutual Telexistense, the system manages to create very smooth remote communications with high sense of the operator's existence, as shown on the image above.
This is fabulous, but have a look at these videos 1, 2 and try not to laugh!